King of Supply-Chain Finance Expands, and Controversy Follows
(Bloomberg Businessweek) -- Lex Greensill rose from working on his family's melon and sugar cane farm in Australia to roaming the skies in a private jet. The ascent has been far from smooth.
His London-based Greensill Capital has revamped the humdrum business of supply-chain finance, a kind of lending that speeds up payments between companies. The 44-year-old financier says the firm provided $150 billion to businesses and customers in 175 countries last year. But some view him as an aggressive risk taker who's often pushing the boundaries in an area of finance less regulated than traditional banking. Now he's considering a new round of fundraising that would value his company at about $7 billion and his stake at more than $1.5 billion. That's just a steppingstone to his ultimate aim: going public and rivaling the world's biggest financial firms as a short-term lender.
Greensill Capital has been embroiled in scandals involving some of the biggest names in global finance. Loans it helped to arrange were the focus of conflict-of-­interest accusations last year involving Credit Suisse Group AG and Masayoshi Son's SoftBank Group Corp. Others were at the center of a 2018 crisis at Swiss asset manager GAM Holding AG that brought down a star trader. And Germany's financial regulator is scrutinizing a bank Greensill owns for its heavy concentration of loans to British metals tycoon Sanjeev Gupta.
Greensill, who has not been accused of wrongdoing, says his company has ongoing discussions with all of its regulators. A spokesman says the bank has reduced its concentration of loans to Gupta but declined to comment about SoftBank, GAM or Credit Suisse. "We're doing things a little different to what's been done before, and that's always going to kind of garner attention and commentary," Greensill says from his home in northwest England. "I recognize by doing that, it does from time to time make us a target."

Supply-chain finance is also known as reverse factoring. In traditional factoring, a supplier that wants to be paid faster can sell its receivables at a discount to a third party. The reverse process Greensill specializes in effectively enables the ordering company to do the borrowing. Not only does the supplier get paid more quickly, but it gets better terms because it's relying on the credit rating of the bigger company. And it frees up cash for the ordering company, which can negotiate a longer period to pay back the loan.
For corporations, part of the appeal of reverse factoring is in the accounting: It doesn't contribute to an ordering company's net debt. Fitch Ratings Inc. has called for such financing to be reclassified as debt, suggesting that the growth of reverse factoring enables a company to increase leverage without having to say so in its financial reports. Supply-chain finance was partly to blame for the demise of Carillion Plc in 2018, the U.K.'s largest bankruptcy. It had put off paying suppliers hundreds of millions of dollars, helping to mask its parlous finances prior to its collapse. The lenders in that case were big banks, and Greensill wasn't involved.
Greensill says his interest in the business was spurred by his experiences as a teenager. His family had a difficult harvest the year he graduated from high school, and his parents weren't paid for the crops they grew on their farm in eastern Australia. Things were so bad, he says, they didn't have money to send him to university, so he had to get his law degree by taking a correspondence course, receiving cassette tapes in the mail. Greensill later built a business at Morgan Stanley in London financing corporate supply chains, and then worked at Citigroup Inc. before starting his own company in 2011.
Greensill's innovation is in how the loans are funded: not by big banks, but by a growing army of investors thirsty for yield as interest rates around the world hover close to zero. Greensill acts as a matchmaker, packaging the loans into short-term notes and placing them into funds run by financial firms such as Credit Suisse and GAM. These funds are mainly marketed to corporate treasurers, who look after cash flows and balances at large global companies. They offer steady yield with low risk. In 2019, the biggest of the Credit Suisse funds returned 3.9% while more than doubling in size.
Last year proved more difficult. Several companies that borrowed through Greensill-backed Credit Suisse funds collapsed, including NMC Health, Agritrade International, and BrightHouse. As markets fell into a virus-induced tailspin, investors withdrew money. Assets in three of the Credit Suisse funds shrunk in April, to $7.5 billion from $9.1 billion.
SoftBank, which has invested about $1.5 billion in Greensill, helped soften the blow. The Japanese company put about $600 million into one of the Credit Suisse vehicles, which had helped finance several tech startups SoftBank backs through its Vision Fund. That meant SoftBank was effectively financing its own bets through a pool with other investors. In December, Greensill forgave hundreds of millions of dollars in debt in exchange for equity in Vision Fund portfolio company Katerra Inc., a struggling modular construction startup, according to a person familiar with the matter. Greensill no longer holds an interest in Katerra.
The overlapping financial relationships raised questions about whether SoftBank was using the Credit Suisse funds to prop up investments in its Vision Fund, and SoftBank later withdrew the money. The episode prompted Credit Suisse to overhaul the fund's rules. Bloomberg News reported in January that Colin Fan, the Vision Fund managing partner who oversaw SoftBank's investment in Greensill, would be leaving. A spokesperson for Credit Suisse declined to comment, as did a spokeswoman for SoftBank.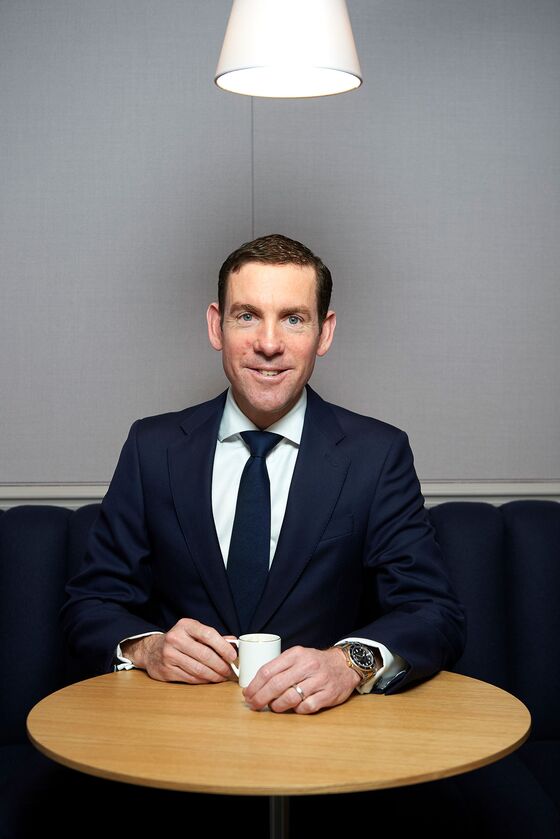 Greensill says that his company still enjoys a good relationship with SoftBank and that the biggest of the Credit Suisse funds has since recovered from the outflows. Total assets under management for all the funds have returned to pre-pandemic levels of $9.1 billion, and investors did not suffer losses as a result of the defaults, according to a spokesman.
Separately, Germany's finance watchdog is examining whether a Bremen-based bank Greensill bought in 2014 was tied too closely to Gupta's GFG Alliance Ltd., according to people familiar with the matter who asked not to be identified because they weren't authorized to talk. Loans to Gupta, who was briefly an investor in Greensill, made up about two-thirds of the bank's assets in 2019. Greensill won't say whether the Federal Financial Supervisory Authority is investigating, and BaFin, as it's known, declined to comment.
Greensill and Gupta were earlier linked to the drama surrounding the downfall of GAM fund manager Tim Haywood. Funds Haywood ran held large amounts of notes tied to companies controlled by Gupta that Greensill sourced. GAM suspended Haywood after an internal probe, saying he didn't do sufficient due diligence on some holdings and he broke the company's gift policy. Haywood often took flights on one of Greensill's private jets, according to the Financial Times.
Greensill's spokesman declined to comment about Haywood or the jet. A spokesman for GFG says the company has diversified its financial support and has the backing of more than 30 banks and other institutions. Greensill says Gupta remains an important client.
Greensill predicts a growing demand for the type of financing in which he specializes. Aon Plc, the professional-services giant, recommends Greensill's notes to pension fund clients, and bond investor Pimco has invested in assets the company has packaged, according to fund documents. "I welcome the debate, the conversation," Greensill says. "The truth is, when you do things new, there are going to be things that seem controversial or potentially risky to bring a new model to bear in the market." —With Benjamin Stupples