The Right Meal Kit for You, Based on Your Ambition
(Bloomberg Businessweek) -- The market is suddenly awash in meal kits—and what even counts as one has broadened beyond the usual ingredients-and-a-recipe subscription models such as Blue Apron, Fresh Direct, and Martha Stewart's Marley Spoon.
There's been a surge in options that arrive already assembled, while others are rewriting the script on the staid TV-dinner idea. The rise in restaurant-created kits, meanwhile, seems less indicative of greater ambition in cooking, but rather in simply wanting a restaurant-style meal. Here are 15 options for however you're feeling.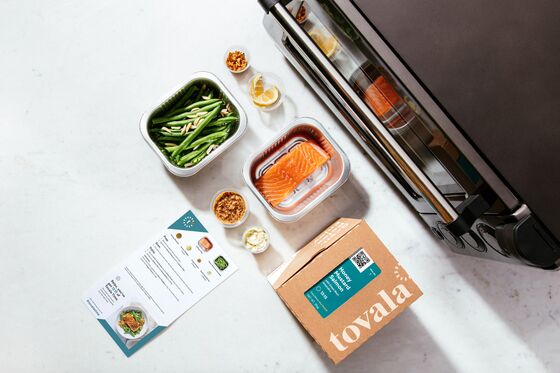 Tovala
Preparing meals from Tovala—which bills itself as a meal subscription service for "insanely busy people"—is a snap with its connected countertop steam oven. It has a built in barcode scanner that automatically sets cook times and temperatures for dishes such as Kentucky Hot Brown braised chicken and everything bagel-spiced salmon with dill yogurt sauce. The scanner also works for more than 750 grocery store items. $299 (oven); from $12 (meals)
 
Just feed me, but make it healthy

CookUnity
You can create a flexible subscription plan with these heat-and-serve meals and keep boredom at bay with wild mushroom bibimbap from Esther Choi or Pierre Thiam's kale and fonio salad. (There are meat and seafood dishes, too.) From $54 per week
 
No, like "food is medicine" healthy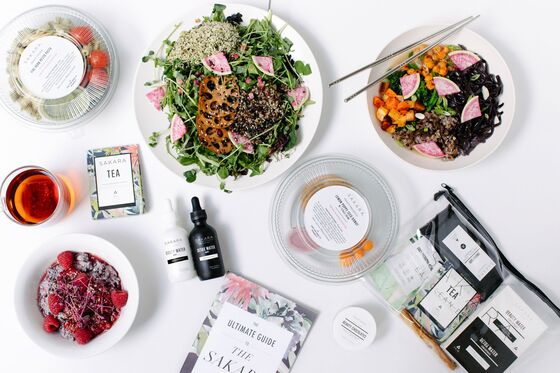 Sakara Life
Embracing a Goop-tastic, clean-eating philosophy, Sakara's vegetarian meal plans come with weekly stocks of its detox tea and probiotic supplements. From $26 a day for a lunch subscription
 
Make mine healthy, too, but more for working out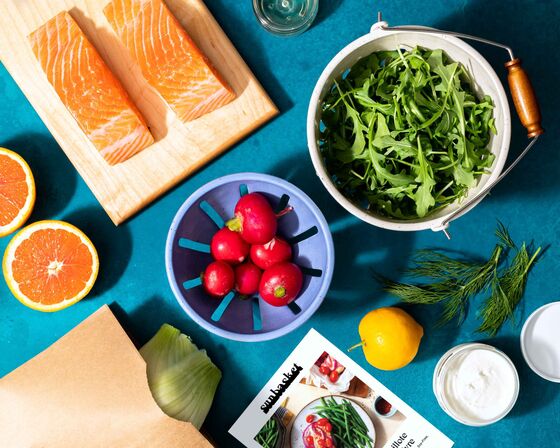 Sunbasket
Striving to be your everything, Sunbasket's plans can cover three meals a day—along with snacks and juices—and include heat-and-serve dishes, as well as ones like ginger-scallion beef skewers with apple-cabbage slaw, where you'll be cooking with the pre-portioned ingredients. Tailor subscriptions to your needs, such as paleo-friendly spicy sole arrabbiata with squash ribbon salad. The company prioritizes organic fresh produce, eggs, milk, and yogurt. From $9 a serving

Factor
These performance-oriented meals cater to the fitness-minded with options ranging from chickpea curry for vegetarians to such keto-friendly choices as Buffalo chicken with bacon-cheddar mashed cauliflower. From $11 per meal
 
I'm worried about all that packaging waste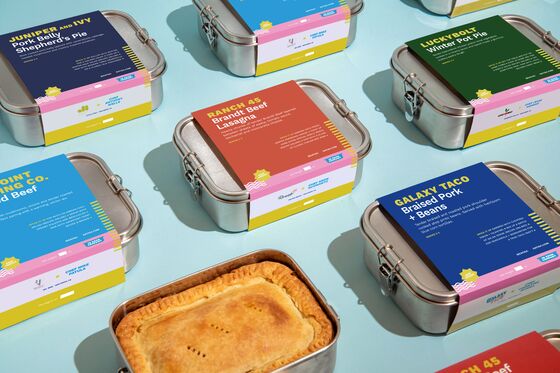 In Good Company
Disposable packaging can leave a bad taste in your mouth. This SoCal startup works with local chefs on one-off meals packed in reusable metal canisters. From $25 for two servings
Housemade
From fast-casual chain Just Salad comes housemade meal kits, which keep cooking to about 15 minutes and mostly stick to the "bowl" format, such as a Harvest Bowl with roasted sesame tofu. The company also promises fully recyclable, zero-plastic packaging in its kits. From $10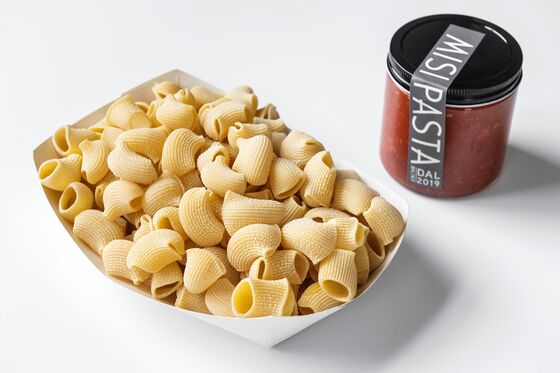 Misipasta
Missy Robbins's pasta-centric Brooklyn restaurant, Misi, is a case study in the power of matching simple ingredients with impeccable technique. If you live in the New York area, you can order such individual meals as her mafaldini with pink peppercorns and try to match her skill. From $45

WEAT
Getting the taste of a restaurant meal at home is half the battle. WEAT's kits from such restaurants as Jamaican standout Miss Lily's, 456 Shanghai, and Cocina Consuelo include not just the ingredients to make restaurant-worthy meals, but also links to video tutorials and mood-setting Spotify playlists. $70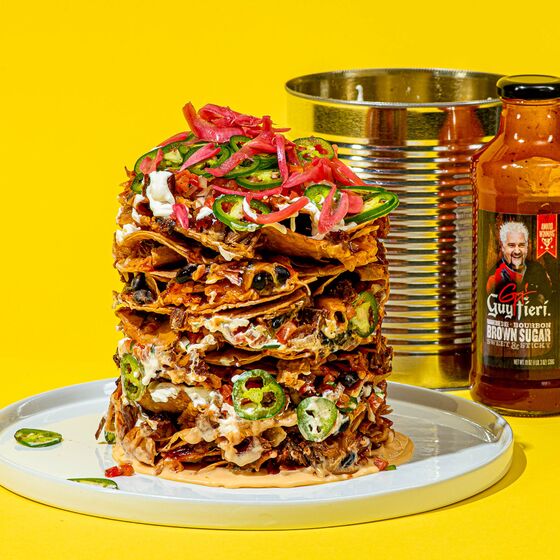 Guy's BBQ Trash Can Nachos
Load all of the components—chips, Guy's Super Melty Cheese, your choice of meat, beans—into the metal cylinder provided, and voilà: a one-time teetering tower that the mayor of Flavortown might describe as a tornado on your tongue. From $69

Seamore's Shrimp Tacos
Until you make it to the Ensenada coast, there's sustainably sourced seafood from Seamore's. In its shrimp taco kit, you'll get whiteleg shrimp to saute and toss with punchy, smoky salsa macha. Wrap in flour tortillas with avocado and pickled cabbage. $65 for 4 people
 
I've got a hankering for street food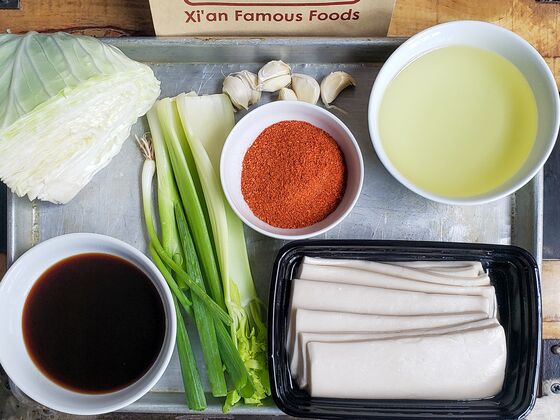 Xi'an Famous Foods
Stretch these slabs of noodle dough by hand into ribbons, all while slapping them on your table or countertop. (That smacking sound gives them their name: biang biang noodles.) Choose from singular, lip-tingling options—vegetarian, beef, pork, and cumin-spiced lamb. From $44
 
Make mine a Michelin-starred meal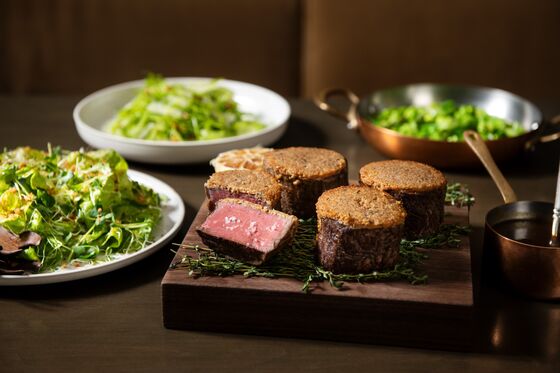 Eleven Madison Park
Whether you select the marrow-crusted beef tenderloin or a whole, roasted cauliflower, expect the ingredients (and optional truffles) to be exquisitely packaged and the instructions detailed enough to produce a mighty one-off meal in your kitchen. From $250
 
OnlyFlans
Seattle chef Eric Rivera has become a leading emissary for Puerto Rican cuisine. His cheekily titled bake-at-home dessert custards come in dulce de leche, cherry, and other flavors. $50 for five 4-ounce servings
 
And something for the morning after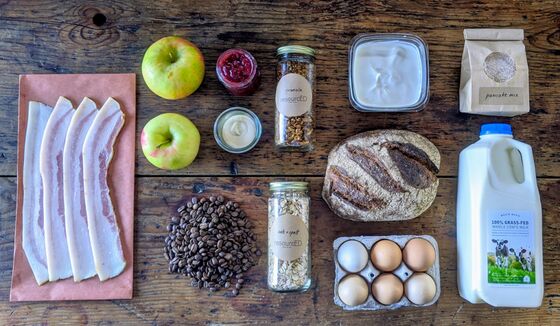 Blue Hill Resourced Breakfast Box
Baldor, a purveyor of high-end ingredients to restaurants in the Northeast, has partnered with many of them—Gramercy Tavern, Black Seed Bagels, the Smith—to create single-meal kits. Start your day right with Blue Hill's own spelt-flour pancake mix, thick-cut bacon, butter, eggs, and more. $88