Trump's Real Opponent Isn't Biden or Warren, But a Recession Risk
(Bloomberg Businessweek) -- The real peril facing Donald Trump's presidency isn't Joe Biden or Elizabeth Warren or even impeachment. It's the possibility that the current mood of economic pessimism could intensify and push the country into a full-blown recession. Historically, a shrinking economy has been a near guarantee of turnover in the White House. In the last century, all the incumbent presidents who lost reelection—George H.W. Bush in 1992, Jimmy Carter in 1980, and Herbert Hoover in 1932—presided over a recession.
Trump doesn't have that problem—yet. Bloomberg economists predict the U.S. economy will grow 2% next year. But forecasts are trending in the wrong direction. The New York Federal Reserve's recession probability model for the year ahead has climbed to 35%, its highest reading since the financial crisis. Business sentiment has soured on Trump, and companies exhausted by his impulsive decision-making are holding off on new hiring and investments. "There is no end in sight to this slowdown," said Torsten Slok, chief economist at Deutsche Bank, in a note to clients. "The recession risk is real."
In 2016, Trump won the White House through an historic act of salesmanship and bravado, promising to bring back manufacturing jobs, renegotiate trade deals, and turbocharge the U.S. economy—to "Make America Great Again." During his first year in office, he boasted that he would boost growth "to 4, 5, and maybe even 6 percent, ultimately." That never happened. Still, his deregulatory agenda and business-friendly tax cut had a measurable effect. "It seems like he's woken up the animal spirits," Jamie Dimon, chairman and chief executive officer of JPMorgan Chase & Co., told Bloomberg in 2017. "Business confidence has jumped a lot." That confidence caused business spending to spike after Trump's signature tax cut was signed into law in late 2017. The stock market responded with a steady upward march, as the S&P 500 reached a series of new highs. But that momentum has vanished.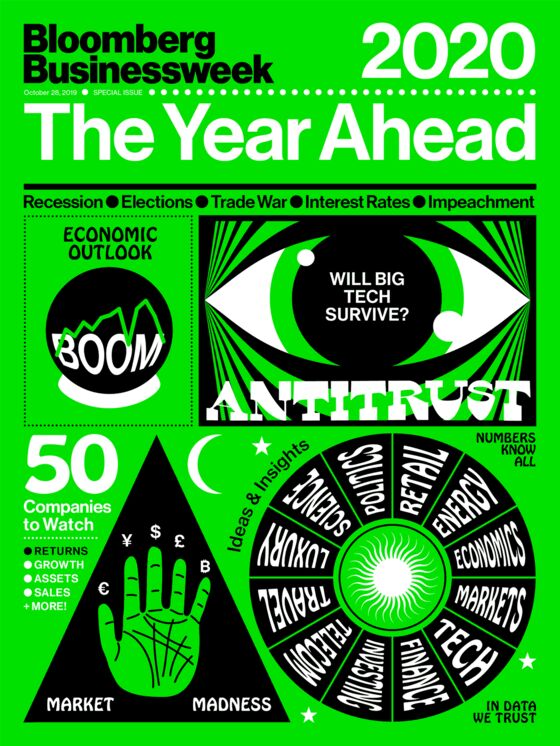 Trump also promised a Rust Belt renaissance. Early on, he appeared to deliver. His election coincided with a turnaround in manufacturing, a key source of employment in the Upper Midwest, where he cinched his electoral college victory by carrying Michigan, Wisconsin, and Pennsylvania (all states that Barack Obama won in 2012). In the summer of 2018, U.S. manufacturing added more jobs in a 12-month stretch than at any point in more than 30 years, earning Trump ample praise. "Tax reform and regulatory relief are continuing to deliver for America's manufacturing workers," Carolyn Lee, executive director of the Manufacturing Institute, a partner of the National Association of Manufacturers, said at the time.
But as Trump heads into an election year, many of the economic indicators that were once positive are flashing red. September marked the worst month for U.S. manufacturing in more than a decade, according to the Institute for Supply Management's manufacturing index. "We have now tariffed our way into a manufacturing recession in the U.S. and globally," says Peter Boockvar, chief investment officer at Bleakley Advisory Group. The geographic concentration of the economic pain from the trade war is particularly dangerous for Trump because it lands on precisely the Upper Midwest states he'll need to carry to win another term.
Already, the fallout has hurt Republicans. In the midterm elections last November, Democrats dominated House, Senate, and governor's races across the Upper Midwest. Surveys indicate the president wouldn't fare much better if the election were held today. Since taking office, his net approval rating has plummeted in Wisconsin (down 17 points), Pennsylvania (down 17 points), and Michigan (down 18 points), according to Morning Consult's monthly tracking poll.
That doesn't mean Trump can't pull off another election-night upset. He's still popular with Republicans, and remains within striking distance in all three states—provided economic and political conditions don't deteriorate further. Several other bright spots remain. Unemployment is at a 50-year low. The major stock market indexes, though treading water, remain close to their all-time highs. In November, Trump will meet with Chinese President Xi Jinping in Chile at the summit of Asia-Pacific Economic Cooperation members and have a chance to ratchet down tensions in the trade war.
A modest trade deal with China would be met with relief by U.S. business executives and farmers, both important components of Trump's electoral base. But the damage the trade war has wrought on the U.S. economy isn't going away. While Trump prefers to heap blame on Federal Reserve Chairman Jerome Powell, there will be little disagreement about who's really at fault if Democrats take back the White House next November. "For the first time in a decade, animal spirits were back in force," says Michael McDonough, Bloomberg's chief economist for financial products. "And then he threw a wrench in the whole thing."
 
Read more: Recession Already Grips Corners of U.S., Menacing Trump's 2020 Bid
To contact the editor responsible for this story: Jillian Goodman at jgoodman74@bloomberg.net