The Race to Build Megafire Prediction Tools
(Bloomberg Businessweek) -- As firefighters work to put out the remainder of the Camp Fire, the deadliest and most destructive in California history, blazes like it are becoming something even scarier: normal. Seven of the state's 20 costliest fires have occurred in 2017 and 2018; last year, California spent $180 billion battling them. More than 1.7 million acres have burned this year, according to the California Department of Forestry and Fire Protection, an area larger than the state of Delaware. Blazes bigger than 100,000 acres, once outliers, are now common enough that responders needed a term for them. They settled on "megafire."
Given the urgency of the problem, the Golden State has become a testing ground for technology that aims to predict and combat such blazes, or even prevent them. Before first responders hit a fire's front line, data analysts plot strategies in far-off labs and office parks, using software to arrive at "a better understanding of how fire responds to its environment and how it behaves," says Rod Linn, a senior scientist at the Los Alamos National Laboratory in New Mexico.
Linn has spent almost three decades collaborating with the U.S. Forest Service on a 3D modeling program to predict fires' paths, based on everything from wind and temperature data to the slope of a particular hillside and the situation of adjacent buildings and power lines. Their project, Firetec, once a hard-to-manage supercomputer, has evolved over the years into software that can guide officials in positioning people and equipment and setting controlled fires to make sure nothing in an area is left that's likely to start a fresh one. "Fire behavior is all about heat transfer and its interaction with the ecology," Linn says. Authorities using Firetec, including the French and Canadian forestry services, can also use the software to study past megafires and apply that research to mitigate future risks.
While researchers say the program's modeling and forecasting capabilities have steadily improved, California's rising temperatures and worsening droughts are making fires hotter, deadlier, more aggressive, and less predictable. To be more useful to first responders, the software has to get much simpler, says Carolyn Sieg, a plant ecologist at the Forest Service's Rocky Mountain Research Station who works closely with Linn. The agency has begun spending a bigger portion of its $2.6 billion fire-suppression budget on modeling that's more useful in day-to-day battles.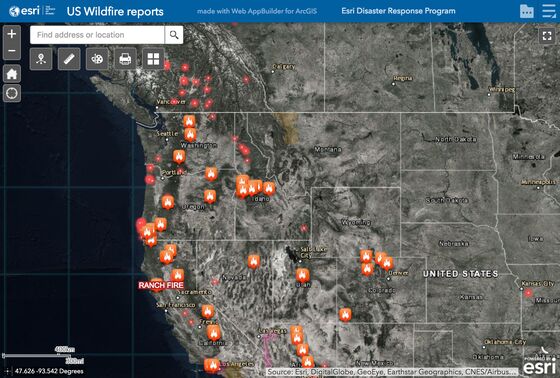 Mapbox Inc. and Intergraph Corp. are among the companies working to streamline and commercialize fire-modeling-and-prediction software. The early leader is privately held Environmental Systems Research Institute Inc. in Redlands, Calif. Esri has 350,000 organizations, including federal, state and local agencies, using its proprietary software to generate live fire maps and smoke forecasts drawn from satellite imagery, social media, and field reports. In California, the company helps feed live fire-traffic maps and 48-hour smoke forecasts for the general public. For firefighters and emergency medical workers, Esri's geographic maps, dubbed GIS, collect historical fire and weather data to improve coordination, evacuation plans, and personnel tracking, helping them stay as informed—and safe—as possible. "For every large fire where a team is sent out, they're using our tools," says Russ Johnson, Esri's director of public safety and homeland security solutions. A 30-year veteran of the Forest Service, he used to mark up old federal surveying maps to try to keep ahead of fires in California's San Bernardino National Forest. "It's hard to have good situational awareness without these tools," Johnson says.
Like Sieg, he says the software has to get simple enough to make its way out of a command center and onto the front line of a fire. Slow network connectivity is a serious obstacle to that goal, he says. These problems need solutions—and fast. As megafires become a part of Californians' lives, first responders need all the help they can get.
To contact the editor responsible for this story: Jeff Muskus at jmuskus@bloomberg.net, Jillian Ward