The Market for Vintage Travel Posters Takes Flight During Pandemic
(Bloomberg Businessweek) -- Nicholas Lowry was assembling a collection of travel posters for his Nov. 23 auction when he came across one from 1914 intended for British audiences. Its pitch? "Travel to France," says Lowry, the president of Swann Auction Galleries in New York. "This was printed two months before the First World War," making it one of the last vestiges of peace before the proverbial lights went out in Europe. The "historical showstopper," as he calls it, is estimated at $700 to $1,000.
For years, travel posters were considered "the unappealing younger siblings of French cafe posters," Lowry explains. (Think of Toulouse-Lautrec's work for the Moulin Rouge.) This started to change in the 1990s, when collectors began to appreciate the former's charms. Over the past two years, dealers say, the genre has enjoyed an additional bump thanks to a restless, homebound public that's taken solace in acquiring an image instead of experiencing the real thing.
"It's one of the most popular markets in the poster field," says Jim Lapides, the owner and president of the International Poster Gallery in Boston. "They're about a world in which we can't really travel right now, and they remind us of how beautiful the world is and the adventure it offers."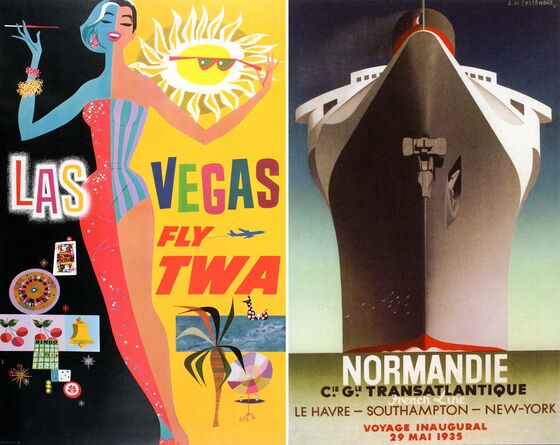 Dealers say the market had been growing steadily for a while but nothing like the past 18 months. "When people got tired of Amazon and dating websites, they would come to buy at auction," Lowry says. "It was quite buoyant."
Travel posters, like middle-class tourism itself, are a fundamentally modern phenomenon. They originated when railroad companies realized in the late 19th century that they could juice ridership by getting people excited about nonessential trips, and hotels and tourist destinations began to make an effort to draw casual visitors.
In 1900 a poster advertising the pastoral delights of the Swiss countryside and the thrill of a casino in Besançon was paid for by the French rail company PLM. A contemporaneous poster promoted a town near Hyères, on the Riviera, as a "winter resort for arthritic patients" served by "fast and luxury express" trains.
Eventually steamship companies, then airlines, began to tout the wonders of the mountains, or the sea, or wherever else it was they'd just invested heavily in building a route to. "They were put up along roads or on the walls of travel agencies or at train stations," says Lars Larsson, the co-owner of the poster gallery Chisholm Larsson in New York.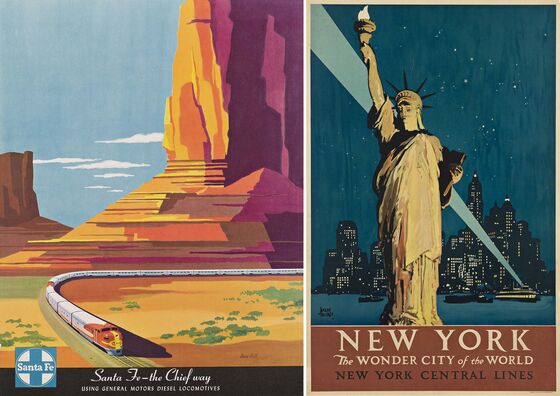 Given that these were effectively disposable advertisements, most of the time the now-collectibles were printed on "nothing sturdier than newsprint," says Mickey Ross, president of the Ross Art Group in Boca Raton, Fla. As a consequence, the posters that were actually used to advertise travel are vanishingly scarce. Most of today's vintage stock comes from posters that were printed but never used or ones that were handed out effectively as brochures or keepsakes.
The best-known and most desirable posters were created by a small group of French artists who worked primarily in the 1920s and '30s. Even if you don't know their names, you've probably seen their work. Charles-Jean Hallo, known as Alo, made the advertisement for Chamonix-Mont Blanc depicting a ski jumper midflight; A.M. Cassandre was responsible for some of the most memorable art deco advertisements in history, including the head-on depiction of the SS Normandie ocean liner (pictured above). The prolific Leonetto Cappiello is known for creations such as the ad for Aix-Les-Bains from 1921, which depicts a flapper at night by the sea. Occasionally a household name in the art world would do a one-off, as when Henri Matisse created a poster for the city of Nice in 1947.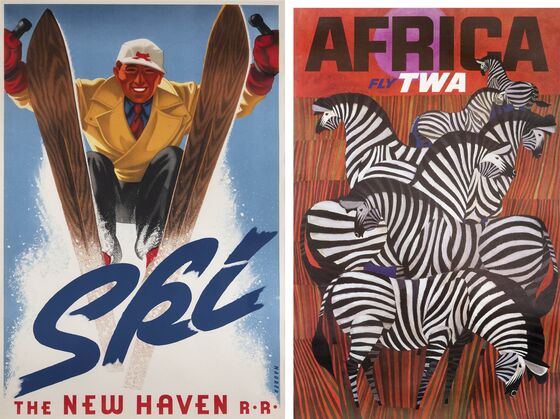 It's not just a famous name that makes a poster valuable. "Condition is extremely important," Ross says, and "whether they've been restored or unrestored." Rarity is another component, though posters were printed in bulk, so there's no way of telling precisely how many exist. "It's about how many do we think are still around," he says. Only a tiny group of highly sought-after, super-rare posters "can achieve more than $50,000," Lapides says. On average, Ross says, "an attractive, good-condition, reasonably rare travel poster would be in the $1,000 to about $4,000 range."
The U.S. remains the biggest market. "Unlike other places in the world, we actually use them for decoration," Ross says. "In Europe, where the use of these posters is increasing, a lot of people just collect them and keep them in storage." Demand for specific destinations is evenly spread around, because the subject matter of the image is, inevitably, the biggest consideration for potential collectors, whether it's Naples, Italy, or the Willamette Valley in Oregon. "It gives people a sense of history," Larsson says. "'I've been there, I went there with someone special.' It's a memory on a wall."
No one should approach the market as a place to make an easy buck—price trends seem to be "slow and steady," Lowry says. The comparatively low cost should still be seen as an opportunity: "When it's good, you don't have to mortgage your house to buy it," he says. "But it's going to evoke something special in you."