The Forces That Could Plunge Venezuela Into Chaos
(Bloomberg Businessweek) -- Events are moving fast in Venezuela, and not in President Nicolás Maduro's favor. Scattered protests in Caracas the night of his second inauguration, on Jan. 10, quickly grew into organized demonstrations as thousands heeded opposition leader Juan Guaidó's call to march against the regime. At press time, Maduro remains in office, but he faces a litany of threats: the economy, which has been devastated by low oil prices; powerful international interests, including the U.S., which condemned his 2018 reelection as illegitimate; Guaidó, head of the National Assembly, who's claimed the title of interim president until new elections can be called; and the military, whose loyalty Maduro needs above all else to hold on to power. The president made a show of courting the armed forces' support and has sent security forces into areas of unrest. But every day Guaidó roams freely in Caracas, holding rallies and building a government in waiting, Maduro's grip on power becomes more tenuous.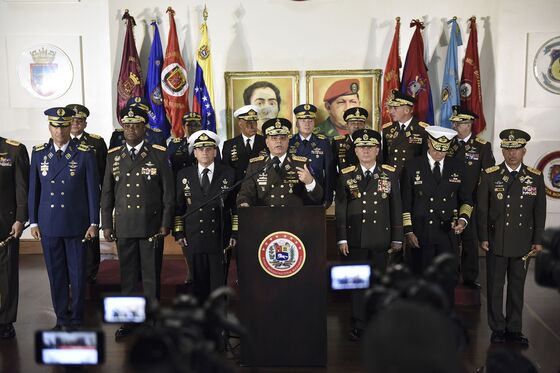 Guaidó supporters first fanned out to military bases and national guard stations around Caracas in the days after he declared himself president on Jan. 23. They carried copies of a law from the National Assembly granting amnesty to any member of the armed forces who defects to the anti-Maduro cause. So far the top brass has stood behind the commander-in-chief, who long ago secured their loyalty with lucrative prizes: the reins of Petróleos de Venezuela SA (PDVSA), the state-owned oil company; control of the ports; contracts for housing projects; and the rights to valuable mining and oil-services concessions.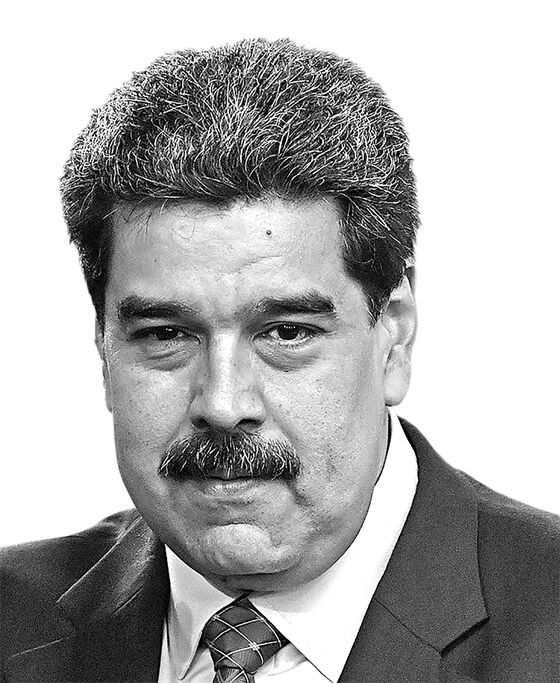 It would be a surprise if military leaders broke ranks and moved against the authoritarian regime, says historian Tomás Straka of Andres Bello Catholic University in Caracas: "Their economic interests and vision are completely fused with Maduro's." Despite the outreach from the Assembly, they'll be in trouble if he falls. Several high-ranking officers have been sanctioned by the U.S., accused by American prosecutors of graft, drug running, and other crimes.
Many in the rank and file also remain behind Maduro, at least publicly. More than a few were photographed burning the amnesty documents. Still, dissent has simmered since before Maduro's tenure. A military coup deposed his predecessor and mentor, the late Hugo Chávez, for a few days in 2002. The mood among the soldiers has only soured since, as the economy has crumbled, with those down the chain of command struggling along with the rest of the population. They, too, have to deal with desperate shortages of food and medicine, blackouts, and water taps that run dry. There have been reports of desertions. Asked for their reactions to the amnesty offer over the weekend, some men in uniform patrolling the city, rifles slung over their shoulders, gave a wink or a thumbs-up.
While key allies Russia and China continue to support Maduro, the pro-Guaidó faction swelled in just over a week to more than 20 countries, including Canada, Israel, and the U.K. In Latin America, 11 countries lined up to follow President Trump's lead in pushing for regime change.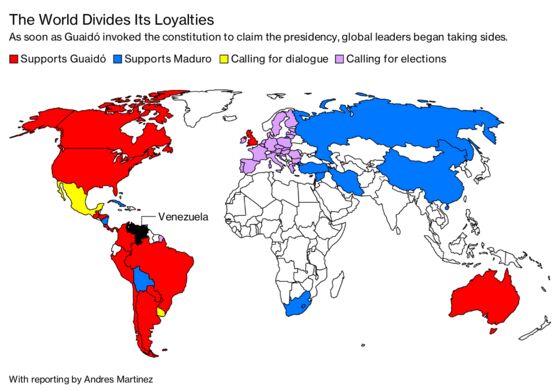 Among their motivations: More than 3 million people have fled Venezuela, according to the United Nations High Commissioner for Refugees, mainly to neighboring lands. "This isn't merely a question of applying democratic principles, this is a question of countries bearing the brunt of the negative consequences," says Benjamin Gedan, a former South America director at the White House's National Security Council.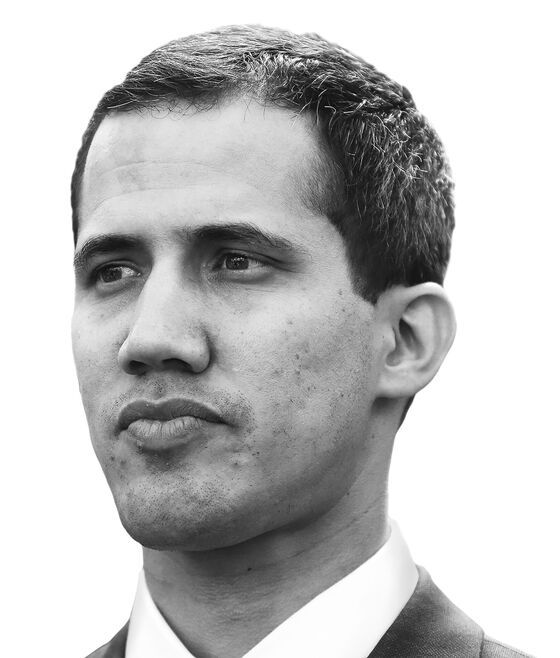 Not all in the region are on board. Mexico and Uruguay have called for de-escalation; Bolivia, Cuba, and Nicaragua have reiterated their support for Maduro. The European Union stopped short of giving Guaidó the nod, though it signaled it would do so if Venezuela didn't schedule "free, transparent, and credible presidential elections" by the beginning of February.
Meanwhile, the U.S. has been assisting Guaidó in a kind of smoke-and-mirrors game of brinkmanship, insinuating that it may be building up a military force in Colombia to invade if necessary. Addressing the UN Security Council, U.S. Secretary of State Mike Pompeo was blunt. "Now it is time for every other nation to pick a side," he said. "Either you stand with the forces of freedom, or you're in league with Maduro and his mayhem."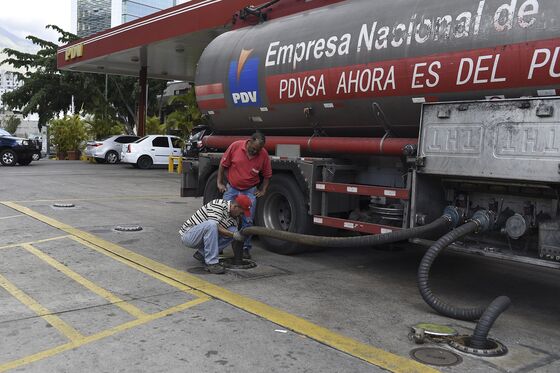 The Trump administration dealt its hardest blow yet to Maduro when it put new sanctions on PDVSA. Once Latin America's largest producer, Venezuela is pumping less than North Dakota does these days, but oil sales remain its main source of revenue. Sanctions will effectively block the national oil company from exporting crude to the U.S. and crimp the regime's cash flow. Its U.S. subsidiary, Citgo, will be allowed to continue operating, but all revenue will be held in accounts the Maduro regime can't access. Guaidó has vowed to appoint his own boards to PDVSA and Citgo—a mostly symbolic gesture for now, but one that nevertheless adds to his aura of authority.
Pompeo took another step toward starving out Maduro on Jan. 29, granting Guaidó control over Venezuelan assets and property in U.S.-insured banks, including the Federal Reserve Bank of New York. (The State Department has declined to say how much money is in the accounts.) American officials also successfully lobbied the Bank of England to deny Maduro access to $1.2 billion in gold the Venezuelan government holds in London, stymieing its efforts to pull in funds from abroad.
Maduro's government owes Russia and China billions of dollars in loan payments, but that's unlikely to faze the sitting president. Since the Trump administration began slapping sanctions on Caracas in 2017, the government has defaulted on more than $9 billion in debt owed to bondholders, yet both creditors have been staunch so far in their support.
The real problem for Maduro is losing the ability to dole out money. The more of the economy Guaidó gains control over, the harder-pressed Maduro will be to keep key allies on his side. The military, for instance, is unlikely to stick around if he loses the power of the purse.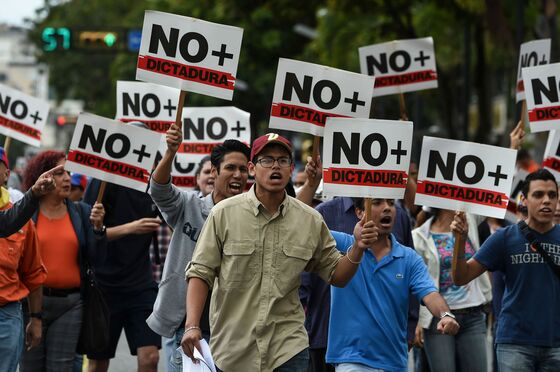 Hungry, broke, and exhausted, Venezuelans are angrier than ever with Maduro. And after more than a year of silence in the wake of the mass demonstrations of 2017, Guaidó has reignited their passion for protest.
Almost two years ago, millions turned out and encountered tear gas and violence at the hands of security forces. Thousands were arrested during months of demonstrations, and hundreds died. This time the protests have been mostly peaceful. Security officers were out when Guaidó supporters again took to the streets of Caracas on Jan. 30, but they largely kept ranks as protesters marched past.
Earlier, Maduro launched a series of nighttime raids in the working-class neighborhoods and slums that were once rock-solid Chavista bastions but have begun to shift away from him. There, under the cover of darkness, members of the deadly Special Action Force used tear gas, guns, and even grenades against demonstrators. "Maduro won't let go of power easily," says Jesus Gonzalez, a motorcycle taxi driver in the vast Petare slum. "He doesn't mind pumping anyone who protests against him full of lead."
Through all of this, Guaidó hasn't been arrested. Although Maduro has prevented him from leaving the country, he's so far been free to travel locally, meet with foreign leaders, and speak to the press. Social media blackouts have curtailed his reach at times, while Maduro has been touring the country's military installations trailed by a TV crew filming generals as they swear their allegiance.
At press time, Guaidó was still leading marchers and planning further protests for Feb. 2, when the EU's deadline runs out.
To contact the editor responsible for this story: Jillian Goodman at jgoodman74@bloomberg.net, Anne ReifenbergDavid Papadopoulos