The Dallas Mavericks' New CEO Is Cleaning Up a #MeToo Mess
(Bloomberg Businessweek) -- The chief executive officer of the Dallas Mavericks, Cynthia "Cynt" Marshall, arrived at the office on media day in September with her phone already buzzing. Most of the messages concerned a blistering 43-page report chronicling two decades of toxic workplace culture in the team's front office. The report, compiled by investigators hired by the Mavericks, had prompted owner Mark Cuban to announce that in lieu of paying a fine to the NBA, he would donate $10 million to groups dedicated to stopping domestic violence and developing women leaders in the sports industry. The media's response was mixed. Some saw it as a staggering sum given that the NBA caps fines against owners at $2.5 million. Others saw it as a small price to pay for the damage that had been done to the team's reputation. "We're going to need coffee," Marshall said.
The report was the latest development in a saga that had been unfolding since February, when a story in Sports Illustrated revealed the "corrosive" environment at the Mavs under former CEO Terdema Ussery. According to the magazine, Ussery had asked a female colleague whether she was planning to get "gang-banged," propositioned women for sex, and seldom promoted female employees. He left the team in 2015 for a position at Under Armour Inc., which parted ways with him less than two months later in what the sporting apparel company has called an "organizational reshuffle." SI reported that in his brief time at Under Armour, Ussery "behaved in a sexually inappropriate manner" while in an elevator with a junior employee. ("While we cannot disclose specific personnel matters, Under Armour takes these matters very seriously," a spokesman for the company said in a statement to Bloomberg Businessweek. Ussery couldn't be reached for comment for this story, but in his response to SI's reporting, he expressed disappointment that "anonymous sources have made such outright false and inflammatory accusations against me" and said he was unaware of any sexual harassment claims against him.)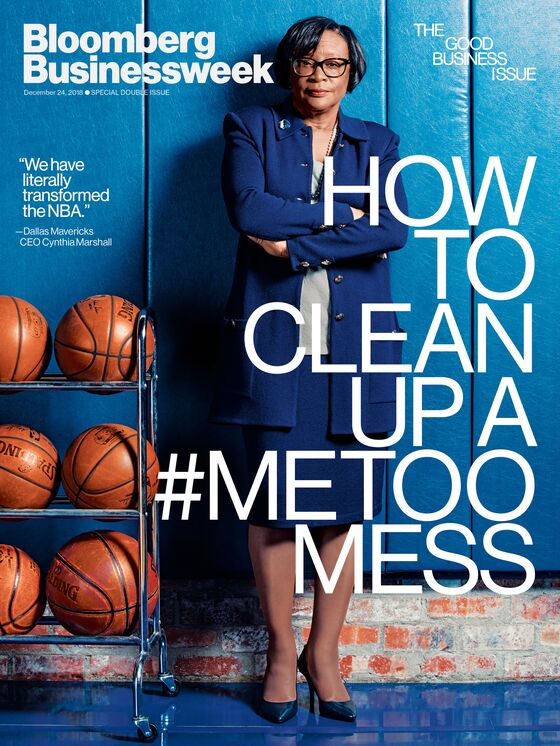 Ussery was allegedly one of many on the Mavericks' staff who regularly harassed women in the workplace; according to the investigators' report, he and Cuban also protected harassers and in some cases encouraged their behavior. One employee often watched pornography at work. When another was arrested outside the office on accusations of domestic violence, Cuban directed the team's general counsel to hire an attorney for him and offered to foot the bill. The employee later pleaded guilty to two misdemeanor charges, and investigators found no evidence that Ussery, Cuban, or other executives had tried to determine what had happened in the case.
The Mavs represent the NBA's biggest #MeToo-era scandal, but others are breaking across the sports world. The NFL was again forced to defend itself in December against accusations that it hasn't done enough to curb domestic violence when star Kansas City running back Kareem Hunt was shown in a security video shoving a woman across a hotel elevator lobby and kicking her as she sat recovering on the floor. In January 2018 more than 200 women provided victim impact statements at the sentencing hearing of Michigan State University and USA Gymnastics team doctor Larry Nassar, now serving a minimum 100-year prison sentence for sexually assaulting many of the young athletes who came to him for treatment, among other charges. Other Olympians, including speedskaters and elite swimmers, have since come forward with similar allegations. Executives at USA Gymnastics, the U.S. Olympic Committee, and Michigan State have since lost their jobs over the handling of harassment and assault allegations at their organizations. In December, USA Gymnastics filed for bankruptcy.
The past year has been transformative for the Mavs, including for the players. It's been a long, hard road since the team last won an NBA championship, in 2011. But in June the team made a smart trade to bring on Luka Doncic, a teenage phenom from Slovenia who's changed its fortunes completely. As of mid-December, the team was 15-14, its best record at this point in the season since 2015. It would be easy even for close watchers of the team to forget that the organization was in full-throttle crisis mode mere months ago.
Even given the need for change, there was a particular awkwardness to the Mavs' hiring Marshall, who'd spent more than 30 years working her way up to become head of human resources and chief diversity officer at AT&T Inc., as CEO in February. Whether Cuban's motives were cynical or not, the optics of a very public white male billionaire asking a woman of color to clean up his mess aren't great.
Released with the season opener about four weeks away, the report had stirred up still-raw emotions for many in the organization. The mood in the building had been tense that whole week, but on media day, Marshall somehow remained chipper. Standing on a mini basketball court in the office lobby with a Mavs-blue scarf draped around her neck, she looked up from her phone and greeted employees with a smile. "Today is going to be fun!"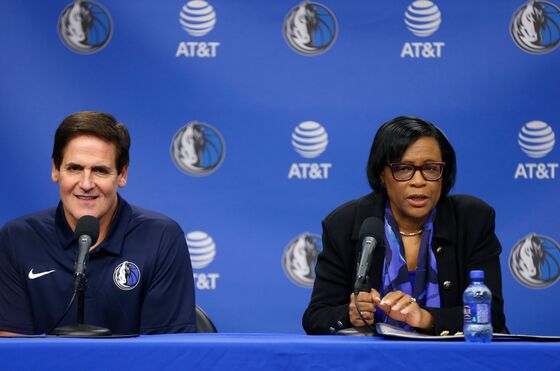 When she got the call from Cuban in February, Marshall, 58, was living in Dallas and enjoying her retirement, having left AT&T in 2017. "'It's Mark Cuban!' " she remembers the voice on the other end of the line saying. "And I said, 'Who is Mark Cuban?' "
Best known as a judge on Shark Tank, Cuban was experiencing a rare moment of vulnerability. He already held the NBA record for the most fines ever paid by an individual—or a team—largely for hurling criticisms at the league and its officials in interviews, on Twitter, and courtside. But the SI story had put him in a bind. AT&T, based in Dallas, is a longtime Mavs sponsor, and when Cuban began canvassing friends, colleagues, and business associates looking for someone who could take over immediately, executives there said he should try Marshall.
Marshall grew up in a high-crime area of Richmond, Calif. She saw her father shoot another man in self-defense; afterward she had to be escorted to and from school by a police officer. Her father once broke her nose, and after a string of violent incidents, her mother moved Marshall and her siblings out of their home. Yet she says it wasn't until a friend dropped her off at home during a break from college that she realized she'd grown up in housing projects. "If you asked me right now, I would say I had a great childhood," Marshall says. "Even with the stuff with my father, my mother worked hard. She went to great lengths to make sure we were normal, as normal as could be."
She attended the University of California at Berkeley on a full academic scholarship, dumping her high school boyfriend so she could focus on her studies. Still, she managed to find time to become the university's first black cheerleader. After graduating with degrees in business administration and human resources management, she called up the boyfriend; they've now been married for more than 30 years. In 1981 she went to work at AT&T, first managing long-distance operators in San Francisco and eventually becoming the senior vice president for human resources in 2012. She added chief diversity officer to her title three years later.
Marshall has talked openly throughout her career about everything including wearing braids in the boardroom, surviving physical abuse, miscarrying four times (once in her office), and dealing with the death of her 6-month-old daughter. She also survived stage 3 colon cancer and initially put off her interview with Cuban because she had a mammogram scheduled.
Although she's a lifelong sports fan—when she took the call from Cuban, she says, she was wearing Golden State Warriors sweats and Steph Curry socks—she had no experience working in the field. Coming out of retirement to take on an unfamiliar position, in an unfamiliar industry, at a company that had just been through an embarrassing airing of internal traumas wasn't in her plans. "I read that article [in SI] and I thought, What woman in her right mind would want to work there?" she says. When she and Cuban finally met, she says, she found him genuine in his efforts to turn around the organization, but she nevertheless walked out of his office feeling much as she had before. What won her over was hearing firsthand from some of the women at the Mavs, who told her the front office toxicity had worn them down for years and that they needed support at the highest levels. She saw a version of herself in them and felt an obligation to help.
On Feb. 26, minutes after accepting the job, Marshall joined Cuban for a press conference. He barely got a word out before she jumped in. At one point, citing the then-pending investigation, she said with a chuckle, "I won't let him talk." Marshall was taking the job, she told the assembled press, "for the sisterhood."
"'Jolting' is the only word I can think of," says Katie Edwards, 41, of the fallout from the Sports Illustrated story. She was hired as director of community relations for the Mavericks' charitable foundation in 2015, four months before Ussery left for Under Armour. The period shortly after the news broke "was really bad, especially for the women who were here," she says. "If I would introduce myself and say, 'I work for the Dallas Mavericks,' people would say, 'You're a woman, and you work for the Dallas Mavericks?' That public perception, that reputation, was so damaged that it was really hard for a long time."
Right before the story was published, Cuban had called NBA Commissioner Adam Silver. "What went through my mind was that the allegations were horrific," Silver says, "and we had to get to the bottom of this right away." During a series of phone calls, the two men formulated a plan for what Cuban and the league should do. There was the potential for business fallout to address, but there was also cultural risk. Silver was shocked by the allegations, he says, but he was also worried that they weren't isolated to the Mavs. No matter what, he didn't want to turn a blind eye.
"No person associated with the NBA or its teams should have to be subject to that kind of conduct in a workplace," he says. But in contrast to previous owner scandals—notably one involving Donald Sterling, the Los Angeles Clippers owner forced out by the league over racist comments—Silver was heartened by Cuban's admission that he'd played a role in allowing the Mavs' front office culture to degrade. Cuban invited outside investigators to look into the company, giving them complete access to current and former staff and all of their communications, another signal to Silver that he was sincere.
Before her first day on the job, Marshall drafted a 100-day turnaround plan. It consisted of four parts: modeling zero tolerance, creating a playbook for women in the organization, transforming the culture, and improving operational effectiveness, to be tackled in that order. After starting she arranged for counselors to help the staff cope with what had happened—both the toxic culture and the public cloud surrounding it. She started a hot line for employees to submit anonymous reports of improper office conduct. (Asked by email how many reports had been investigated and whether anybody had been let go as a result, a team public relations rep said only, "It is in use, and it's working.") And she created new jobs and filled open ones, bringing in a new head of human resources and a chief ethics and compliance officer.
Also as part of Marshall's plan, the team established the Dallas Mavericks Advisory Council, known as D-MAC, a brain trust of 26 local leaders, which will meet quarterly to provide feedback and advice to the front office. Co-chaired by retired Dallas Chief of Police David Brown, it includes leaders from the Hispanic business community, domestic violence shelters, LGBTQ advocacy organizations, business owners, current Police Chief Reneé Hall, Dallas School Superintendent Michael Hinojosa, and NFL Hall of Fame wide receiver Tim Brown.
Meegan Trotter, a longtime season ticket holder and hospitality executive, says she landed on the council partially because of an angry note she wrote to Cuban about the scandal. The email "came out of my passion and love for the team," she says. "I don't consider myself to be some big important person in Dallas, but I was heard by some influential people. And that was the positive thing for me: to receive a call, then an in-person meeting, then an invitation to be on D-MAC? It was the most positive outcome."
By the time the investigators were finished, they'd interviewed 215 current and former employees and reviewed 1.6 million documents, including emails from Ussery, Cuban, and Buddy Pittman, the team's former head of human resources. Cuban spoke with ESPN the day the report was released in September. "I mean, I didn't know, and I don't have an explanation," he told the network's Rachel Nichols, though the report showed him actively protecting at least one harasser. "In hindsight, it was staring me right in the face, and I missed it," he went on to say. Since then he's refused to discuss the results of the report publicly, turning down multiple requests from Bloomberg Businessweek. "All I can tell you," he said in an email, is "Cynthia has done an amazing job."
When Marshall came in, Edwards says, "it was such a different energy. It just changed the viewpoint on everything." Kathleen Francis, a sports marketing consultant who's held executive roles with MLB and the U.S. Tennis Association, says the pace of Marshall's changes "will take away the excuses" from organizations claiming that corporate culture has to evolve slowly. Midseason, it's not yet clear to what extent those changes have affected the team's bottom line. Marshall says the SI story initially hurt ticket sales, but that "we have more than recovered from it" and that all of the Mavs' key sponsors have since renewed their commitments. It doesn't hurt that basketball nuts are calling Doncic the next LeBron, either.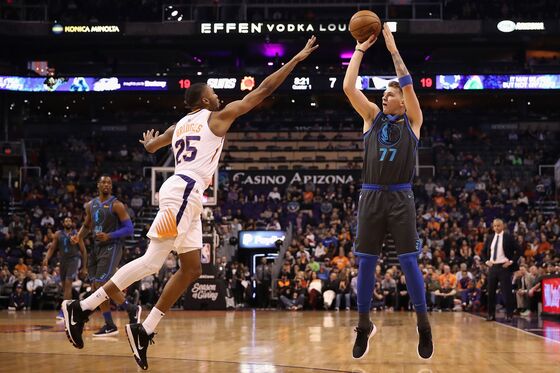 Before Marshall addressed the press assembled for media day, she welcomed the D-MAC members as they made their way into the office one by one for their first official meeting. "Good morning, Dallas!" she said, greeting each person with a hug.
Whether by design or not, Marshall speaks and acts like a coach. She gave everyone a tour, guiding them through rows of bobblehead-lined cubicles that were soon to be dismantled to create an open office plan and explaining the inspirational acronyms painted on the walls—TEAM MAVS, for instance, stood for "team players," "empowered," "ambitious," "motivated," "moving forward," "audacious," "victorious," and "strong." Employees waved. High-fives and iPhone snaps abounded. "We're about more than basketball," she said. "We will win together."
Marshall led the way to another mural, by local artist Tex Moton, which displayed the word "DALLAS" in bold gray letters against a blue backdrop. Handprints and signatures lined the bottom because it's "all hands on deck," she said. "Mark's hand will go right there in the middle. It's not just on our walls. It's in our halls." From there, the group walked to the nearby player practice facility, where oohs and aahs ensued over the giant-size showers and shoes visible in the locker room. Marshall's mortal-size black heels crunched on paper still taped to the floor from a recent paint job. "Ain't this crazy?" she asked, walking around. She read aloud a quote from Martin Dempsey, a four-star U.S. Army general, that coach Rick Carlisle had inscribed on the locker room wall: " 'Every day you must compete for the trust and respect of the men you go to battle with.' I love that," she added.
At the center of a practice court, she fielded questions. "The mindset was, and I heard this so many times, 'Cynt, we're a startup. It's not AT&T, where you have 250,000 people. It's a startup,' " she said, recounting criticism she'd received from within early on. Replying to those staffers, she'd invoke the team's first season: "The place has been here since 1980. The startup was a long time ago. That's over. We're not in anybody's garage, not two or three people. It's not a startup." The group nodded.
"They would say, 'There are 10,000 invisible people in the parking lot who want to work here,' " Marshall continued. "And I would say, 'Well, news flash, that 10,000 probably went down to 1,000 when that article came out, so the invisible people aren't as many as you think. And we don't care about the invisible people. We care about the fabulous 140 people that work here.' " The people on the court hummed affirmations.
Eventually, the attendees made their way across the street to American Airlines Center, where the Mavs play. There they watched German forward Dirk Nowitzki, an NBA legend preparing to start his 21st season with the team, take questions at a press conference.
"You go through the emotions of being disappointed, sad, and mad that all of this stuff was happening in your franchise," Nowitzki said. "And now I think we're heading in the right direction. The investigation is over, and we can move forward. And I think we changed the culture already in the front office with Cynt, and she's going to be great for us a long, long time. Our job now is to focus on basketball and hopefully have a great year."
The council's inaugural meeting got under way not long after, with everyone sitting in horseshoe formation in a conference room off the court. Marshall threw out the first question: How best to deal with the victims of the Mavericks' culture, in and out of the building? She wasn't referring to nondisclosure agreements or settlement payments but rather to more personal measures, such as potentially reimbursing counseling costs and other forms of financial support for people who were still looking for jobs after leaving the team over the years because of the hostile environment. She also asked the group for help in crafting a "gesture" to current and former employees "to say we know that you suffered. We can't go back and fix all of that," she said. "But we can do something."
The meeting concluded with much enthusiasm for the season ahead, leaving Marshall to turn to her other work: piles of spreadsheets, speaking obligations, sponsor meetings, sales targets, and the small matter of filling a 19,200-seat arena at least 41 times this season. The Mavericks are currently in ninth place in the Western Conference; in November, Doncic was named Western Conference Rookie of the Month. Marshall acknowledged that this wasn't exactly how she (or her husband) had thought life after AT&T would look, but she said she loves the work: "I'm having a ball."
Marshall checked her phone and found that Silver had sent an email to the league's board of governors "strongly" encouraging all teams to follow the 13 recommendations outlined in the Mavs investigation, many of which overlapped with her 100-day plan. "We have literally transformed the NBA," she said. "Drop the mic—but we're not going home."
To contact the editor responsible for this story: Jillian Goodman at jgoodman74@bloomberg.net, Jeremy Keehn