The Curious Case of Hard-to-Find Workers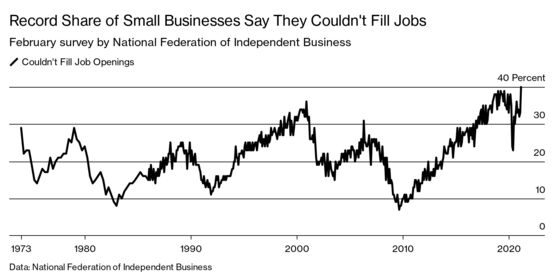 (Bloomberg Businessweek) -- It's Fed day. This afternoon the Federal Open Market Committee will issue a statement on its latest deliberations on monetary policy and then Chairman Jerome Powell will face questions from reporters. Here's a question I hope someone will ask: How hard is it for businesses to find employees?
This is a hugely important question for the Fed because if there are lots of available workers, wages will remain low and inflation will stay soft. If instead it's hard to fill jobs, employers will have to raise wages. Then they might have to raise prices to cover the rising wage bill. And that's inflation. 
The chart at the top of this article is kind of a shocker. It shows that 40% of small businesses surveyed in February by the National Federation of Independent Business reported that they had jobs they couldn't fill. That seasonally adjusted number is the highest percentage saying so in the history of the data series, which goes back to 1974. Higher than February 2020, when the unemployment rate tied a half-century low of 3.5%. Or the late 1990s, when the dot-com sector was booming. Taken by itself, it seems to show that wages could start spurting upward soon.
The question for the Fed is how seriously to take this one statistic. Some other indicators also point to labor-market tightness. The Bureau of Labor Statistics reported March 11 that there were 6.9 million unfilled jobs in the U.S. on the last day of January. That's well above average, although unlike the small business group's number, it's not a record. (The record was 7.6 million in November 2018.) Another sign of labor-market tightness that somewhat supports the small-business data is that people are quitting their jobs at a high rate, seemingly confident that they can find something else quickly. According to the BLS, the "quits rate"—the number of people quitting as a share of total employment—was 2.3% in January, just a tenth of a percentage point below the record going back to 2001.
Edward Yardeni, president of Yardeni Research Inc., speculated March 11 in a note to clients that if workers are hard to find, it could be that their skills don't match employers' needs, or that people who could work are choosing to survive on extended unemployment benefits instead.
But maybe it's jobs, not workers, that are hard to find. The official unemployment rate in February was above average at 6.2%, and the BLS has acknowledged misclassifying some people on temporary layoff as "employed but not at work." Adding them to the unemployed would boost the jobless rate by half a percent. That's vs. 3.5% a year earlier.
Also, some of the people who dropped out of the labor market during the pandemic and thus aren't counted as unemployed are actually ready and willing to work. One way to see that is through the share of the U.S. adult population that's employed: 57.6% in February. If that share returned to the level of a year earlier, 61.1%, it would represent about 8 million more people on the job.
Josh Bivens, research director of the Economic Policy Institute, said in a news conference on March 16 that if employers are having trouble hiring, the first thing they tend to do is ask their current employees to work more hours to compensate. And in fact, average weekly hours worked in the private sector did jump in January, to 34.9, the highest in records going back to 2006. But the workweek fell 18 minutes in February to 34.6, which is at the high end of normal. 
For workers, a tight labor market would be a blessing. They're due for a raise. Even if wage growth starts exceeding productivity growth, the Fed has plenty of tools to keep inflation from getting out of control. Still, the Fed needs to keep tabs on this. Signs of tightness in the labor market, while not definitive, can't be ignored.