Coronavirus Is More Dangerous for the Global Economy Than SARS
(Bloomberg Businessweek) -- Uncertainty about the severity and duration of the coronavirus outbreak makes it impossible to form a definitive judgment about its economic impact. Still, with the markets anticipating the worst, it's worth thinking through the risks for China, as well as the potential for global spillovers.
The lens for thinking about the economic impact in China is the experience of SARS in 2003. Short for severe acute respiratory syndrome, SARS killed almost 800 people. That knocked two full percentage points off China's economic growth, which dipped from 11.1% in the first quarter of 2003 to 9.1% the following quarter. With the outbreak contained, growth recovered to 10% in the third quarter.
That was 17 years ago, but in terms of China's economic development it might as well be dog years. Recall that the country's induction into the World Trade Organization—an event that spurred market reforms and accelerated China's integration into the global economy—had taken place just 13 months earlier.
In 2003, the types of industries that were most affected by government-imposed bans on travel and other measures to contain the outbreak—such as retail, restaurants, entertainment, and tourism—accounted for 42% of gross domestic product. Since then, services industries' share of GDP has risen to 54%.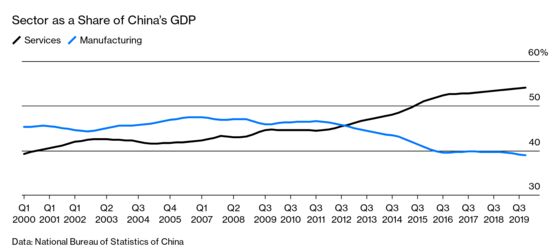 While SARS was bad economic news for China and its neighbors, which suffered from weaker exports and falling tourism, China's small weight capped the global impact. Back in 2003, China's GDP was an insignificant 4% of the global total. That share now stands at 17%, which means the effect could be bigger.
Bloomberg economists Chang Shu, Jamie Rush, and Tom Orlik drew up scenarios for the potential impact of the coronavirus on Chinese and global growth, based on the experience of the 2003 SARS outbreak and changes in China's economy since then. Among the factors taken into consideration is that this outbreak is occurring during the Lunar New Year holiday—peak time for consumption in China. Spending that would have taken place during the festivities won't be recouped afterward.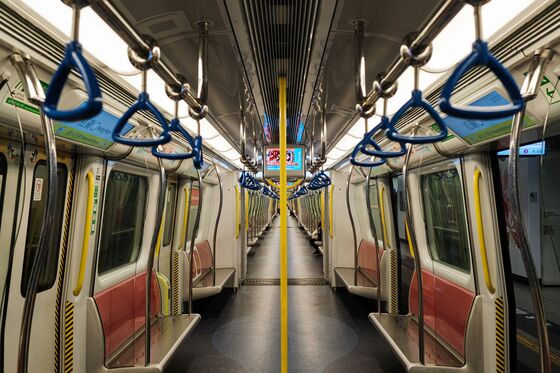 Also, the current travel restrictions are much wider than those imposed during the SARS period. For instance, there were no measures locking down cities in 2003. Last but not least, the volatility of China's growth is markedly less than it was 17 years ago. Back then, big fluctuations in GDP weren't unusual. They are now—a fact that cynics attribute to statistical smoothing on the part of officials, but it also reflects that China's economy is maturing.
In a containment scenario, with a severe but short-lived impact, the virus could deliver a severe blow to growth in the first quarter, followed by a recovery and stabilization in the second half. That trajectory would put full-year growth at 5.7%, which is 0.2 percentage point below Bloomberg Economics's forecast prior to the outbreak and down from 6.1% in 2019. If the outbreak takes longer to come under control, the hit to growth would be more severe.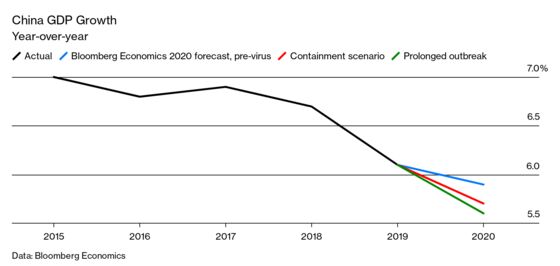 From a global perspective, it is China's neighbors in Asia and commodity exporters that are most exposed. The former are deeply embedded in regional supply chains, export to China's consumers, and benefit from China's tourist visitors. In Bloomberg Economics's simulation, Hong Kong stands out as the most vulnerable, with South Korea and Vietnam also dinged. Among commodity exporters, Australia and Brazil would be hard hit. Major Western economies, farther away and less dependent on Chinese demand, suffer a smaller blow.
Some caveats: Most important, the economic impact of the coronavirus will depend mainly on its severity and duration. That's a matter for epidemiologists, not economists. As Orlik notes, if one of the lessons of SARS is that disease outbreaks can have a marked negative impact on China's economy and those of other countries, another is that a panicked reaction in the early stages can overstate the risks.
 
Read more: The Market Is Trying to Put a Price on the Coronavirus Outbreak
To contact the editor responsible for this story: Cristina Lindblad at mlindblad1@bloomberg.net