The Consumer Economy Continues to Shrug Off Industry's Woes
(Bloomberg Businessweek) -- On Jan. 31, Caterpillar Inc. warned that sales of its heavy machinery would slump for a second straight year in 2020 amid "continued global economic uncertainty." On the same day, Amazon.com Inc. added $72 billion in market value—about the size of Caterpillar—after reporting robust holiday season sales. That contrast shows just how much the U.S. industrial and consumer economies have diverged.
The manufacturing sector went through a mild recession last year as President Trump's trade war with China added costs to supply chains and curtailed business investment. New data from the Institute for Supply Management show U.S. factory activity barely expanded in January after contracting in the last five months of 2019. Yet this industrial downturn was at most a blip for the still-roaring consumer spending spree.
While CSX, 3M, and other industrials joined Caterpillar in making sluggish sales predictions, McDonald's and Starbucks reported healthy gains for the final three months of the year. Even Target Corp., which warned last month of weaker-than-expected demand for toys and electronics over the holiday season, still projected sales at stores open at least a year to be up more than 3% in 2019. U.S. consumer sentiment reached an eight-month high in January, according to University of Michigan data.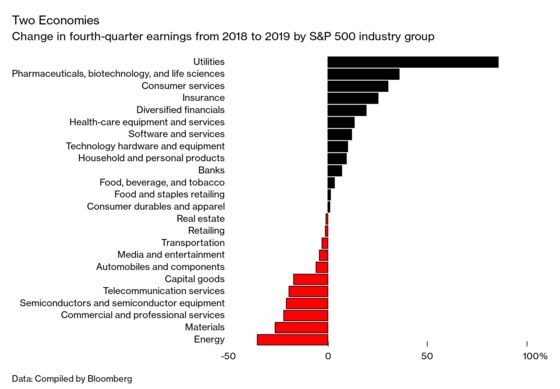 One reason there hasn't been a broader recession is that manufacturing's share of the economy continues to shrink. Factory output accounted for 11% of U.S. gross domestic product in the third quarter, which is tied with the second quarter for the lowest level since 1947, according to a Bloomberg News analysis of data from the U.S. Department of Commerce. Another is that this wasn't a typical slump. What happened in 2019 was a "policy-driven slowdown," says Gina Martin Adams, chief equity strategist at Bloomberg Intelligence—that is, the trade war.
While U.S. whiskey, motorcycles, and myriad other products are subject to European Union tariffs, the consumer sector emerged largely unscathed from the spat with China. Trump's threat on Aug. 1 to apply a 10% tariff on $300 billion of Chinese products including toys and iPhones was watered down and then partially rescinded. The industrial sector, by contrast, bore the brunt of the back-and-forth in 2018 and 2019 as it dealt with broad U.S. taxes on aluminum and steel imports and tariffs on $250 billion of mostly manufacturing-related products. Those Chinese imports remain subject to 25% tariffs.
The tariffs stalled an industrial recovery that was gaining traction following a mini-recession in 2015-16 amid plunging oil prices. Already, companies were dealing with rising labor, raw material, and logistics expenses. But the will-he-or-won't-he debate around Trump's tariff push created an impossible environment in which to make major purchases of expensive machinery. Industrial companies' sales suffered.
A belief that things would recover quickly if the U.S. and China reached a trade deal changed how companies responded to the slowdown. Executives didn't want to be caught flat-footed by a swift recovery or left without workers in a tight labor market.
Thus far, people have largely stayed employed and been active consumers. Even with all the volatility in 2019—which also included a six-week General Motors Co. labor strike and the global grounding of Boeing Co.'s 737 Max jet—the manufacturing industry ended 2019 with a net gain of 46,000 jobs, based on preliminary data from the Bureau of Labor Statistics. Asked on a Jan. 28 earnings call if aerospace supplier United Technologies Corp. would lay off employees to help it cope with the Boeing production halt, Chief Executive Officer Greg Hayes said "that would be the easiest thing to do, but quite frankly, given the scarcity of talented aerospace workers out there, we're not going to."
Most industrial CEOs say they expect a challenging economic environment to linger at least through the first half of the year. Emerson Electric Co. and 3M Co. announced fresh restructuring plans in their earnings releases that will almost certainly include job cuts. But a continued slow bleed in manufacturing combined with moderate cost-cutting probably won't be enough to tip the overall employment picture negative, Adams says. With the Federal Reserve signaling that it's unlikely to raise interest rates soon, things would have to change materially in the next six months for that manufacturing weakness to leak into the consumer sector, she adds.
One wild card is the coronavirus and the impact it could have on consumer sentiment, particularly in China. Unlike the trade war, the outbreak threatens to hit consumer-facing companies equally as hard if not harder than industrial ones, with Apple, McDonald's, and Starbucks shuttering locations in China and U.S. airlines halting travel to the country.
To contact the editor responsible for this story: Bret Begun at bbegun@bloomberg.net