Startups Are 3D-Printing Scarce Ventilator and Virus Test Kit Parts
(Bloomberg Businessweek) -- As New York state has become the epicenter of the Covid-19 pandemic, officials say they will need 30,000 ventilators for use by the most critical patients in coming weeks. But getting even a few of the lifesaving machines has proved a huge challenge as hospitals around the world jockey for the scarce supply. So engineers at Formlabs Inc., a venture-backed manufacturer of 3D printers, helped doctors and researchers at Northwell Health, the state's biggest private health-care provider, to quickly design an adapter that converts breathing machines normally used to treat sleep apnea and other nighttime respiratory conditions into emergency ventilators.
"We're really trying to innovate our way out of it," says Todd Goldstein, director of Northwell's 3D design and innovation department, which began using the printed adapters last month. "We're not just standing around waiting for equipment to show up. We have to be proactive about either sourcing or creating products now."
As the U.S. and other countries warn of a dire shortage of ventilators, testing kits, and protective equipment to deal with the pandemic, an unlikely hero is coming to the rescue: the 3D printing community. 3D tech startups, equipment manufacturers, and even home hobbyists are sharing designs and working with local hospitals and health agencies to provide lifesaving equipment and medical supplies that can be quickly created on gear from the $15 billion niche printing industry. Meanwhile, government regulators, including the U.S. Food and Drug Administration, are invoking emergency policies to get the equipment to front-line medical staff.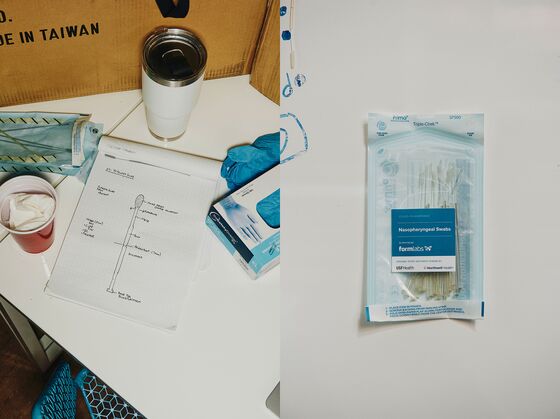 The 3D mobilization comes not a moment too soon. As Covid-19 infections top 1.5 million and deaths surpass 83,000 worldwide, medical supplies from masks to breathing machines have become scarce almost everywhere. In the U.S., the American Hospital Association estimates that 960,000 patients will require mechanical ventilation to help them breathe if the virus continues its projected spread. Yet the ventilator task force of the Society of Critical Care Medicine says the country has at most 200,000 units available.
Northwell purchased Formlabs' 3D printing system 18 months ago to make customized medical devices for patients at its operations, which include 23 hospitals and nearly 800 outpatient facilities. Northwell has so far printed more than 400 adapters so it can put to work idle sleep-breathing-aid devices commonly known as BiPAP machines. Goldstein says his hospital system is working with city and state officials to widely circulate the design to other medical facilities that have 3D printers.
Massachusetts-based Formlabs, which sells its 3D printers to hospitals for as little as $4,000 for a desktop model, is also working with Northwell to design 3D-printed nasal swabs, a critical part of Covid-19 testing kits now in tight supply. The swabs are made in a small number of factories—the biggest one is in Italy, which has been hit hard by the virus. Formlabs is retooling an FDA-approved factory in Millbury, Ohio, that was used to make prototypes and small-batch medical devices to churn out as many as 100,000 nasal swabs a day.
The company, which usually supplies aerospace and automotive companies, has fielded requests from more than 150 hospitals and government agencies asking for help to make swabs, ventilator parts, and other equipment. "This is innovation out of necessity," says Chief Executive Officer Maxim Lobovsky.
Around the world, the grassroots movement is gaining momentum. A widely circulated Google document that allows those with 3D printers to be matched with hospitals and medical facilities looking for help now lists almost 6,000 names, including printing farms, other businesses, engineers, and hobbyists. They span the globe, from Vietnam to the U.K. to the U.S.
In Spain, a consortium that includes medical and tech experts centered around the Leitat Technology Centre has just developed one of the first 3D-printed ventilators. And Prague-based Prusa Research a.s., which holds the Guinness world record for operating the most 3D printers simultaneously, with almost 1,100 machines, worked with the Czech Republic's health ministry to design and fabricate clear face shields that can be worn over surgical masks to provide another protective barrier for medical workers. It plans to donate as many as 120,000 shields in coming weeks, and its open-source design has been downloaded more than 100,000 times in the past few weeks, says CEO Josef Prusa.
3D printing is well suited for the quick turnaround jobs often needed as hospitals design equipment that can be customized to machines already in use at a facility or that meet the specific needs of local doctors and nurses. Shapeways Inc., a New York City manufacturer that typically 3D-prints items for makers of aerospace products and drones, has quickly pivoted to also make 10 different face shield designs for U.S. hospitals.
Such shields are typically manufactured using plastic injection molding, which cranks out high volumes but take months to design and test. While the 3D-printed shields can be turned out within days, they come with one big setback: higher cost. Shapeways is selling its reusable face shields for $30, compared with $5 to $10 for single-use disposable ones, it says. "There are cheaper, more effective ways to produce these parts," says Shapeways CEO Greg Kress. "3D printing wouldn't be your first choice if it's not an emergency. Right now, it's the only option."
Although face shields, usually used along with a surgical mask, are considered low-risk and don't need FDA clearance, the regulator is working with larger 3D companies to approve designs of higher-risk parts or products using a fast-track process, the companies say. The agency on March 24 issued an emergency authorization to allow BiPAPS to be modified for use as ventilators—a fix that, these days, often involves a 3D-printed part.
The frenzy to produce medical gear is also giving the 3D printing industry a boost that could help it weather the looming economic downturn, which seems likely to pinch its traditional sales to aerospace and automotive customers. "This feels like a huge turning point as we deal with a global recession," says Formlabs' Lobovsky. "People are seeing it's not hypothetical that 3D printing can shorten supply chains and make them more robust. It's suddenly become very real."
 
Read more: Inside a Factory Racing to Supply America With Virus Test Swabs