Tech Stocks Won't Bounce Back Quickly This Time
(Bloomberg Businessweek) -- Like so many things, the past month's calamity in tech stocks may be best understood in terms of Caddyshack. In a scene midway through the movie, the country club pool fills up with people splashing around and having a great time. That is, until a girl tosses a Baby Ruth candy bar into the water and panic erupts. The stampeding crowd mistakes the chocolate treat for, well, something else.
For years, investors have been crowding into the tech pool, steadily raising the water levels at Facebook, Apple, Amazon.com, Netflix, and Google. And the companies' Chinese counterparts. And the makers of the computer chips and other hardware that power the internet economy. Tech companies dominate lists of top holdings among hedge funds and retirement funds alike. NYSE FANG+ Index futures contracts even allow heavy hitters to bet exclusively on the continued good fortunes of Silicon Valley's biggest.
That doesn't look as smart today as it did a month ago, before the Nasdaq-100 Index lost close to $1 trillion in value. No one is sure yet whether the stampede out of the market was an overreaction. But unlike previous shareholder freakouts, this one reflects problems that can't be erased by a strong quarter or two.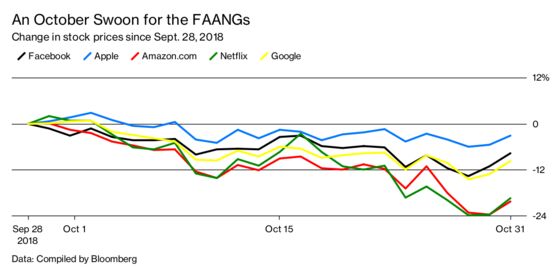 One is higher interest rates, which raise corporate borrowing costs and boost the appeal of bonds relative to stocks. Another is the Trump-induced trade war, which threatens to reshape global supply chains and make investors rethink internet companies' overseas ambitions. Low unemployment has added labor market pressure, as exemplified by Amazon.com Inc. increasing its minimum wage. And with every discussion of social media's role in election meddling or promoting hate, there's a sense that the Facebooks and Googles of the world are going to have to play a larger, much more expensive role in helping police their services from now on.
Add it all up, and investors recognize that the setbacks several leading tech companies reported this earnings season may presage a longer-term reality. Facebook's adjusted earnings growth is estimated to slow from 20 percent in 2018 to 5 percent in 2019, according to data compiled by Bloomberg; Google parent Alphabet Inc.'s, from 19 percent to 6 percent; Amazon's, from 173 percent to 32 percent. Amazon declined to comment for this story; the other companies didn't respond to requests for comment.
"These stocks have been crowded for a long time, and higher interest rates were enough to uncork those stocks and get everybody to sell," says Dan Veru, chief investment officer at investment firm Palisade Capital Management. "With Facebook, you've got some serious questions with the business model. With Amazon, while top-line growth was terrific, it wasn't what the Street had already gotten used to."
The anxiety isn't limited to Silicon Valley. Chinese tech stocks, measured by the Invesco China Technology exchange-traded fund, are down 35 percent since January amid concerns that growth will stall at Tencent, Alibaba, and Baidu. And global chipmakers suffered a wave of downgrades in October from analysts who cited rising competition and weakening demand.
Recent volatility doesn't seem to have discouraged companies from going public. That may be because, despite some share-price flops from the likes of Sonos Inc. and Spotify Technology SA, the 46 technology and communications companies that held initial public offerings in the U.S. so far this year have seen their market values climb 20 percent, based on returns weighted by IPO size. The 46 companies raised $16 billion through IPOs, easily outpacing the 40 deals that sold $13 billion worth of shares last year.
Next year will potentially be the biggest year for IPOs on record, as Uber, Airbnb, SpaceX, and WeWork lead a new herd of unicorns who are prancing toward Wall Street. U.S. IPOs will reach $80 billion in 2019, double the average during the past 30 years, Goldman Sachs Group Inc. estimates. A deluge of new shares could offset the reduction in supply through corporate buybacks that has helped prop up the whole market. At the very least, there will be more options when it comes to betting on tech companies, says Neil Kell, head of global tech equity capital markets at Bank of America. "The buy side has become even more focused on growth," Kell says, adding that investors are starting to ask tougher questions about companies' potential and need more convincing than they used to.
Of course, there's nothing to suggest consumers will put down their smartphones anytime soon, and the companies that have taken control of the internet aren't going anywhere. But even if the worst of the damage to their stocks is over, there's plenty to stop them from returning to record highs in the near future. The water in the pool looks too suspicious. —With Lu Wang and Alex Barinka
To contact the editor responsible for this story: Jeff Muskus at jmuskus@bloomberg.net