Take a Peek at the Insane Formula E Race Car That Debuts Next Month
(Bloomberg Businessweek) -- In December, Formula E is set to kick off its fifth ­racing season in Ad Diriyah, Saudi Arabia. Whereas Formula One has a history of ­charismatic drivers and long-standing team rivalries, the all-electric series centers much of its hype on the unique design and engineering of the cars themselves. They are whippet-thin, 1,700-pound machines capable of roughly 335 horsepower, with front ends shaped like blades. The collective racing note sounds like a horde of hornets whizzing by the grandstands.
BMW is scheduled to enter the year as a ­manufacturer, teaming up with Andretti Autosport, and Mercedes affiliate HWA will join as a precursor to Mercedes's official entry next season. Renault is out; Nissan is in.
But the biggest change this season is the car. Unlike Formula One, E-version supercars are all pretty much the same—allowing for minor tweaks to brakes, gears, and wheels. All those refinements hint at the systems coming for consumer vehicles in the years ahead. Here are nine things to know about the new season.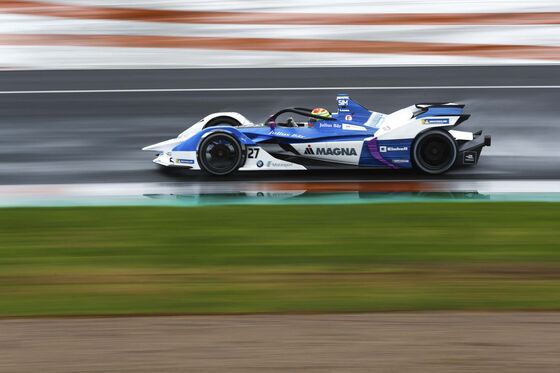 Hard to believe, but before this year, drivers had to change to a new car halfway through each 45-minute race. This year each team will use a standardized 385-kilogram lithium-ion battery developed by Williams Advanced Engineering Ltd. With twice the energy ­storage, it offers twice the range—enough to cover the full distance of each course.
Formula E cars can sprint to 62 mph in 2.8 seconds—about the same as their ­gasoline-powered ­brethren. But F1 cars can reach top speeds of 230 mph; in Formula E the maximum speed is 174 mph.
The car's shape, including the needlelike nose and the huge wing in the back, efficiently directs and controls airflow.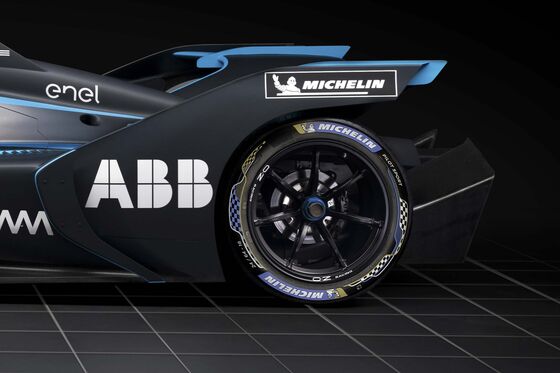 Wheel design has also been deregulated in Formula E, meaning each team can fine-tune the performance of their spoked 18-inch rims.
Each team uses the same ­hydraulically ­operated ­braking ­system made by the Italian manufacturer Brembo SpA. Formula E cars ­typically have ­carbon brake discs, which can reach ­temperatures as high as 1,000C. Heat management is crucial: Running brakes too hot means they oxidize and wear out quickly; ­running them cold reduces how well they stop.
The motor can spin at 20,000 rpm, which ­produces 250kW (about 335 hp). An F1 car is ­limited to 18,000 rpm.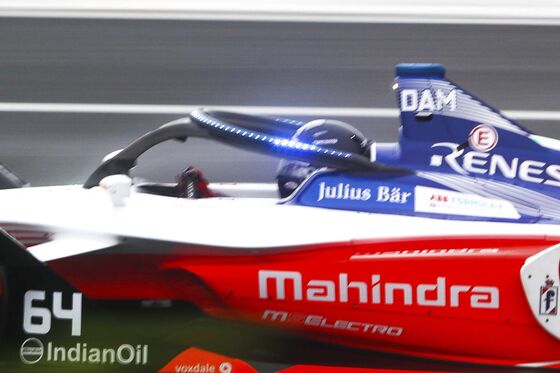 A team may tailor the suspension to its ­liking. Most feature a ­double-steel wishbone suspension with twin dampers, plus adjustable anti-roll bars. Formula E cars generally ride higher than F1 cars and come with multiple suspension settings, since most Formula E races are on city streets instead of racetracks. Each team uses the same carbon-­fiber-and-aluminum "survival cell" (the protective framework around a driver), manufactured by Italian chassis designer Dallara Automobili SpA.
Unlike the battery and power apparatus, the motors and transmissions aren't standardized across the race field—each team can make them to its own specifications. Some teams use a one-gear solution, but others still use two or three.
At a Formula E race, the noise is a mixture of tires, the whish of the cars moving through the air, and the whir of their drivetrains. At top speeds, an electric race car reaches roughly 80 decibels—a little more than what a normal car produces at 70 mph. An F1 car can reach 130 db or more.
To contact the editor responsible for this story: James Gaddy at jgaddy@bloomberg.net, Chris Rovzar