Sunday Strategist: AT&T Prepares HBO for Battle
(Bloomberg Businessweek) -- This is a limited-time free trial of Sunday Strategist, a new subscriber-only weekly newsletter from Bloomberg Businessweek that takes an insightful look at the boldest business bets of the week.
While running HBO, Richard Plepler had a saying that he liked to repeat: "Culture eats strategy for breakfast."
Don't tell that to AT&T, the giant telecommunications company that recently completed its $85.4 billion acquisition of HBO's parent company Time Warner.
On Feb. 28, Plepler resigned as CEO, the first casualty of a broader corporate reorganization, as the network's new owners try to raze resistant pockets of the old, Time Warner culture to jumpstart a new strategy for conquering the future of streaming TV.
Later this year, AT&T will roll out a new direct-to-consumer streaming TV service that will pull together programming from the once fiercely independent assets of what is now called WarnerMedia, which includes networks like TBS and TNT and Warner Bros. studio. HBO is penciled in to serve as its backbone.
How all the pieces will fit together is still largely a mystery. But whenever WarnerMedia's streaming service does arrive, it will face a wildly competitive landscape. In addition to Netflix, Hulu, and Amazon Prime Video, the media conglomerates Comcast and Disney are working on similar products. Apple is too.
With the race for streaming riches careening forward at breakneck speed, AT&T is positioning HBO to serve as its engine for the future—never mind the network's sputtering past on the web.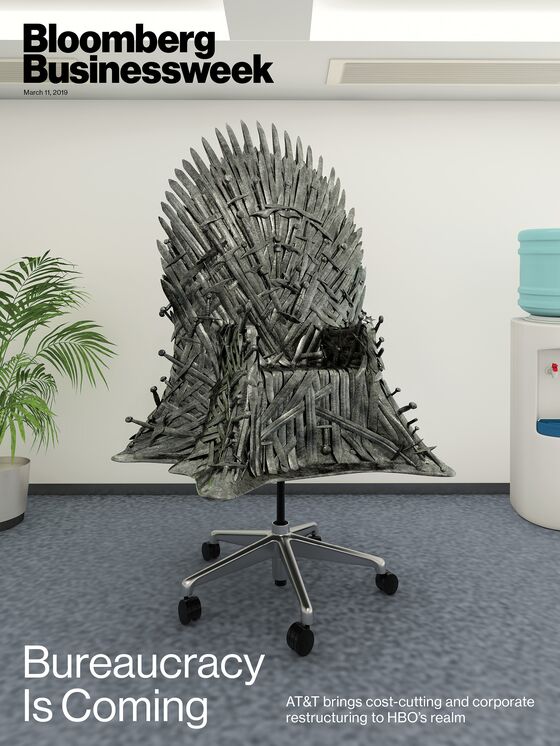 To contact the editor responsible for this story: Silvia Killingsworth at skillingswo2@bloomberg.net