The Greatest Lawn Chair of All Time Is Actually Made of Grass
(Bloomberg Businessweek) -- Part recliner, part land art, the Terra! is your very own backyard throne. Here's how it works: The seat's cardboard skeleton is delivered flat, by mail, for owners themselves to build. Pick a plot of land where the soil is level, and erect the infrastructure of jigsaw-like corrugated pieces.
Fill the center with rocks or clay for stability; you'll need about 50 gallons of nonporous material. Then it's time for the organic upholstery: roughly 90 gallons of sandy soil packed around the frame until it resembles a recliner. (Moisten the soil a bit if it won't settle into the shape you want.) Scatter grass seed over the surface. Water daily, and within a week and a half, shoots should appear. Terra! will be ready for lounging in about two months—just a couple of weeks longer than it takes a Chia Pet to grow.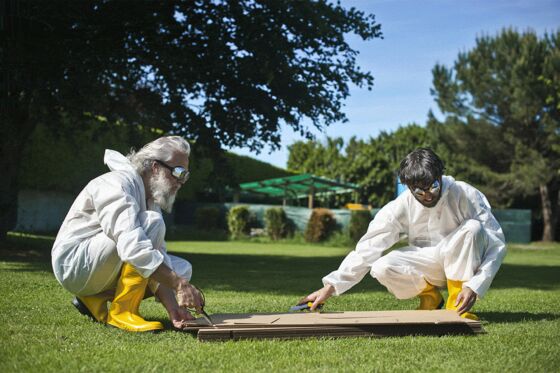 The concept for the chair was developed two decades ago by Studio Nucleo, a design collective based in Turin, Italy. According to co-founder Piergiorgio Robino, the first Terra! (yes, its name always had that exclamation point) was a promotional project for a trade show. "People were starting to talk about sustainability then," he says. "We didn't want to use plastic on any chairs in the garden but create something that was totally part of the ground."
The chair was so popular that Studio Nucleo produced 1,000 in a limited edition sold at museum stores worldwide. Although it sold well, the cost of the chair was prohibitive to produce long-term at the then-price of €49 ($55).
Changes in manufacturing allowed Studio Nucleo to reintroduce it four years ago. Terra! v2.0 was produced on demand, using a computer-controlled cutting machine; the designers tweaked the dimensions to allow it to be scaled up or down at the push of a button. Customers could order a sofa, a kid's chair, or even a desktop version—a nod to the miniature collectible chairs produced by Swiss furniture maker Vitra.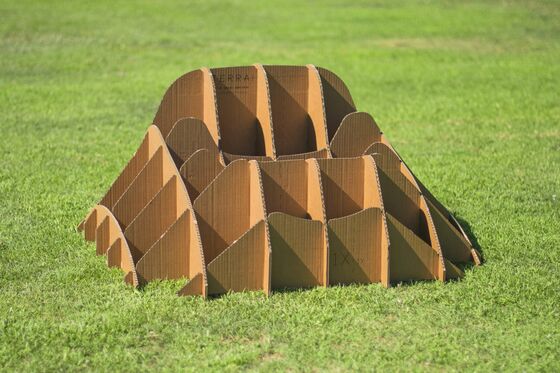 To celebrate the project's 20th anniversary, Robino plans to return to the initial design's focus on sustainability, which is now mainstream. This fall, he'll request donations via a crowdfunding site—likely about $10 each. When the goal is met, he'll upload the instructions free, to the internet.
This turns the idea into an open source project, allowing anyone to print and cut the lawn furniture at home; without shipping, Terra! becomes virtually carbon neutral. "We want to move away from the product to the value of the idea," Robino says, "and make the success something that's free for everyone."
The final thing you'll need to supply: a blanket or pillow to guard against grass stains.