Grill Makers Are the Hottest Things in Post-Pandemic IPOs
(Bloomberg Businessweek) -- Buoyed by a rush of locked-down homeowners investing in high-end barbecue gear, grill makers are taking advantage of soaring sales to go public.
Within a week of the traditional U.S. barbecuing holiday, July Fourth, two companies filed paperwork for initial public offerings. Traeger Inc. and Weber Inc., the biggest American manufacturers of barbecue grills, will tap public investors for the first time this summer after decades of being closely held. And BBQGuys, an online retailer of grills, outdoor kitchens, and other accessories, whose investors include football greats Eli and Peyton Manning, is in talks to go public through a merger with Velocity Acquisition Corp., according to people with knowledge of the matter. The combined company is set to be valued at about $900 million, including debt, they say.
So-called stay-at-home trades have proven popular for investors over the past year, as consumers spent more money on their immediate surroundings after being kept away from restaurants, bars, and entertainment venues by state- and countrywide pandemic lockdowns.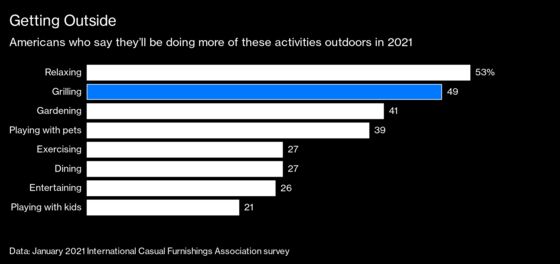 Sales at both Traeger and Weber have surged, giving the companies some of their best quarterly results ever. Revenue was up 50% at Traeger in 2020, and sales climbed 60% at Weber in the six months through March. One reason: Throwing a few steaks on the barbie doesn't come cheap these days. Barbecue enthusiasts can spend as much as $4,000 on a Weber gas grill before adding any accessories, and Traeger's outdoor kitchen setups can run to the tens of thousands of dollars.
Add together equity markets that just won't stop setting record highs, a booming IPO market, and no sign of consumer spending slowing down, and you can see why these long-private enterprises are changing their approach. The pandemic, by keeping people at home, "not only created an economic savings," says Clayton Hale, Citigroup Inc.'s global head of consumer and retail investment banking, who says he grills on his lunch break about a quarter of the time when he works at home. "But it also created an opportunity for business models to take advantage of a natural shift in consumer sentiment, which is, things are now not just purchased to own, things are being purchased because one has a passion."
What makes the IPOs even easier to sell is a hefty dose of brand loyalty: Consumer names tend to resonate with investors who have personally used the product. And, according to the Hearth, Patio & Barbecue Association, 64% of U.S. adults own an outdoor grill or smoker. In fact, every source contacted during the reporting for this story owns equipment made by at least one of the two soon-to-IPO brands—and often had strong opinions about which is better.
One banker says pricey Traeger's "low and slow" wood pellet style of cooking is of no use when his kids are hungry, and another loves being able to control his Traeger from his phone. One adviser is optimistic there's room for both companies. "There's always an American guy who wants to grill," he says.
Across the industry, manufacturers of luxury home goods have been benefiting from the extra money that middle-class American families funneled into improving their homesteads when vacations were out of reach.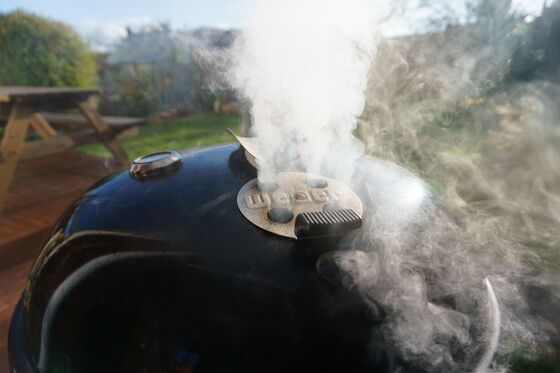 Sales of big-ticket items (think stand mixers, grills, and swimming pools) have exploded. Sales of grills and smokers in the U.S. shot up 41%, to $3.2 billion for the 12 months ending in March, according to data from NPD Group.
Over the past year three companies that manufacture or maintain home swimming pools— Leslies, Hayward Industries, and Latham Group—have gone public, together raising almost $2 billion. Each of the stocks has risen more than 40% since their IPOs.
As with most Covid-era growth stories, the question investors want answered is whether sales can continue to rise as rapidly now that consumers in many markets are returning to restaurants and taking vacations. Swimming pools need regular expert cleaning and maintenance; barbecues, not so much.
Some industries are ripe to ride the growth runway built by the pandemic, but others are beholden to consumers resetting their behaviors. In May, DoorDash Inc. executives warned shareholders of a slowdown as users ditched delivery for summertime activities outdoors now that businesses have reopened. "We expect the combination of summer seasonality, market reopenings, and the waning impact of stimulus to result in some impact to our business in the near term," the company wrote in a letter to shareholders.
Likewise, meal-kit makers Blue Apron Holdings Inc. and HelloFresh SE may be poised to outperform grocery stores, but they're still likely to see sharp deceleration from their Covid-lockdown pace. According to Coresight Research, the entire market's growth rate could plummet to 18% in 2021, from the almost 70% seen last year during peak quarantines.
Grill makers aren't necessarily using their windfalls for future expansion. Traeger is putting the IPO proceeds toward repaying a loan, plus allowing some existing shareholders to cash out. Weber says it will use all its net proceeds to buy back shares from its holding company, existing shareholders, and management.
Joe Derochowski, a home improvement industry adviser at NPD Group, says the trend is sustainable for grill makers because there's no better way to show off your new landscaping, hot tub, or house renovation, after all, than inviting friends over to grill in the yard or garden. A shift toward hybrid work schedules would also provide the industry with another growth opportunity in lunchtime meals. "The table is set for grilling," Derochowski says. "Everything is growing because we're eating and entertaining more at home."
 
Read next: U.S. Workers Try to Lose Weight Before Returning to the Office