Stock Buybacks Aren't Bad. They're a Symptom of a Larger Problem
(Bloomberg Businessweek) -- Last year, U.S. companies announced they were buying more than $1 trillion of their own stock. This record-setting exercise in financial engineering was spurred by overseas profits they repatriated following tax reform. It brought the total that U.S. corporations spent on their own shares in the decade since the financial crisis to more than $4 trillion. The buybacks have now prompted a political response.
Senators Charles Schumer (D-N.Y.) and Bernie Sanders (I-Vt.) are pushing legislation to stop companies from buying back their stock unless they satisfy a list of conditions to show that they treat their employees fairly. In an op-ed piece for the New York Times, they write that such "corporate self-indulgence" is damaging workers and harming the long-term growth of the economy.
The senators have found an issue that cuts to the heart of the way that capitalism has lost Americans' confidence and has ratcheted up inequality. Although buybacks play a role in this malaise, Schumer and Sanders may not be treating the root of the problem (often labeled "secular stagnation") but merely attacking one of its most obvious symptoms.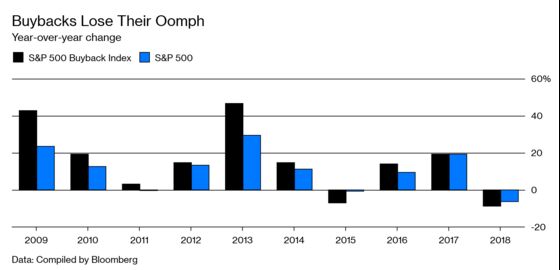 For much of the last decade, companies buying their own shares have accounted for all net purchases. The total amount of stock bought back by companies since the 2008 crisis even exceeds the Federal Reserve's spending on buying bonds over the same period as part of quantitative easing. Both pushed up asset prices.
For critics, buying back stock is a cold-blooded financial maneuver that favors shareholders at the expense of all other stakeholders, including employees. Companies reduce the shares in circulation, raise earnings per share, and therefore push up the share price—a great outcome for executives who are incentivized to raise the share price. It all happens without investing anything in the company. This critique ignores one thing: To buy back their own stock, companies must pay cash to someone else—almost always an institutional investor. That investor can use that cash to invest in something else.
With companies having already widened their profit margins and pushed up efficiency as they face a tepid economy where it's hard to increase revenue, executives often can't find profitable investments in their own company. In such circumstances, they return money to investors, who can then find a better place to invest it. Viewed this way, share buybacks aren't corporate "self-indulgence" at all but the height of corporate responsibility. Managers know their own business better than anyone else. If they see no growth opportunities, the responsible thing to do for their own shareholders and for the economy as a whole is to buy back stock.
Buying back stock is not in itself harmful. Rather, the twofold problem revealed by the buyback boom is that many managers can find nothing productive to do with the money in their own business—and that investors in receipt of buyback cash may not be finding enough opportunities anywhere else. The issue of capitalism's lost ability to produce consistent, robust growth has dominated economic debate and perplexed economists ever since the crisis. Dealing with this situation will need deeper remedies and harder choices.
Another problem for Sanders and Schumer's attack on buybacks is that it may be too late. The market has soured on the strategy. Last year's trillion-dollar splurge didn't stop the stock market from falling for the year. Standard & Poor's keeps the S&P 500 Buyback Index, which tracks the performance of the 100 stocks within the S&P 500 that buy back the highest proportion of their own stock. For the first few years after the 2008 crisis, the index far outpaced the market, but over the last two years it has failed to do that. With stocks expensive, using shareholders' money to buy at inflated prices is a bad deal. The buyback phenomenon could die a natural death.
To contact the editor responsible for this story: Pat Regnier at pregnier3@bloomberg.net