The End of Steve Bannon—and Maybe Trump, Too
(Bloomberg Businessweek) -- Steve Bannon's arrest on charges that he defrauded donors to a right-wing immigration group for $1 million marks the end of a political era—the era when a Trumpian admixture of economic populism and nativist immigration policy looked as if it could, as Bannon once put it to me, deliver the Republican Party "a hammerlock on the Electoral College."
At the time he made this assessment, in the days after Trump's 2016 victory, it seemed entirely plausible that Bannon, Donald Trump's campaign chairman and future chief strategist, was right. Before Trump, the GOP had imagined its future lay in purging its racist fringe and soft-pedaling its brand of laissez-faire economics to a diversifying nation that had spurned the 2012 Republican ticket of Mitt Romney and Paul Ryan. The Republican Party "autopsy" conducted in 2013 after their loss warned that the GOP risked falling into oblivion if it didn't present a more welcoming face to immigrants, minorities, and young people.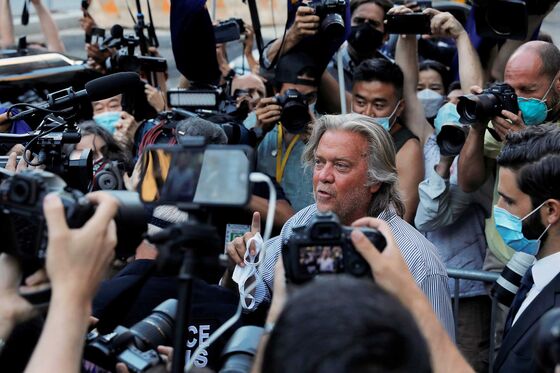 Trump, of course, egged on by Bannon, instead offered a turbocharged anti-immigrant nationalism that promised to revive working-class fortunes, a message that resonated particularly among Rust Belt voters who'd previously voted Democratic. He was certain that Republican Party leaders would recognize this. "What Reince [Priebus] and Paul Ryan realize now," Bannon told me after the election, "is that our message was the right one and that it's gonna deliver Michigan, Wisconsin, and Pennsylvania to the Republican Party for a generation." This was the Trump hammerlock.
Had Trump delivered on his promise and instituted the kind of working-class populism Bannon was espousing in 2016, he'd likely be in a better position than he is today. Certainly, Bannon would be. But that never happened. "There was only a plan to get elected," says Sam Nunberg, a former Trump staffer. "There was never a plan to govern."
Instead, the Trump administration proved chaotic from the outset and the Trump-Bannon marriage quickly blew apart. Once in office, Trump lost any interest he'd had in economic populism and signed a tax cut that favored the rich, while Bannon, who clashed with colleagues and members of Trump's family and had no experience in or talent for policymaking, was quickly forced out of his chief strategist job.
Even after Bannon left the White House in 2017, he held fast to his belief that a politics of hard-edged nationalism could deliver the right politician the presidency. Resentful of his ouster—"I'm sick of playing wet nurse to a 71-year-old man," he griped of Trump—Bannon began fitting himself for the role of political leader. Upon leaving the White House, he tried to marshal a slate of nationalist candidates, including Alabama Senate hopeful Roy Moore, who would rout the GOP establishment and "carry Trumpism beyond Trump."
Bannon was a potent enough figure on the right that he traveled to Europe to spread Trump-style nationalist populism. At the same time, as I reported in 2018, Bannon began scheming to start a new U.S. political party that he planned to call the "National Union Party"—the temporary name Abraham Lincoln and the Republican Party had adopted in 1864 to attract War Democrats and Unionists—imagining that he could unite disaffected populists on both ends of the political spectrum and make his own run at the White House.
Bannon's fantasy never came to fruition. Instead, as often happened, his indiscretion became his undoing. After the author Michael Wolff quoted Bannon disparaging members of Trump's family, Trump angrily ostracized him from the Republican Party. This included pressuring Rebekah Mercer, a major Trump donor and backer of Breitbart News, to oust Bannon from his position atop the conservative publication.
Once robbed of his influence in the White House and at Breitbart News, Bannon came to understand that it was Trump, not Bannon or his ideas, that excited Republican voters. Furthermore, it became obvious that any hope Bannon had of exerting influence on national politics was contingent on his worming himself back into Trump's good graces.
To do this, Bannon swallowed his pride and began making boosterish appearances on Fox News to loudly advocate for the same president who'd publicly destroyed his standing in Republican politics and even issued a White House press release saying that Bannon had "lost his mind."
To regain relevance, Bannon became active in anti-immigrant organizations like We Build the Wall, whose leaders were indicted by federal prosecutors on Thursday, and anti-China groups like the Committee on the Present Danger (Bannon was arrested aboard a 150-foot yacht belonging to Chinese billionaire tycoon-in-exile Guo Wengui).
But Bannon was no more effective in bringing about the policies Trump had campaigned on than Trump was. The supposed purpose of We Build the Wall was to build a privately funded barrier at the U.S.-Mexico border—the one that Trump had promised to erect in 2016 (and make Mexico pay for) but failed to do as president. Just as Trump sold a bill of goods to his followers, prosecutors allege that Bannon and the leaders of We Build the Wall were essentially grifters who raised $25 million by preying on the nativist political desires of donors. "The defendants defrauded hundreds of thousands of donors, capitalizing on their interest in funding a border wall to raise millions of dollars, under the false pretense that all of that money would be spent on construction," U.S. Attorney Audrey Strauss said in a statement.
The idea that Bannon and a group of right-wing extremists would actually build a border wall was ridiculous on its face. Last month, ProPublica discovered that a three-mile section of wall the group erected too close to the Rio Grande had already begun to erode and was in danger of falling down. The true purpose of the project, as Trump himself seemed to discern, was to bring attention, acclaim, and money to its sponsors in a way that would attract the president's notice and help Bannon to rehabilitate his tattered image. "I haven't been dealing with him for a very long period of time," Trump told reporters on Thursday. "[I] don't know anything about the project at all ... I don't like that project. I thought it was being done for showboating reasons."
The symbolism of Bannon's grand political project ending in his indictment and arrest is timely, if nothing else. Precisely four years ago, he'd just taken command of Trump's sputtering, left-for-dead presidential campaign and was about to steer it to the greatest upset in U.S. political history.
But the political realignment Bannon thought was happening four years ago always depended on Trump delivering what he'd campaigned on. The details of Bannon's indictment lay bare the path he's traveled since the days not so long ago when he was regarded in some circles as "the second most powerful man in the world."
Although he's avoided indictment, Trump's path hasn't been much smoother. He survived impeachment, but he hasn't delivered a border wall, middle-class prosperity, or an American condition that can be considered anything like "great again." It takes just a glance at the polls—Trump is behind in Michigan, Wisconsin, and Pennsylvania—to see that the electoral lock Bannon envisioned, like so much else, is a fiction and that Trump's political career, like that of his former strategist, could be about to draw to a close.
 
Read next: What Happens If the President Tests Positive for Coronavirus