A Startup Is Testing Sewage to Trace the U.S. Spread of Covid
(Bloomberg Businessweek) -- The Delaware county of New Castle is home to about 560,000 people, more than half the state's population, and like most American communities during the federal government's bungling of its initial pandemic response, it struggled with conflicting information and severe limitations on Covid-19 testing. Given the mess, County Executive Matt Meyer says, he was ready to consider any option that could provide better intel. So in April, New Castle began to gauge coronavirus infections using a data point collected from an unusual source: poop.
The county has been participating in a pro bono program run by Biobot Analytics, a startup in Cambridge, Mass., that analyzes the virus's concentration in sewage to estimate the number of people infected in a given area. The Biobot founders say that by gauging where infections are rising or falling over time, Meyer and other officials can make better decisions about public health. That could mean relaxing social distancing restrictions when conditions improve or preparing local hospitals for a surge of patients when coronavirus-in-sewage levels spike. "My job right now," Meyer says, "is to get us out of this however we can."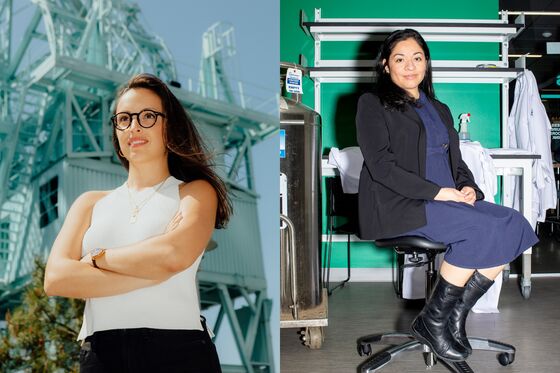 Wastewater epidemiology, a branch of public-health research best known as a way to combat polio, is finding fresh converts in the age of Covid-19. About 400 U.S. wastewater-treatment facilities have joined Biobot's program, including plants in or near Denver, Honolulu, Indianapolis, Miami-Dade County, and the Portland, Ore., area. Workers on the ground collect samples in 50-milliliter vials provided by Biobot and FedEx them to the startup. Within a week of receiving the samples, Biobot estimates each area's Covid density by searching for traces of the virus's RNA in conjunction with the help of a microbiome lab at MIT. Chief Executive Officer Mariana Matus, who has a doctorate in computational biology, met her Biobot co-founder, President Newsha Ghaeli, on campus in 2014. They say their tests are meant to complement doctor-patient tests, not replace them. With an eye to privacy concerns, they emphasize that their work can't be used to identify individuals.
Most cities can't test every resident clinically, likely ever. But to answer questions about reopening businesses and sending kids back to school, "testing at scale is critical," Ghaeli says. "Compared to individual testing, it's very cheap for us." She says her team of eight full-timers and eight contractors is testing more than 10% of the U.S. population every week, a figure that dwarfs the nation's clinical testing to date. Its Covid projections also track much higher than the official tallies. On April 29, Biobot estimated 63,400 cases in New Castle County, whereas Delaware Health and Social Services tallied only 1,717 cumulative cases in the county. As of May 13, the most recent date for which Biobot data were available, the startup estimated 32,030 active cases in the county, while the state agency reported 2,496 cumulative cases.
A spokesperson for the Centers for Disease Control and Prevention said in an email that research suggests standard wastewater-treatment practices should render the coronavirus inactive and that the CDC is considering whether to incorporate wastewater testing into its public-health plans.
Before the pandemic hit, Matus and Ghaeli were focused on assessing opiate addiction in communities that don't usually benefit from big research dollars. "Every time we use the toilet, we're making our contribution to a larger dataset that can inform public-health action and public-health prioritization," says Matus, who's from Mexico City. "I grew up under hardship. I definitely lived firsthand through what it's like to be ignored by government priorities."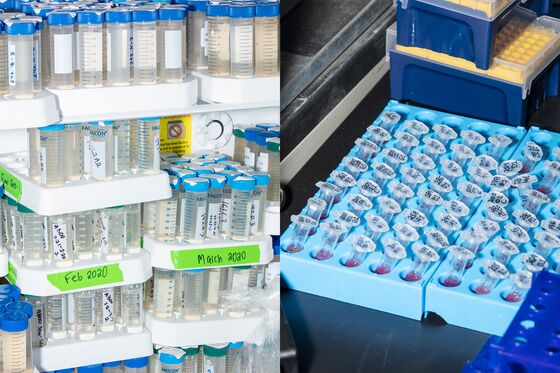 The pro bono work, however, has come to an end. As of June 1, Biobot began charging $1,200 a test, the co-founders say. The company has already faced backlogs when its workers, suspecting they'd contracted Covid-19, had to quarantine themselves. To avoid future delays and increase capacity, Matus and Ghaeli are using some of the $6.7 million in venture funding they've raised to more than double their staff by mid-June. "Our vision is for this to be deployed across the tens of thousands of wastewater facilities in the U.S.," Ghaeli says.
Meyer, who estimates Delaware is losing $80 million to $100 million in economic activity a day while social distancing, has already committed to paying. If Biobot's services help New Castle County reopen even a half-day earlier, he says, "it is the best investment I've ever made."