Spotify Bets Big on Podcasts as a Path to Profitability
(Bloomberg Businessweek) -- When Spotify went public in April 2018, Daniel Ek had been struggling with this question for more than a decade: How would the company make money? The Swedish entrepreneur had saved the music business from 15 years of declining sales with an app that can stream millions of songs on demand. But in exchange for that bottomless buffet, he agreed to return more than 70% of every dollar Spotify earned to rights holders. So despite building the most popular paid music service in the world—it would take in $6.1 billion in sales in 2018—Spotify Technology SA hadn't turned a profit since Ek co-founded it in 2006. Wall Street is obviously capable of forgiving years of a company's losses (see Amazon, Netflix, Tesla, etc.). But investors have never made sense of Spotify's business model. For every $5 that comes in, about $3.75 goes right back out.
Ek had long argued that the answer would come from changing how the music business operated. Three record label groups control the majority of new music releases, giving them power over Spotify in negotiations. But Ek thought streaming would begin an era when artists didn't need labels. Musicians could use social media to promote their work and Spotify to distribute it. "The old model favored certain gatekeepers," he wrote in a letter to prospective investors in February 2018. "Today, artists can produce and release their own music."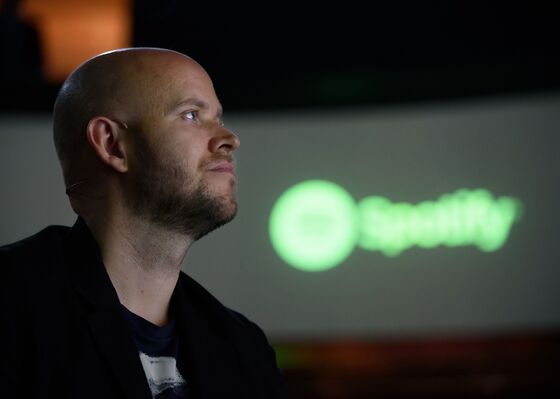 Shortly after going public, Spotify unveiled a feature that let artists upload music directly to its app. Without intermediaries, performers got a larger share of royalties, and Spotify kept more money. The company tested the feature with a handful of artists—Chicago rapper Noname was an early adopter—and expanded the trial to a few hundred participants that September. But most artists weren't ready to forgo the help they get from labels to promote their work, especially since millions of people use services other than Spotify, and the labels didn't like being circumvented. By December its stock had slipped to a low of $106.84, a drop of more than 20% from April, and doubts about the company's long-term viability grew. In July 2019, Spotify ended the program.
Ek wanted to build a business the labels couldn't touch, and there was another massive audience up for grabs. The number of people in the U.S. listening to podcasts monthly had grown from 32 million in 2010 to 73 million in 2018. Although the vast majority of them used the iPhone's podcast app, Apple Inc. had never converted it into a revenue stream: Podcasts get money from ads, which Apple doesn't sell. Outside the U.S., where most of Spotify's users reside, there was no dominant player. Spotify had already dethroned Apple as the king of online music. Maybe it could do the same in podcasting.
In the past two years, Spotify has spent close to $900 million acquiring podcast production and technology companies. And it's spent millions more on exclusive rights to shows from celebrities such as Kim Kardashian and TikTok star Addison Rae. Two of its most popular programs are comedian Joe Rogan's The Joe Rogan Experience and The Michelle Obama Podcast, and Spotify expects new shows from Prince Harry and his wife, Meghan Markle, to put up big numbers, too. Spotify now hosts almost 2 million podcasts, up from 2,500 three years ago, and has more than 600 exclusives. Apple still has the most listeners in the U.S., but Spotify has narrowed the gap. And it's No. 1 in many overseas markets.
The company has already converted more than 20% of its 320 million total users—about 70 million people globally—into podcast listeners. The larger the audience gets, the easier it is to pry ad dollars from radio and TV; Spotify's ultimate goal is dual revenue streams from ads and subscriber fees. "If you look at the amount of people listening, how young the demographic is, anyone would look at that and say this is going to be the next big medium," says Dawn Ostroff, the company's chief content officer.
Many of Spotify's biggest partners and competitors, including record labels, advertisers, and talent agents, question if it's wasting money on a niche business. In 2019 the podcasting industry generated less than $1 billion in U.S. ad sales, a fraction of the $14 billion captured by radio. Apps such as Luminary, which charge customers for original shows, haven't worked. "The audience for podcasts has grown, and Spotify's share is growing," says Michael Morris, an analyst at Guggenheim Partners LLC. "It's still not clear what that will mean in terms of money."
Courtney Holt thought short-form video would solve Spotify's money problems. He joined the company in 2017 after a stint at Maker Studios Inc. (now Disney Digital Network), which sold ads and provided tools, services, and data for thousands of YouTube channels. He'd seen up close the growing audience for video and thought Spotify could create a product like Snapchat's Discover page, where original series sit alongside videos from TMZ and the Daily Mail. Spotify had already licensed clips from ESPN and Comedy Central and produced original series from Russell Simmons, Tim Robbins, and other celebrities; shows were as much as 15 minutes long and included dance competitions and documentaries. But they were parked in a video tab on the app and got little promotion. Holt realized he couldn't compete with YouTube and Facebook Inc. People didn't come to Spotify for video, and it was expensive to produce, anyway.
Podcasting was accounting for a growing share of overall activity on Spotify. In Germany the app was the most popular way people listened to podcasts thanks to a 2016 partnership with comedy talk show Fest & Flauschig. Its success convinced Spotify that the format deserved a closer look. "We saw that the people consuming podcasts were more highly engaged," Holt says. "Why not take advantage of the millions of Spotify users we could convert into podcast listeners?"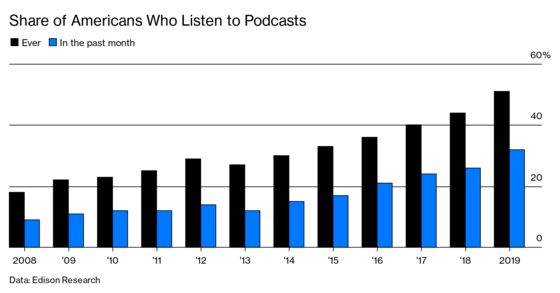 At the time, Spotify's library had only a few thousand shows, mostly about music. There were no executives dedicated to licensing or talking to people in the industry. Holt's team started securing licenses from thousands of creators, convincing them Spotify could expose their shows to a younger audience than listened elsewhere. Engineers built out a home in the app for podcasting, creating a landing page and copying features from the music service, such as customized playlists. Spotify also started buying exclusive rights, starting with comedian Amy Schumer and talk show host Joe Budden.
Hosting exclusives, the thinking went, would persuade people to commit to Spotify as their main podcasting service. Budden's show was popular prior to the company's involvement, and it amassed a large following on the app. Schumer's podcast didn't catch on right away; Spotify lacked the infrastructure at the time to advise her on production or content, and there wasn't much of a promotion strategy outside the app. (The show still airs.) Executives realized they needed help.
In February 2019, Spotify announced it would acquire Gimlet Media Inc., a podcast studio, and Anchor, a tech company, for about $340 million. Founded by radio journalist Alex Blumberg and media executive Matthew Lieber, Gimlet had a reputation as the HBO of podcasting—the home for premium storytelling. Anchor made Spotify the podcasting equivalent of YouTube, enabling people to upload shows to the service. The next month, Spotify announced a deal for another studio, Parcast. Ek declared it was a new era for his company. "We believe that over time more than 20% of all listening on Spotify will be nonmusic content," he said on a call with analysts. The number of podcasts on the service climbed from 185,000 at the end of 2018 to 700,000 at the end of 2019, and more than 40 million users were listening to them.
The experience with Budden and Schumer taught Spotify execs that it's easier to buy an audience than build one. Rogan, the industry's biggest and most controversial star, has attracted a massive following by creating a forum for stand-ups, mixed martial artists, moguls, scientists, assorted galaxy-brain free-speech absolutists, and people such as Gavin McInnes, founder of the neofascist Proud Boys. Rogan had never offered his podcast on Spotify, but in May 2020 the company agreed to pay him as much as $100 million for his show and, eventually, the exclusive rights. As part of the arrangement, Spotify committed to stay out of Rogan's way.
Since the deal, he's interviewed the author of Irreversible Damage: The Transgender Craze Seducing Our Daughters, whose concerns about people transitioning at young ages are widely criticized as anti-trans. For the third time, he hosted conspiracy theorist Alex Jones, who's promoted the false claim that the mass shooting at Sandy Hook Elementary School in Connecticut never happened. (Jones was sued for defamation by eight families of victims, though not for comments he made in conversation with Rogan. In a deposition, he acknowledged that the shooting happened and blamed "psychosis" for his statements.) Apple, Facebook, YouTube—as well as Spotify—had banned Jones's show Infowars for violating their terms of service. Employees petitioned Spotify to punish Rogan for hosting guests that spread misinformation and hate. Ek heard their concerns at multiple internal meetings, but he declined to discipline Rogan. While Ostroff, the chief content officer, says Rogan's show must meet corporate standards, she doesn't tell him whom to book. "We are very happy with the deal," she says.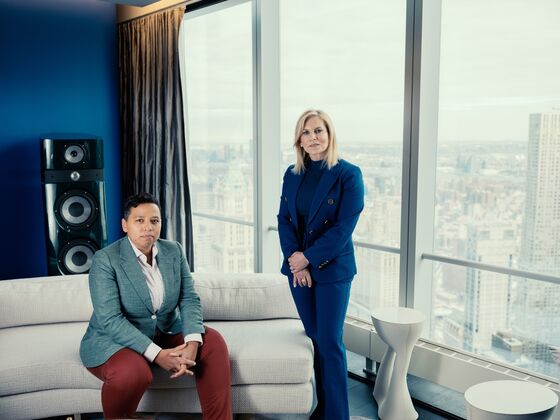 The Joe Rogan Experience is Spotify's most popular podcast globally, topping the charts in more than 15 markets, according to the company. Spotify shares rose more than 10%, to $175.01, the day it announced the deal. Wall Street sees Rogan benefiting Spotify much as House of Cards did Netflix Inc. When it began airing in 2013, the political thriller starring Kevin Spacey and Robin Wright attracted millions of new subscribers—and reduced Netflix's dependence on rival studios, much as podcasts lessen Spotify's reliance on Sony Music, Universal Music Group, and Warner Music Group.
Throughout 2020, Ostroff and Holt pursued podcasts from life coach Brené Brown and Kardashian; commissioned shows based on DC Comics characters (the first is Batman Unburied); and struck a multiyear deal with the Duke and Duchess of Sussex, who'll start producing and hosting programs this year. From Gimlet, Spotify gets reported series such as Reply All, which investigates internet culture, and Resistance, which explores recent civil rights movements. Parcast churns out addictive titles like Serial Killers and Political Scandals that are cheap to produce and sound like someone's reading a Wikipedia entry. The Ringer, a sports media company founded by popular podcaster Bill Simmons, provides many of Spotify's sports and pop culture shows. Podcasts that don't fit in those buckets—including those from Obama, Kardashian, and other tentpoles—fall under what's known internally as Studio Four. (Employees at Gimlet, Parcast, and the Ringer are negotiating with management for better pay and more control over how their shows get turned into movies, TV shows, and books. Spotify has said little publicly about the talks.)
With its huge user base, Spotify often dictates what's a hit. The Michelle Obama Podcast, in which the former first lady talks to friends, family, and celebrities, surged up the charts with constant promotion on the app. The same goes for The Journal, a daily podcast about the Wall Street Journal's newsroom. Even so, marketers have been reluctant to commit to ads, because it's hard to know if people hear their promotions. Most podcast services can tell advertisers that a show was downloaded but not if anyone listened. No one company sells ads at the scale YouTube does with video, and the vast majority of podcasts have no advertising, says Jay Richman, a vice president in charge of Spotify's ad business.
Richman says he's solved the problem with a technology called streaming ad insertion. It lets Spotify serve an ad when a listener gets to a certain point in an episode, so marketers pay only for an ad that's heard (or played, at least). The feature is available on select shows, with a wider rollout in progress. Since Spotify sells the ad, it can provide data about when and how someone is listening—on a phone, say, or a tablet.
This helped persuade Catherine Sullivan to commit $20 million to Spotify in July. Before an internal promotion, she was chief investment officer for North American operations at Omnicom Media Group, which buys ads for companies including Disney, Google, and McDonald's. She started looking to invest in podcasting in late 2019 and talked to other major participants, including Pandora Media LLC and IHeartMedia Inc., but she ultimately decided against investing with them. "If it continues to grow at a 15-to-20% clip when everything else is declining, it will continue to siphon money away," Sullivan says.
In the ad world, $20 million is minuscule—TV networks make more during one quarter of the Super Bowl. But a commitment of that size was a first for podcasting and possibly a sign of more to come. Sullivan compares it to early ad deals with Snapchat and Twitter Inc., which, she says, "started small, and then they start scaling."
Spotify's outsize investment in podcasting almost guarantees that it will supplant Apple as the world's No. 1 distributor. But is the company creating a business or a bubble? It's spent millions of dollars buying shows it gives away for free and will continue to lose money on podcasts for at least a few years. It's had little success reducing payments to the record labels.
Spotify's competitors are making investments of their own. Apple, which has the second-most-popular streaming service with Apple Music, is funding original series and plans a larger overhaul of its podcasting business. Amazon.com Inc. is Spotify's biggest rival for programming, buying shows for its music app and its audiobook service, Audible. In December, Amazon announced it is acquiring Wondery, a major podcast producer, for its music service. (Bloomberg LP, which owns Bloomberg Businessweek, has partnered with Wondery on the podcast The Shrink Next Door.) Holt says that more big players validate Spotify's investment: "We were the ones to say we're going to go make this a real thing. If we are great, that's great for Spotify. If others see greatness and want to copy, cool."
Spotify executives speak with some certainty about how podcasting will solve the company's profitability problem. If it happens, it'll take some time. Ek has sold investors on a future in which shows from Rogan and the royals reduce Spotify's reliance on record labels and lift it to profitability. His dealmaking has bought him time to deliver on that promise: The company's stock price more than doubled in 2020, boosting its valuation from about $27 billion to more than $60 billion. But ad sales stayed largely unchanged, and estimates put losses at more than $300 million.
Still, listeners are loyal to their favorite hosts, attending live tapings in the pre-Covid era and buying merchandise. This could let Spotify charge customers added fees for podcasts without ads, or open up additional lines of business, such as TV adaptations. Podcasts could turn Spotify from a technology platform with bad margins into a media business with decent ones.
To make this work, the company needs to find the next Joe Rogan. It's also targeting new audiences by making shows in multiple languages and experimenting with formats. Currently, Spotify operates studios in 17 countries, where it's adapting popular shows from the U.S. into local languages and developing regional hits. Fausto, a true-crime series about a 1991 murder in the city of Ecatepec, topped Spotify's charts in Mexico in 2019, and the second season started in November. The top news podcast in Brazil is Café da Manhã (Breakfast, in Portuguese), a collaboration with the newspaper Folha de São Paulo; Spotify now produces versions of it in Argentina, Chile, and Colombia. One of its most popular podcasts in Indonesia is a talk show hosted by four former radio personalities that replicates conversations in neighborhood shops, or warungs.
In 2020, Spotify introduced a feature that lets creators combine songs and talk into one program. Early tests in this genre include 60 Songs That Explain the '90s, hosted by music journalist Rob Harvilla, and Rock This With Allison Hagendorf, featuring interviews with Foo Fighters and Smashing Pumpkins lead singer Billy Corgan.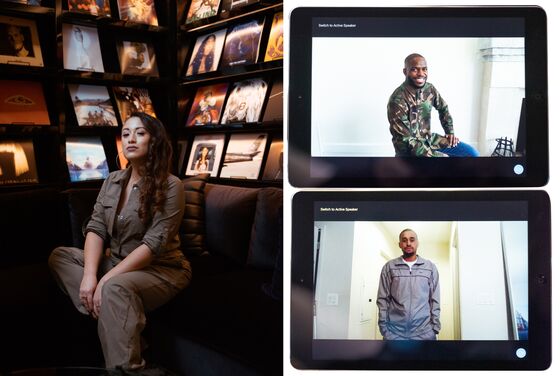 The most popular new podcast on Spotify is The Get Up. The daily morning show opens with headlines and then intersperses songs with pretaped talk segments on subjects such as self-care, pickup lines, and music. It's hosted by Kat Lazo, a YouTube creator turned video producer; Xavier "X" Jernigan, a podcaster and Spotify exec; and Speedy Morman, who anchors video series for the media company Complex.
Morning shows have long been a staple of FM radio, where the most popular stations marry well-known hosts with hit songs, such as on The Breakfast Club in New York or Big Boy's Neighborhood in Los Angeles. But unlike radio, which offers everyone the same music, The Get Up serves up tailored playlists based on what Spotify's algorithm thinks a person wants to hear. The show has had more than 1 million listeners since it started in October, according to Lydia Polgreen, Gimlet's head of content. "We're really, really excited about how well it's going," says Polgreen, who was previously editor-in-chief of Huffington Post. That's because The Get Up has already delivered in a key way, by getting people who use Spotify solely for music to consider something else.
In a November episode, the hosts talked about how the pandemic had been make-or-break for many relationships. They shared their own dating history, too: "My family asks me what feels like every other day why I'm still single," Morman said. Although the hosts hadn't met before they started taping, they've developed a rapport. Jernigan and Morman tease Lazo about her frugality, while Jernigan is often mocked for his knowledge of arcane facts. They've turned the latter into a segment called "Stump X," in which Jernigan answers trivia questions. "It's an ever-changing show," Morman says after taping. "I just wanna put emphasis on the fact that it's growing and evolving."