Space ETFs Invest in Mostly Earthbound Stocks
(Bloomberg Businessweek) -- NASA landed a probe on Mars, and billionaires Elon Musk and Jeff Bezos are shooting rockets across American skies. Not to be left out, asset managers are offering their own more prosaic ride into space, using exchange-traded funds. They invest in such things as shuttle parts and astronauts' food packages, as well as aeronautics and satellite-based technologies. ETF giant State Street Corp. has a new fund focused on exploration of both space and the deep sea, and two smaller providers have their own space funds in the works.
These funds—and a spate of other themed ETFs—tackle a very worldly problem for the financial industry: how to get higher management fees. With more than 2,000 ETFs competing for assets, managers have been forced to lower prices or invent products that can justify a higher charge. Financial advisers are in a similar jam, locked in their own battle against cheap, do-it-yourself internet investment platforms. Assets at discount and online brokerages grew 25 percent in 2017, according to a study from Aite Group.
Pitching themed ETFs that tap the zeitgeist can be a way to capture a client's attention. "It's an easy story to tell, but you can also see it developing in front of you. It's not abstract," says David Perlman, an ETF strategist at UBS Global Wealth Management. "It definitely does help to differentiate vs. some of those other offerings."
These investments aren't as cutting-edge as you might think. State Street's fund, SPDR Kensho Final Frontiers, owns half the same stocks as a defense and aerospace ETF started by BlackRock Inc. more than 12 years ago. Another planned fund with the stock ticker UFO tracks an index that allocates two-thirds of its assets to communication and consumer-focused companies, such as Garmin Ltd.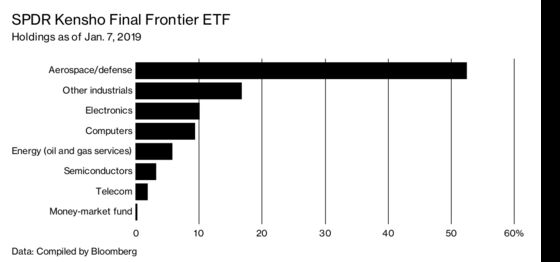 Picking stocks that can beat the market is notoriously difficult. Don't expect finding winning themes to be any easier. Thematic ETFs as a group—which includes funds focused on everything from sport sponsors to self-driving cars—fell short of the S&P 500 index of U.S. stocks last year. "The narrower your opportunity set is, you're either going to be a hero or a goat," says Gary Stringer, chief investment officer at Stringer Asset Management. "It's not really what our investors need to try to get them to their financial goals."
Space has an attention-getting story right now: President Trump says he wants a dedicated Space Force by 2020. NASA in November invited nine companies, including Lockheed Martin Corp., to bid for contracts to land on the moon. Morgan Stanley estimates that the businesses of exploration, tourism, asteroid mining, and satellites could collectively generate revenue of $1.1 trillion in 2040, up from $350 billion currently. Yet many of the high-profile companies that might go into this business, such as Musk's SpaceX, aren't publicly traded, so they aren't in the ETFs.
Some initial public offerings might spark more investor interest. "Almost nobody cared about electric until Tesla went public," says Adam Jonas, an analyst at Morgan Stanley who researches space alongside his main gig, carmakers. "We think people will start caring about space when the capital formation moves into the public market." Jonas estimates that will happen over the next three to five years.
Themed ETFs have more than doubled their assets during the last two years, to more than $20 billion. SPDR Kensho Final Frontiers, which began trading in October, manages just a small part of that: $2.6 million. The day after the U.S. space agency's InSight probe touched down on the red planet—streamed live to the world—State Street's fund saw a surge of interest. Investors traded $119,000 of shares, 11 times the normal amount and a record for the new fund.
Investors who hop into SPDR Kensho Final Frontiers will pay annual fees of $4.50 for every $1,000 they have invested. That's 15 times more than the cheapest ETF charges, though still less than the cost of the average thematic fund. "I don't think the cost is a distractor if it's one of the few ways to meet your objective," says Erika Safran, who oversees $90 million at Safran Wealth Advisors. "But you have to look under the hood and make sure it represents what you're trying to achieve."
To contact the editor responsible for this story: Pat Regnier at pregnier3@bloomberg.net