Branson's Flight Validates the Space SPACs That Virgin Started
(Bloomberg Businessweek) -- For years, executives at Virgin Galactic have said that a key step along the way to offering passenger flights into space was to send the company's founder, 70-year-old Richard Branson, on his own test flight. On Sunday, Branson flew to the edge of space in Virgin's VSS Unity space plane, a trip that was conspicuously timed to take place less than two weeks before Amazon.com Inc. founder Jeff Bezos is slated to make his own voyage.
Branson and Bezos see their flights as the beginning of a new stage in commercial space travel. But Virgin Galactic has been a pioneer for the space industry in other ways, too. In 2019 the company went public by merging with a special purpose acquisition company, or SPAC, whose shares were already trading on public markets. It was an early use of a then-obscure financial tool that has since become a popular way for risky companies to access public-market investors before they'd realistically be able to pull off a traditional initial public offering.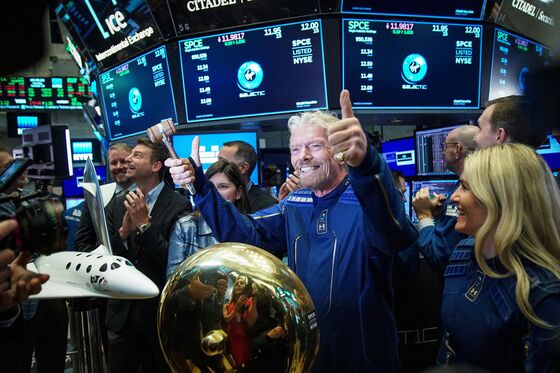 Because SPACs have already gone through the IPO process, the private companies they merge with don't face the same onerous process, and their financial projections haven't been subject to the same regulatory scrutiny. This makes them a tempting vehicle for space companies, whose gravity-defying exploits capture the imagination of the kind of investor who can envision a startup accelerating into the financial stratosphere in record time.
According to their backers, the enthusiasm for SPACs is providing resources to early-stage companies pushing innovation in a potentially transformative field. "When you're a startup, if you can't have access to capital, you crash and burn," says Craig McCaw, whose SPAC, Holicity Inc., recently merged with satellite-launch-services company Astra.
But the space SPAC trend is risky both for investors and the industry, says Meagan Crawford, co-founder and managing partner of the Space Fund, a venture capital firm that holds stakes in SpaceX and others. "There is a lot of hype around space. It's cool, and people want to invest in things that are cool," she says. But she cautions that many of the companies currently seeking listings are too risky for ordinary investors and don't represent "the best of what space has to offer."
The quarterly earnings calls for companies that have no prospect of making money can be bizarre. Every three months since going public, Virgin's executives repeat some version of the line "since there were no flights in the quarter, we did not generate any revenue." On quarters when there have been test flights, they remind investors that those types of flights produce no revenue.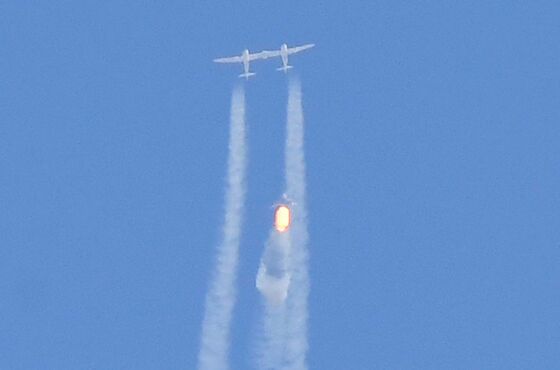 Virgin now says it will start revenue-generating commercial passenger service next year, putting it 13 years behind schedule, tardy even by rocket company standards.
When Astra carried out its own latest rocket-launch test in December, the results were mixed, with its craft reaching space but not quite making it into orbit. Nevertheless, the company which announced in February it was merging with McCaw's SPAC, says it can start commercial launches this year, and is projecting revenue of $4 million for 2021.
Other space companies continue to make optimistic projections they can't always meet. Take space-transportation provider Momentus Inc., which puts extraterrestrial spin on buzzwords from the earthbound tech industry to offer such services as "last mile in-space delivery," "rideshare launch," and "satellite as a service." In October it announced it would merge with a SPAC, the Stable Road Acquisition Corp., in a transaction valuing it at $1.2 billion. It predicted 2021 revenue of $19 million.
But the Federal Aviation Administration in May denied a key application that Momentus needed to launch vehicles as part of a SpaceX mission the following month, saying its corporate structure raised national security concerns. Stable Road resolved the issue by having Momentus's co-founders, who are Russian, divest their ownership stakes. The setback forced the company to revise its revenue projection to $0, and next year's to just $5 million.
Without revenue numbers to assess, investors need to look elsewhere for information on how their companies are doing, but that can be hard to find. AST SpaceMobile, Inc., for instance, plans to sell satellite broadband internet service for smartphones and says it won't have any revenue until 2023. On its website, it warns investors they will learn little about the technology itself, saying it is "highly proprietary, and exactly how it works cannot be disclosed."
Investors appear to be growing wary. The latest Momentus deal entailed cutting the startup's value by more than half, and Astra's shares are down over 10% since it announced its merger.
This is bad for some investors who bought into the hype earlier. More important, says Crawford, is the risk to the reputation of the broader industry. "If these companies fail, it will turn the markets against the space industry in general," she says, speaking about the sector as a whole rather than specific startups. "It's going to affect the ability of the good companies to go public."
Virgin seems to think Branson's flight shows it's possible to keep investors excited without making money. After he landed, the company filed to sell as much as $500 million in shares. But Virgin's stock price immediately fell after the disclosure of the sale, which served as a reminder that the company still needs to spend money before it starts making it.