Your Robot Assistant Will Soon Be Able to Read Your Emotions
(Bloomberg Businessweek) -- In South Korea, the country with the world's fastest internet speeds, the transition to 5G networks is also leading to an era of interactive robots. South Korea switched on 5G networks nationwide in April, with data speeds of about 1.5 gigabits per second. Businesses are counting on 5G to deliver artificial-intelligence-based robots, 3D content, and holograms that they say will someday be a part of people's daily lives.
The higher speeds will enable companies including automakers and wireless carriers to connect devices with vehicles, home appliances, and buildings. And because the country also boasts the world's highest robot density, some of these same companies, such as Hyundai, LG, and Samsung, are trying to develop bots that will provide some fixes for problems like a rapidly aging population and rising labor costs.
The global market for service robots is projected to expand to $20.2 billion by 2021, from $8.6 billion in 2017, according to the Frankfurt-based International Federation of Robotics. South Korea's government recently announced that it expects its robot industry to grow to 15 trillion won ($12.6 billion) by 2023, from 5.7 trillion won in 2018. On March 21 it said supporting that industry is a key national goal.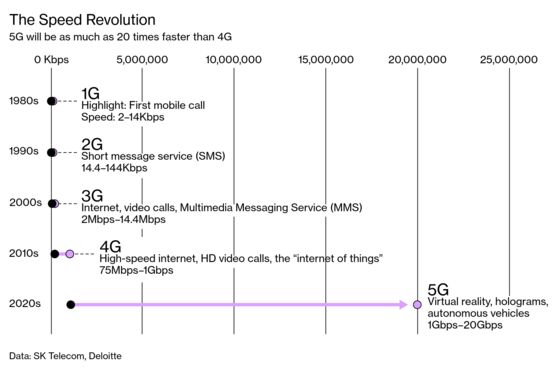 Some of the growth will come from the use of robots in elder care, medicine, and logistics, as well as in entertainment and other service industries. The challenge isn't simply to build the bots, though; companies are now largely focused on communication and on enabling interactive relationships between humans and machines. "Having empathy is useful for efficient and natural communications when robots interact with humans," says Dennis Hong, an aerospace and engineering professor at the University of California at Los Angeles and founding director of robot lab RoMeLa (the name stands for Robotics and Mechanisms Laboratory). "It's much easier to receive information and sense emotions," he says. Hong has worked with Korean companies to develop his native country's service robotics industry, including a project with Hyundai Motor Co. on cars for people with visual impairments.
Hyundai Mobis Co., a South Korean parts and service company, is building a car assistant that can drive the vehicle and will interact with passengers, telling jokes or expressing sympathy if a rider shares details of a rough day. The "driving mate," as the company calls it, uses a natural voice recognition system. Mobis is aiming to supply these features to Hyundai Motor, Kia Motors, and other global automakers over the next few years. The assistant will be visible to passengers via 3D avatars on a front dashboard display or windshield.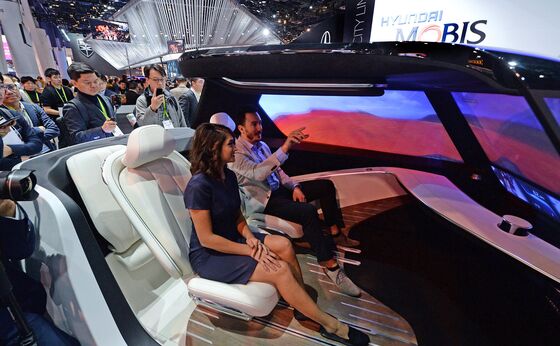 Mobis says communication will go beyond routine yes/no questions and answers. "Your car is not a machine that is simply reacting when you press buttons or push pedals," says Carsten Weiss, vice president and head of IVI (in-vehicle infotainment) at Mobis's System Development Center. "It will have a personality, it will have the ability to solve tasks by itself, and it will connect to your personality." The faster networks will be used so the robots can identify drivers' emotions through voice and facial recognition software. For example, if the AI-based system detects the driver dozing off, it will guide the vehicle to the nearest convenience store or turn up the volume on the music.
South Korean mobile phone carriers are designing AI-powered speakers that can communicate with users, with bots appearing as holograms. Technology giants LG Electronics Inc. and Samsung Electronics Co. have started touting their own personal-assistant robots: They can serve as shopping assistants or manage the health of an elderly person at home.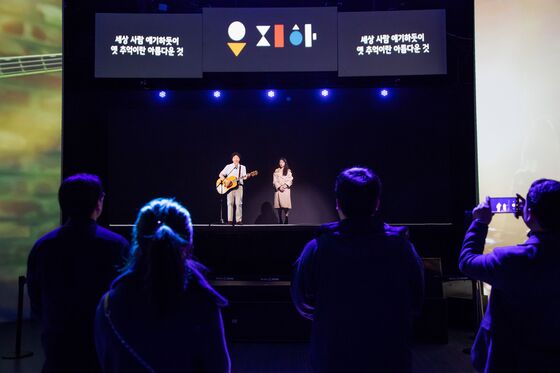 There's some skepticism that such sci-fi technology will be available in the early years of 5G adoption. Companies need to further develop the technology of their high-quality LCD panels and introduce more advanced computing power to accommodate the holograms. Deep learning and machine learning technology is expected to keep evolving, says Kim Seung-cheol, a principal research engineer at telecommunications company KT Corp. "People want to experience the same thing through displays that they feel in the real world," says Kim, who's developing a hologram that could have various uses. "It's a matter of how far and fast the technology can catch up."
Still, for many companies, 5G is a tipping point. SK Telecom Co. is making an AI speaker that will project holograms of K-pop stars and other celebrities. The technology is being developed for use in concerts and other performances. "AI would become like friends that could be accessible anywhere and anytime," says Cho Ikhwan, a leader of the augmented-reality and virtual-reality development team at SK Telecom. "It's a totally new experience to feel AI robots come alive."
To contact the editor responsible for this story: Dimitra Kessenides at dkessenides1@bloomberg.net, Jodi SchneiderYoung-Sam Cho