South Africa's Epidemic of Hate
(Bloomberg Businessweek) -- In early September, Faayif Yosif, a 41-year-old Somali who moved to South Africa as a refugee in 2004, lost everything he owned in minutes. A mob of South Africans began doing the toyi-toyi—a dance with a jogging rhythm associated with protests—outside his general store on the outskirts of the capital, Pretoria. "They broke into my shop and took everything, including a lot of money," he says. Since then, he's lost his appetite and become depressed, and he spends his days sleeping. "They told us to get out if we didn't want to die. My heart was broken, because I watched something I worked hard for being destroyed."
Every few years, bouts of xenophobic violence in South Africa—which mainly target black Africans from elsewhere in Africa and, occasionally, poor migrants from Pakistan and Bangladesh—make headlines. In 2008 about 60 people died and more than 50,000 were displaced in a wave of violence across the country. Ernesto Nhamuave, a Mozambican man, was set alight and burned to death east of Johannesburg; the photograph of his killing spread around the world.
There were similar episodes in 2015. From the end of apartheid in 1994 to Dec. 31 last year, at least 309 people have been killed in xenophobic attacks, 2,193 shops have been looted, and more than 100,000 people have been displaced, according to Xenowatch, a program run by the African Centre for Migration & Society at the University of the Witwatersrand in Johannesburg. "The frequency of the brutality we see in South Africa is making it unique," says Jean Pierre Misago, a researcher at the center who's been working with refugees since the early 1990s. "Burning people alive, destroying property."
In September shops run by foreigners were looted and burned in central Johannesburg and in poor areas around the city, as well as in Pretoria. But this time there was a response from the rest of the continent. Retaliatory attacks on South African-owned businesses took place in the Democratic Republic of Congo, Nigeria, and Zambia. Leaders from all over Africa condemned the violence. Yemi Osinbajo, vice president of Nigeria, withdrew from the World Economic Forum on Africa conference in Cape Town and the country recalled its ambassador. Air Peace, a privately owned Nigerian airline, sent a plane to Johannesburg to repatriate any Nigerians who wanted to come home. Zambia canceled an international soccer match between the nations. "You cannot be an open democracy and allow this kind of misconduct on a frequent pattern without there being consequences," said Oby Ezekwesili, a former Nigerian cabinet minister and World Bank vice president for Africa, in an interview at the forum. "The president needs to lead," she said, referring to South Africa's Cyril Ramaphosa.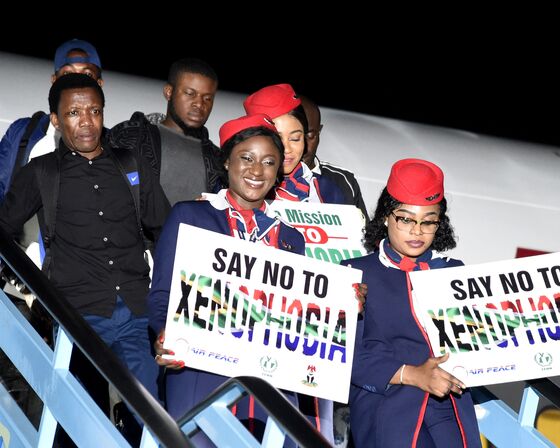 An embarrassed Ramaphosa gave a televised address to the nation saying there could be no excuse for attacks on the homes and businesses of foreign nationals, and dispatched envoys to a number of African countries to minimize the damage. But two months later, little seems to have changed. Indeed, from the highest levels of South Africa's government down to the grassroots, foreigners continue to be made scapegoats for the country's problems as its economy—the continent's largest—sputters.
"South Africa has always welcomed people from many parts of the world," Ramaphosa told an African Development Bank investment forum in Johannesburg on Nov. 11, trying to explain the incidents. "Sometimes reaction is sparked off by what you call nonsensical incidents, whether somebody greeted another one in a different language or whether they couldn't answer in a different language, and it just sparks off. South Africans are not inherently xenophobic."
Politicians portray the attacks as spontaneous outbreaks of violence among poor people fighting over scarce resources. Academics and nongovernmental organizations working with migrants say that's incorrect. They say the violence is highly coordinated and planned by local groups or individuals for economic or political gain. Local businesses use xenophobia to chase away competition set up by outsiders; and politicians and community leaders blame foreigners for taking advantage of benefits and services they say are meant for South Africans. Social media helps spread the message of hate. "Migrants become a tool for criminal gain, political gain," says Miranda Madikane, director of the Scalabrini Centre of Cape Town, which helps migrants integrate into South African society.
The scapegoating isn't beneath Ramaphosa himself. In the runup to national elections in May, he said his government planned to end the opening of shops in poor areas by people without the correct papers and permits. Many of these shops are owned by foreigners. Aaron Motsoaledi, South Africa's minister of home affairs and former minister of health, has blamed foreigners for overburdening South Africa's health-care system. Former President Thabo Mbeki and Naledi Pandor, the country's minister of international relations and cooperation, have both said Nigerians were involved in drug dealing, prostitution, and human trafficking.
South Africa's biggest opposition party, the Democratic Alliance, which prides itself on its liberal roots, put up a "Secure Our Borders" campaign poster in the runup to national elections in May. Jacques Julius, then its spokesman on immigration, proposed "humane deportation" of undocumented migrants who, he said, were committing crimes and taking welfare checks and anti-AIDS drugs meant for South Africans. On Oct. 26 the outgoing mayor of Johannesburg, the DA's Herman Mashaba, tweeted statistics relating to the arrests of foreigners over the last four years and he's blamed foreigners for the run-down condition of the city center. Local politicians assert with little evidence that Zimbabweans and Malawians steal jobs. All the rhetoric inflames South Africans frustrated by soaring crime levels, high unemployment, housing shortages, and poor health care. "When political leaders say all the problems are due to foreign nationals, the people on the ground are going to believe them," says Misago of the African Centre for Migration & Society. "There's no need to fact-check. These are the justifications for the failure of service delivery."
South Africa's law enforcement agencies have done little to prevent the violence or arrest the instigators. Looters are regularly arrested but quickly released. They "are typically not the ones that light the match," Madikane says, calling for stronger action against organizers of the violence. But few of those who inspire the attacks have faced prosecution. The latest bout of violence, which led to the death of 12 people including 10 South Africans, was sparked by a flyer calling for action against foreign nationals, according to an exposé by the social justice website New Frame, which interviewed the alleged author of the pamphlet. No arrests have been made.
Police rarely act on warnings that attacks are being planned. Government officials up to the ministerial level insist the violence is "criminality" rather than xenophobia. "It is unfortunate that these incidences are labeled as xenophobic violence," the Department of Justice and Constitutional Development said in a response to questions. "Government has consistently indicated that the incidents referred to relate to sporadic incidents of violence directed at some foreign nationals and not 'xenophobia.' " The department also disputed that action isn't being taken to prosecute the perpetrators.
Special courts to prosecute offenders, which were suggested by the South African Human Rights Commission after the outbreaks of violence in 2008, were never set up, Madikane says. The justice department says that recommendation and others "were taken on board" and a number are in the process of being included in a national action plan. "It's essentially a governance issue. It's rule of law, it's lack of leadership, it's lack of conflict resolution mechanisms," Misago says. "Denialism and lack of political will. The two together amount to complicity."
On Oct. 30, at about the same time that Thulani Mavuso, South Africa's acting director general of home affairs, was telling broadcaster ENCA that the country wasn't xenophobic, police were filmed wrenching small children from the arms of their migrant mothers at a demonstration in Cape Town outside the offices of the United Nations High Commissioner for Refugees. The families were demanding to be sent to safer countries.
Despite the violence and hostility, many migrants say they can't leave. They've come to South Africa from failed states such as Somalia or left because of the economic collapse of Zimbabwe. Some are fleeing violence in their own countries. "Despite all the violence, people see South Africa as a place of economic opportunity," Misago says. "A place of democracy and protection of human rights." Even after his travails, Yosif, the Somali merchant, doesn't plan to leave. "We don't have anywhere else to go. We have to make it work," he says. "A lot of the time things are OK. But when there is violence, the angry people chase us first."
Migrants and refugees, though, may not have the same benefits Yosif has enjoyed. The government is reviewing the widely praised set of laws that have governed migration and refugees in the country since 1998. These laws have allowed refugees to study, seek work, and live within communities in South Africa rather than be housed in camps. The proposed Refugees Amendment Act would remove the right of refugees to work and study, according to the Scalabrini Centre. The White Paper on International Migration released in July 2017 by the Department of Home Affairs—and discussed before Parliament—talks about moving to a refugee camp-based system.
The amendments, which need the president's signature, will streamline the asylum process and clear a backlog, the Department of Home Affairs said in response to queries. "Attacks on foreign nationals, and the safety of all people in the country, are a matter receiving serious attention," the department said. "All organs of state in the justice, crime prevention, and security cluster are involved. South Africa remains committed to building communities in which all people are, and feel, safe."
Instead of camps, refugee reception offices may be set up closer to borders where asylum seekers enter, the department said. The Scalabrini Centre says those are effectively camps, because asylum seekers will need to be housed close to them and won't have freedom of movement across the country. The office of the president didn't respond to requests for comment.
While Ramaphosa and other leaders decry the violence, at least one politician appears to recognize that a deeper sentiment needs to be dealt with. "We have regrettably turned against our brothers and sisters from the rest of the continent," Minister of Finance Tito Mboweni said in his budget speech on Oct. 30. "We should inculcate in the minds of our people that we are all Africans."
The violence rankles many migrants from countries who helped fight the former apartheid regime in South Africa. Nigerian civil servants contributed part of their salaries to a so-called Mandela tax. "Some of us were chased from school if we didn't pay the Mandela levy," says Olisaemeka Anieze, a 41-year-old secondhand clothes trader from Nigeria, which is fast becoming South Africa's biggest economic and political rival on the continent. In September a mob chased him away from his store in central Johannesburg and stole his property. "They blame their failure on us. They use us as their pawns. I am tired of being a pawn."
The attacks in September and the likelihood that they will be repeated have persuaded Anieze to leave. He's moving back to Lagos to start a fish farm. "It's like building a sandcastle close to the sea. I can't keep gathering and losing," he says. "I wish the country well, but it's not nice when you walk with a mark on your back." —With Nkululeko Ncana, Prinesha Naidoo, and Pauline Bax
To contact the editor responsible for this story: Howard Chua-Eoan at hchuaeoan@bloomberg.net, Eric Gelman