How Golf Courses Are Playing Through Social Distancing
(Bloomberg Businessweek) -- It was in the first week of May when I, deep in the grip of self-isolation, finally stole away late in the day for an emergency nine at the golf club near my home in Granville, Ohio.
The course fits right in with the Victorian quaintness of our little village: Its front nine, a Donald Ross design commissioned to accompany the construction of the Granville Inn in 1924, is a compact, enjoyable walk over mild hills with Ross's signature back-to-front sloped greens. I ventured out that evening because I needed the air, and I needed the satisfaction of a good drive off the tee or a well-struck iron to feel some semblance of normal.
Governor Mike DeWine issued a stay-at-home order on March 16, but Ohio was one of the few states to keep courses open through much of its lockdown. Now that most courses are on track to reopen—Massachusetts was the last state to lift its ban on May 7—I got a look at our new reality.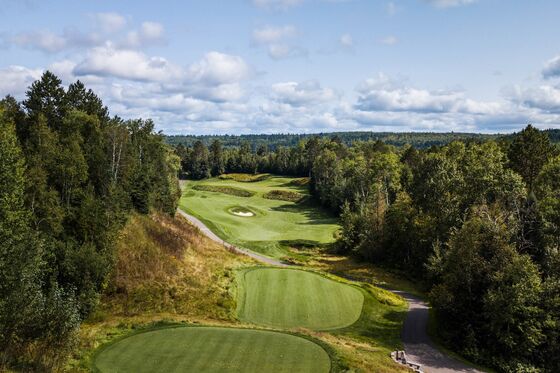 Golf is one of the rare sports that by nature allows us to compete at a remove. You don't have to share clubs or balls; if you're alone, a round of golf just about qualifies as the very definition of social distancing. And yet, over the past two months, new rules to keep guests safe have become standardized quickly.
Most clubs are implementing a one-rider-per-cart policy unless both live in the same household. On the course, there's no touching of the flagstick, and barriers prevent putts from even falling into the cup—hitting the bumper counts as a hole. (Few are keeping serious score these days, anyway.) "In 35 years, I've never seen this much industrywide collaboration," says David Pillsbury, chief executive officer of ClubCorp, which manages more than two hundred 18-hole courses.
Enforcing those rules last week would have been easier if everyone hadn't had the same exact idea as I did. As the sun went down and peach light filled the clouds, the place was jumping. On the 11th hole, I saw four carts parked end to end, three of their drivers standing side by side as the fourth teed off. No one wore a mask. When I got to the hole, the bumper—here just a sawed-off pool ­noodle stuck in the cup—felt like very thin armor.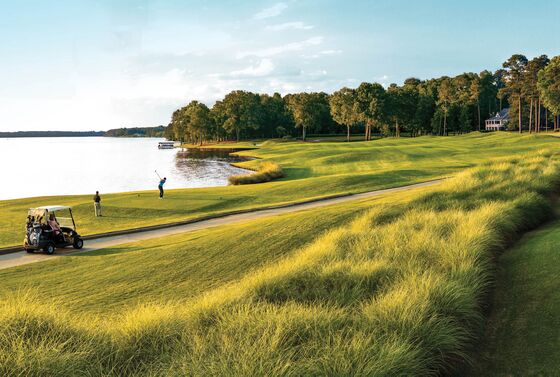 At Reynolds Lake Oconee, a private community 90 minutes east of Atlanta with six golf courses and a Ritz-Carlton, members have already logged 14,000 rounds this year—two-thirds of its expected capacity during a normal season, according to Wes Forester, director of golf. And that's despite having two courses closed for maintenance, cutting all play for guests at the on-site hotel, and losing the almost 7,500 rounds the course normally logs during the week of the Masters tournament nearby.
To account for social distancing, many courses have implemented longer waits between tee times. Heron Glen Golf Course in Ringoes, N.J., opened on Saturday, May 2, with 16-minute intervals between groups instead of the usual four people every nine minutes. Playing groups were limited to two unless all members of a foursome were "immediate family, caretakers, household members, or romantic partners."
A similar measure will be in place at Grand Saint-Emilionnais near Bordeaux, France. One of the course's owners, Kristel Mourgue d'Algue, told me the club will limit groups to three golfers and won't allow carts or rent trolleys (pull carts)—more touch points, more risk. And only two ­players at a time are allowed to use the driving range.
Some courses are going further. When you arrive on the tee boxes at destination resort Sand Valley in Nekoosa, Wis., there are hand-sanitizing wipes. Michael Keiser, managing partner and the son of famed developer Mike Keiser, says the club had to "reverse engineer" the experience to accommodate guests staying overnight. "We've had to think through all possible scenarios where both guests and staff interact with each other, as well as guest-to-guest and staff-to-staff," he says. This includes asking golfers to remain in their car or room prior to tee time.
ClubCorp, too, has policies that go beyond those issued by the Centers for Disease Control and Prevention. When golf carts come in after a round, an employee in full protective gear performs a comprehensive disinfection. The visual impact makes a difference, ClubCorp's Pillsbury says: "It's important that members see that you're taking every measure to keep them safe."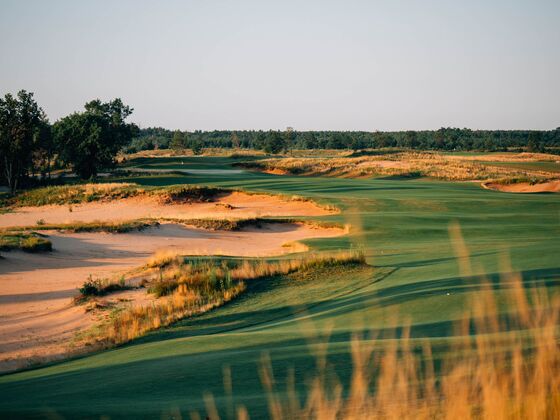 Demand has remained strong at Streamsong Resort near Tampa, where a round can run as much as $285. The club is now open on Wednesdays in addition to its Thursday through Saturday times. "With Lakeland Linder International Airport accommodating private jets 35 minutes from the property and helicopters able to land on-site, our summer client base is expanding," says General Manager Richard Mogensen. The resort is exploring a service it calls Curbside Clubhouse to replicate everything from grabbing a bite of food to buying a shirt—in your car.
The one upside to all this? Rounds are playing faster. Reynolds Lake's Forester credits the single-rider cart policy. "Everyone is driving straight to their own ball and playing ready golf," he says. Likewise, spacing tee times further apart means fewer golfers are on the course together, so your slow-playing foursome isn't waiting on an even slower one ahead of you.
"With a limited number of carts, courses can only send out so many players at a time," says John Kendall, director of golf at Minnesota's Giants Ridge, 200 miles north of Minneapolis. He estimates that courses are operating at one-third of their normal capacity—at best. "I'm not worried about the die-hard golfers coming back," he says. "I'm concerned about the recreational ones and if they're comfortable enough to come out."
Sure enough, I finished my truncated round in record time. Although it didn't quite feel like old times, it felt close to normal, which is enough for now. Almost normal beats no golf at all.