Snail Slime and Bee Venom Are K-Beauty's Secrets to U.S. Success
(Bloomberg Businessweek) -- In 2012, Alicia Yoon quit her job and hopped on a plane from New York to Seoul to scour South Korea for its most advanced skin-care products. She'd started to hear some buzz about lotions and potions coming from research labs in the country, soothing creams and pore-minimizing serums with ingredients, such as snail slime, not used by any mainstream brand. Yoon's goal was to persuade the makers of some of the products to allow her to sell their wares in the U.S. It would take only a few weeks, she figured, so that summer she crashed at her parents' house—Yoon was born and raised in South Korea—and spent her days knocking on laboratory door after laboratory door. "It was like a disaster, I had no income," she says. "I thought, If in six months I'm not able to secure my first brand, the timing is probably not right."
It ended up taking 5½ months for Yoon to get a single label, called Be the Skin, to sign on with her new business, Peach & Lily. Korean companies were initially wary of expanding beyond their own borders, especially with unknown sellers. So entrepreneurs like Yoon had to focus on cultivating relationships with owners. Her timing wasn't so bad after all—awareness of K-beauty was just starting to sprout abroad as several other businesses, picking up on the interest, came to life.
Over the past six years, Korean skin care has gone from being a hip niche market in the U.S. to a mainstream phenomenon. South Korea exports more than $2.6 billion in beauty products annually, according to the nation's customs agency; about $150 million of that is skin care that goes to the U.S., up threefold since 2015. K-beauty is now found in luxury department stores such as Barneys New York and Bergdorf Goodman, which carry high-end Korean labels, and in mass-market stores like CVS Pharmacy and Walgreens, which carry cheaper lines.
In the same period, Peach & Lily has signed on as the exclusive North American distributor of 12 Korean beauty brands, including Be the Skin, Shangpree, and Eco Your Skin. In March it said it will roll out its own private cosmetics label to some 1,100 specialty Ulta Beauty stores in the U.S., from 250 currently. Yoon's was the first company to introduce Korean brands to several major retailers, including QVC, Macy's, and Sephora. Peach & Lily had about $30 million in sales in 2018, Yoon says; she expects double-digit growth in 2019.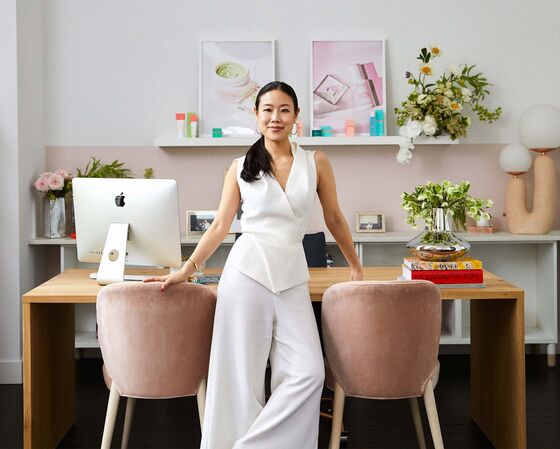 K-beauty found a receptive market in the U.S., thanks to younger consumers putting more emphasis on skin care over cosmetics and a general embrace of products with natural ingredients. Face masks from labs specializing in skin care became the gateway product. Consumers were happy to slather on balms and creams with weird ingredients and then post selfies of their mask-covered faces on social media. "Korean beauty rode that wave of wellness," says Larissa Jensen, a beauty analyst at NPD Group. "It also was fun—bubbling masks and foaming masks that people could share on Instagram."
Peach & Lily's competitors have benefited as well. Soko Glam, an e-commerce site from blogger Charlotte Cho, popped up around the same time in New York, selling Korean foam cleansers and milky sunscreen. Brands such as Missha and TonyMoly have been selling in the U.S. for six years, in their own physical and online stores. Publicly traded AmorePacific Corp., based in South Korea, owns two of the biggest global Korean brands—Innisfree and Laneige—and has about $4.8 billion in annual revenue. More than 40 percent of its sales comes from overseas, up from about 21 percent five years ago.
Yoon thought she'd wind up in the Olympics, not running a skin-care empire. She was a competitive platform diver but quit after an injury. Yoon attended Columbia University, majoring in philosophy and East Asian religious studies. Her first job out of school was at Goldman Sachs Group Inc. in the credit risk management and advisory group, working on leveraged buyouts. A consulting job at Accenture followed, before she went to Harvard Business School. After earning her MBA she went to work for Boston Consulting Group. That's the job she quit, telling her bosses the time had come to get on a flight to Seoul.
Peach & Lily's New York office, overlooking Bryant Park, serves as both a headquarters and miniature distribution center with roughly a dozen employees. Conference rooms and closets act as warehouse space, with boxes full of products piled high, ready to be sent to nearby boutiques and department stores.
It takes months for Peach & Lily to vet a brand for its roster. Employees talk to dermatologists and aestheticians for their opinions on product quality. Yoon still does secret-shopper trips and asks people on the street what they think. Every item goes through focus group testing, too. "It can get awkward, because big companies can wine-and-dine us and take us to their factories," she says. "But the focus group test, it's a balanced scorecard. There could be an adverse reaction, and we just can't bring you in." The next milestone will be a permanent brick-and-mortar location in New York in 2020, a move now expected of online-first startups. "It just personifies the brand in an experiential way," says Yoon. "I'm not going to give up on that dream."
To contact the editor responsible for this story: Dimitra Kessenides at dkessenides1@bloomberg.net