How a Silk Necktie Company Built a Cult Following Out of a Tiny Naples Shop
(Bloomberg Businessweek) -- Anyone strolling along Piazza Vittoria in Naples might be forgiven for missing the tiny shop crouching beneath a deep blue awning. But behind the narrow wooden door of E. Marinella lies a sartorial sanctuary that's tended to discerning dressers for more than a century, defending its place atop a rarefied niche: neckties and other silk adornments.
Inside the shop not much bigger than a parking space, Maurizio Marinella reigns over the colorful display from 6:30 every morning, offering banter, fresh espresso, warm pastries, and decades of experience selling silk. The business has become something of a pilgrimage for royalty, movie stars, and regular folks seeking a slice of Italian glamour, blending elegance, heritage, and an artisanal eye for detail.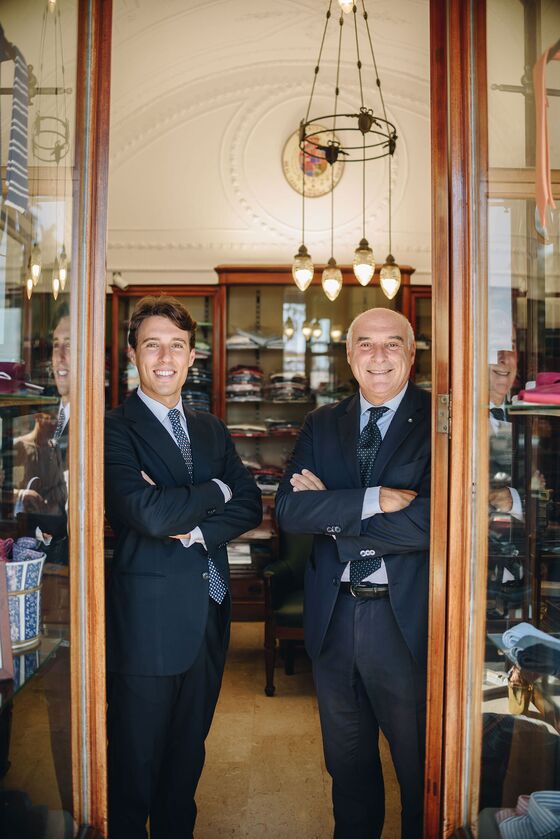 In a world of global luxury brands that wield vast marketing budgets and push their products via myriad boutiques and online shops to international customers, Marinella is an anomaly. The business remains in family hands; its range is limited and somewhat antiquated in the era of working from home; and until recently the business frowned on advertising and the internet.
Marinella, which had €13 million ($15 million) in sales in 2019, has branched out to Milan, London, and Rome in the past two decades and occupies spaces in department stores such as Bergdorf Goodman in New York and Bon Marché Rive Gauche in Paris. But the Naples flagship store remains the spiritual temple of ties.
It's evidence that in the world of influencers, fast fashion, and luxury conglomerates, family-run businesses can still thrive, provided they promise something that larger outfitters can't match. In Marinella's case, it's the rich heritage and a total integration of service, materials, and production that allows customers to pick their fabric on-site and have a bespoke tie crafted while they enjoy a pizza on the waterfront.
That's why Marinella says he walked away from a takeover offer from a major conglomerate a few years ago, understanding that the magic would vanish if his tiny operation were sucked into a giant corporate structure. "They told me we were perfect for them," Marinella says of the suitor, which he declined to identify. "My answer was: We live on emotion here. This emotion, this passion, right now, we're not prepared to sell it."
But when the coronavirus pandemic forced the shop to close for what Marinella says was the first time since his grandfather founded it in 1914, he understood that he needed to embrace progress to survive. Digital manager Alessandro Marinella—Maurizio's son—created an online outlet that now accounts for about 20% of revenue.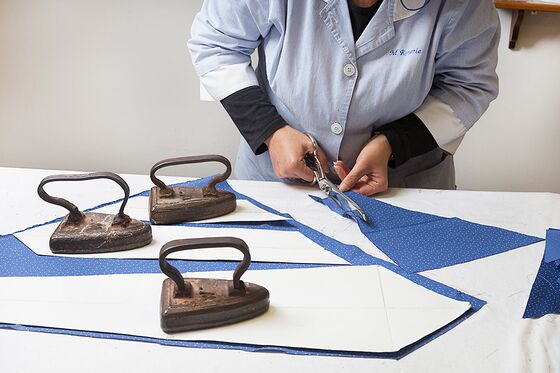 Maurizio admits that he prefers greeting customers in person to making web sales. In the shop he loves entertaining buyers with anecdotes about famous visitors while helping unearth the perfect fabric for an individual's wardrobe that can be swiftly turned into a personalized tie.
Sales in Italy still account for 75% of revenue, most of it from ties and bow ties ranging from €120 to €200, depending on the material and number of times the fabric is folded (seven is the gold standard in tie-making, but some customers prefer just three). After a 40% slump in sales during the pandemic, business has rebounded as weddings return and people spruce up their office attire.
Global and online expansion notwithstanding, production has remained proudly Italian, with the workshop a short stroll away. Here, 18 skilled workers assemble ties, bow ties, and silk scarves with typical Marinella patterns, from regimental stripes to floral designs.
But getting young people to sign up for the work of assembling a tie is becoming increasingly difficult, Marinella says. That's why he is asking the government to sponsor a university of traditional craftsmanship, with classes and workshops on the best of "Made in Naples," from ties, umbrellas, and shoes to mozzarella cheese.