Mediation Can Help Small Businesses Solve Conflicts and Protect Relationships
Bob Bordone taught at Harvard Law School for more than two decades. While there, he founded and directed the school's negotiation and mediation clinical program. Today, Bordone, who lives in Cambridge, Mass., does mediation, negotiation and conflict-coaching for individuals, businesses, and others, and is a senior fellow at Harvard Law School. Because commercial disputes will likely snowball as the pandemic response lurches forward, Bloomberg Businessweek spoke with Bordone about using mediation to reach agreements without damaging important business relationships. (The Society for Human Resource Management released research in June indicating 53 percent of small employers of more than 400 it surveyed were somewhat or very concerned about increased risk of lawsuits and liability while reopening amid Covid-19.) This interview has been edited and condensed.

Why are you a proponent of mediation over litigation? 
Most conflicts or disputes are about people viewing events really differently; people wanting to be treated fairly; people wanting to be compensated for a loss they felt they shouldn't have taken. And often there's a lot of emotion and feeling involved as well. It just turns out that courts don't do any of that particularly well. In a business dispute, what courts tend to do is drag things out. They have really high costs. The only thing they can really do, particularly in a business context, is award a dollar amount. 
More than 90 percent of cases in court get negotiated out of court. That's not to say there isn't an important role for courts in our society. First of all, we do need rights to be adjudicated, at times. Secondly, sometimes a dispute or conflict isn't well resolved through a mediation or a negotiation.
Litigation is like a hammer. But not every single problem is a nail. Mediation is another tool in the toolkit. It's part of what businesses want to be thinking about.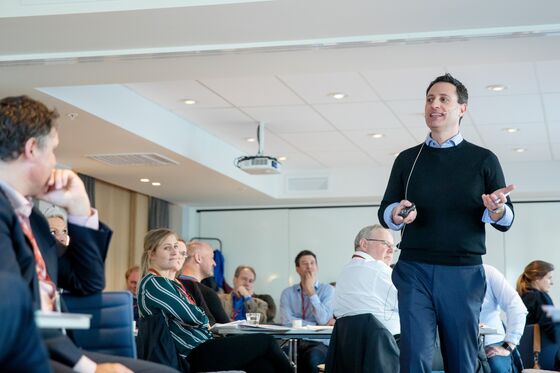 Speed and cost effectiveness seem like the biggest advantages.
In litigation, the court is going to impose something. Mediation allows the parties to craft something that is much more creative that really can meet their underlying interests. From our research we know that when parties are part of designing the resolution, their compliance with the resolution is much higher than when a resolution is just imposed on them.

What's a common business problem that can be resolved with mediation?
A small business rendered services it wasn't paid for. An installment was made and then the payment was stopped. It escalated and was going to court and then I was involved in a mediation. What came out was the customer had lost his job and was fighting to ward off creditors. There was no ill will on the part of this person. But because of the way the small business had tried to get its money, it had caused the customer to become very defensive. The business had been very aggressive and then moved to a collection agency. One of the things that came out in mediation was there was a lot of shame. This was a good person who had been put in the role of being a bad person and therefore defensive. The resolution included coming up with an installment plan for the customer and an apology from the business owner.

Will people navigating the pressures of the pandemic be able to calm down enough to use mediation?
One of the things about this moment is that people are operating under a lot of stress. People have lost their jobs. Businesses are having trouble making payroll. They are also not being paid. Things can escalate more quickly. Or, you may be more likely to avoid conflict. Mediation offers something different from fight or flight.

What prevents businesses from trying mediation?
The number one reason why people don't use mediators is because they don't know about them. They've never heard of mediation. And, unfortunately, most lawyers don't recommend it. I would argue that's because lawyering gets them more money than mediating does. Then there are people who are aware of or have heard of mediation and might still be wary, for any number of reasons. People want to avoid dealing with the conflict, they don't want to do mediation because they feel it will escalate things.

What are you hearing from business owners?
Suppliers are being told they need to cut their prices. If you're the supplier, how are you supposed to keep running things? Part of this is how to be creative. For example, a supplier could say, if we take a cut now, how do we work out some terms and an agreement about what will happen a year from now. Can we link increases back to your business's success? 

There are genuine Covid-19 challenges. But Covid-19 is also a ginormous excuse for why someone should get a price concession or someone should take a cut.

Main Street businesses have major concerns around paying debts and being paid and liability. Can the disputes that arise really be mediated?
All those situations are ripe for mediation. But the first thing is to try to talk through the problem in a constructive way. If that fails, try to get mediation or some kind of third-party facilitated process. Because litigation is just going to be more costly and more time consuming.
But if there's a party who is unwilling to compromise, listen, or engage in good faith in the process, then it's a waste of time to do mediation. 

Can anyone be a mediator? 
It very much varies by jurisdiction but typically in most places if the dispute is not court connected, anyone can serve as a mediator. There isn't a licensing procedure. If you're doing it as part of a court-connected mediation, many states have some kind of requirement for certification. 

How do you find one?
It's not uncomplicated. It often depends on where you are located, but in most places around the country, there's some kind of a community mediation program. For small businesses, that's probably a good place to start. That could be done through a web search. Many law schools may have a mediation program where they involve community members. You can also look at the American Bar Association's Section on Dispute Resolution.

And how should a business owner evaluate a potential mediator?
You want to make sure the person is the right fit for you. Some of that is asking around. It's also fine to call a mediator and ask what their approach is. For example, I tend to be someone you would call more facilitative in our field. I'm interested in not just hammering out the resolution but also in thinking about the underlying relationships, the communication issues at play, how to be attentive to the emotions. Sometimes that's a good fit for parties; sometimes it's not.


For more stories, strategies, and advice for Main Street business owners, check out the Bloomberg Businessweek Small Business Survival Guide.
(Bloomberg Businessweek) --