Slack's Stewart Butterfield on Managing Through Fear and Exponential Growth
(Bloomberg Businessweek) -- For many companies struggling to adapt to the shelter-in-place era, Slack has been as indispensable as toilet paper and canned beans. The company's workplace chatrooms were popular in some industries—media, especially—even before the Covid-19 pandemic, but they've been essential equipment as the coronavirus has spread.
Even so, Stewart Butterfield, chief executive officer of Slack Technologies Inc., hasn't been celebrating much. In a recent tweetstorm, he opened up about the difficulty of managing a company remotely, even as Slack's business grows. He spoke to Bloomberg Businessweek over video chat from his home office in San Francisco and expanded on the challenges of the pandemic as well as his hopes. The conversation has been edited for length and clarity.
When did you first realize the coronavirus would affect your business?
It was Friday, March 6. We had an employee who was notified by the CDC that they had been potentially exposed. At first, we shut down the office for the day and planned to do a deep clean over the weekend. But before that day was over, we decided to just make it strongly encouraged to work from home. So our San Francisco headquarters was essentially closed.
Japan is our second-biggest market, and we'd already closed our Tokyo offices by that point. But it wasn't apparent, at least to us, that there was going to be this dramatic impact.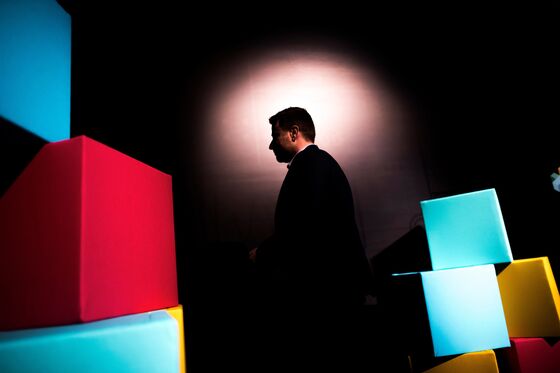 Every hour was something new—like, "Oh crap, what are we going to do about this thing?" And it hadn't really sunk in completely yet, because even though most employees were already working from home, there was a crew of six or seven of us in New York—including our general counsel, our chief financial officer, and our head of investor relations—who were in a conference room together because that's the way we'd always done earnings.
Meanwhile, things were changing for everyone else. We had to get volunteers from across the company to help out with customer support because there was a massive spike in demand. We had figure out how to hire people who'd never met anyone at the company face-to-face.
In retrospect, it makes sense that lots of companies would suddenly sign up for Slack, but it sounds like you were surprised anyway.
It was as if everything I'd tried to accomplish as CEO over the past five years but was unable to do by normal means just magically seemed to happen. It started the week of March 9, but the week of March 16 was when the impact of the growth started to really compound. The rate of new team account creation, the utilization of people who were already customers—everything was increasing.
That part was actually kind of fun, because people had these great ideas and were going ahead and implementing them. A big grocery store chain went from a couple hundred people on Slack to suddenly more than 100,000. It's in all the stores, and they did that in three days. We have inquiries from organizations that want to put a million people on Slack in the next two weeks. And we're like, "You actually don't want that. That would be very hard and probably not work out, but we'll see what we can do."
How are you doing personally? What do you miss about being in the office?
I find everything more challenging right now, like making time to cook and eat and shower. I feel much more exhausted at the end of the day. This conversation would be easier, cognitively, if we were face to face. There's something that's a little hard to do on a video call. You lose some kind of signal, and your brain has to work harder.
And people are just generally scared. We had a town hall where employees asked about layoffs, and our CFO said, "Absolutely no layoffs." But one of the things I've had to reiterate is, "No, we're not laying people off. We're trying to hire as many people as we can." That stuff is superclear to me, but employees need to be told over and over again that things are going to be OK. We're not doing layoffs. Your job is safe.
I don't normally steal questions from Oprah, but it seems appropriate in this moment: What do you know for sure?
I know that we have an opportunity now—speaking not as CEO of Slack, but just as a citizen—to kind of reimagine how we want to do things as a society. This pandemic reveals a lot of cracks in the system. It turns out that when something like 10 million people suddenly go out of work, employer-funded health care is an even crappier idea than it seemed like before.
I know that there's an opportunity now to change a lot of those things, to change the lack of social safety net, health-care policies, criminal justice reform, and I really hope that we collectively seize some of those opportunities. I don't think we can fix everything that's wrong with the world all at once. But because the background change is so great, there's an opportunity to kind of sneak in some other changes. I have no idea if we'll actually take advantage of it, but I hope so.