Self-Driving Cars Keep Tapping the Brakes
(Bloomberg Businessweek) -- In December, Waymo LLC, the leading driverless-car company, brought out the world's first commercial robo-taxi service. But for now, the service is only available to about 400 test families in suburban Phoenix, and each of its converted Chrysler minivans still has a person at the wheel in case anything goes awry.
"It's a pretty glaring indication that we're not there yet," says Matthew Johnson-Roberson, co-director of the University of Michigan's Ford Center for Autonomous Vehicles, who's working with automakers to develop robot rides. Waymo, owned by Google parent Alphabet Inc. and recently valued at $250 billion by Jefferies Research LLC, declined to comment. In a blog post, Chief Executive Officer John Krafcik said the human safety drivers were at work in Arizona to make riders feel more comfortable.
Waymo's timid rollout is the latest speed bump for a technology touted as certain to save the world from road deaths. As auto and tech giants converge on Las Vegas for the consumer electronics show known as CES, which formally kicks off on Jan. 8 and includes a keynote from Krafcik, the seemingly boundless optimism that surrounded driverless cars only a few years ago has been tempered by a slew of persistent technological challenges and big questions about near-term business models, especially as a recession looms. "Most of the automakers are chasing a business model that has yet to be proven—that elusive robo-taxi," says Craig Giffi, head of consulting firm Deloitte's U.S. automotive and industrial products practice.
At CES, driverless and auto technology will cover 300,000 square feet of floor space, more than the total size of many standalone car shows, and the auto industry is continuing to pour billions into self-driving cars. Ford Motor Co. CEO Jim Hackett said in November that the market for autonomous vehicles and other mobility services could reach $10 trillion—half the size of U.S. gross domestic product. Annual sales of self-drivers will hit 33 million by 2040 and account for more than a quarter of global vehicle deliveries, according to researcher IHS Markit.
That's why automakers and tech companies are rushing to get robots on the road. General Motors Co.'s Cruise Automation plans to debut its automated ride-hailing business in a U.S. city in 2019, and Ford promises to deploy tens of thousands of self-drivers on the streets of multiple U.S. cities in 2021 as part of a profitable business moving people and packages. Even Uber resumed testing its autonomous Volvos in December, only nine months after one struck and killed a pedestrian in Tempe, Ariz.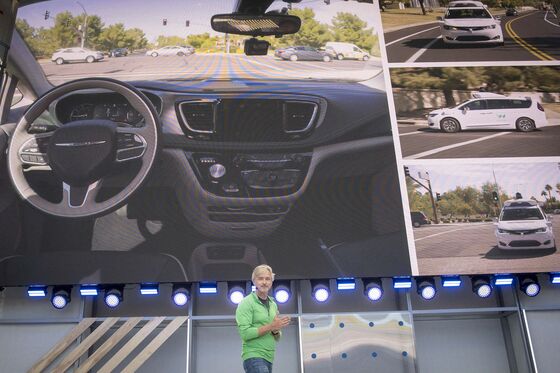 But a study from Deloitte suggests things will move more slowly than expected. Half of the 25,000 consumers Deloitte surveyed globally said they didn't believe autonomous vehicles would be safe, up slightly from 47 percent a year ago. Just 39 percent of them trust automakers to bring the technology to market. Most surprising: Only 12 percent of U.S. consumers reported using services such as Uber and Lyft once a week, half the rate of a year ago.
This lack of trust undermines the near-term business case for the robo-taxi, which relies on an ever-growing pool of consumers ditching their cars. And as long as human safety drivers are required, profits are out the window. "The economics of that don't work out at all," says Johnson-Roberson, the University of Michigan technologist. He says the only way to remove safety drivers is to isolate autonomous cars in their own lanes, walled off from unpredictable humans. Among other things, driverless cars still struggle to merge into traffic.
Auto bosses are beginning to acknowledge that fully self-driving cars "will take much longer than people imagine," says Sachin Lawande, CEO of auto parts maker Visteon Corp., which is focusing on semi-autonomous assistance for human drivers. "The new realization is that it will be 2025 before we see that on the road. Maybe longer." Like Lawande, Jake Fisher, director of auto testing for Consumer Reports magazine, sees more potential for autonomous technology working in concert with humans. Fisher says the gear could be especially useful for long-haul truckers and highway drivers.
As with the dot-com bust or other early hiccups for emerging technologies, the outstanding challenges aren't going to keep driverless cars off the roads forever. The profit potential is too great and the existential threat too serious for carmakers and tech companies to give up. Yet the present "trough of disillusionment" should prompt the industry to take a more realistic look at just how far off the driverless future may be, says Mike Ramsey, an automotive consultant with researcher Gartner Inc. "People have had this really unrealistic view of how fast this really groundbreaking technology can be implemented," he says. "It's going to be painfully slow." —With David Welch
To contact the editor responsible for this story: Jeff Muskus at jmuskus@bloomberg.net, Dimitra Kessenides