Rad's Bestselling E-Bike Disrupts America's Pandemic Commute
(Bloomberg Businessweek) -- In March, as U.S. states began issuing stay-at-home orders, Mike Radenbaugh, co-founder and chief executive officer of Rad Power Bikes LLC, made a plan for lean times. The temporary shutdown of the U.S. economy, he figured, would be bad for his business, a Seattle-based startup that sells electric bicycles online. "We really started to batten down the hatches," he says. "It was a lot around cash planning and preserving the business in case of it cratering."
But by mid-April, Radenbaugh realized he'd miscalculated. Not only was Rad not hurting, it couldn't replenish bike stocks fast enough. Sales tripled that month over the same period in 2019, he says. They haven't cooled since. By mid-May, Rad had sold through its inventory. It's restocked since then, but many models are still on back order.
Bike retailers across the country are in the same happy predicament. With the pandemic disrupting vacation plans, exercise routines, and commutes, Americans are turning to bicycles in record numbers. Electric bikes, though a tiny slice of the market, have been especially hot, with sales more than doubling in the first eight months of this year over the same period last year, according to NPD Group Inc., which tracks bike shops and big-box stores but not direct-to-consumer brands such as Rad.
Last year the U.S. imported about 270,000 e-bikes, mostly from China, says Ed Benjamin, founder and chairman of the Light Electric Vehicle Association. This year, Benjamin expects the total will end up somewhere between 500,000 and 600,000. Even that won't fully meet demand, he says, because the virus forced many Chinese factories to shut down in the spring: "There's howls of frustration about getting more bikes."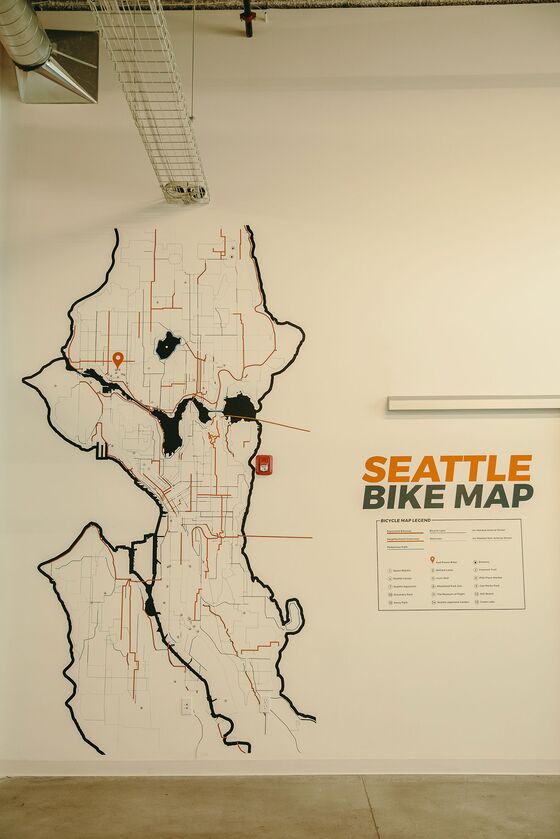 No other company, Benjamin says, sells more e-bikes than Rad. The privately held business, founded in 2015, had sales of about $100 million last year.
Rad's customers tend to be middle-age suburbanites and rural retirees, says Ty Collins, co-founder and chief marketing officer. They don't especially care that motorized bicycles are considered "mechanical doping" in the bike racing world. They just want a little help to get over a hill on the way to work, to drop off their kids at school without sweating, or simply to ride a bike for the first time in years.
Within the cycling industry, there's hope that the pandemic will help convert this demographic into permanent e-bikers, which has already happened in Europe and Asia. (About 270 million e-bikes are used daily in China alone.) There is some precedent: During the oil crisis of 1973, U.S. bike sales spiked, leading to a long-term change in bike culture. "Before that bicycle boom, bicycles were toys for kids," says Benjamin, who worked at a Schwinn dealership at the time. "An adult on a bicycle, or even a teenager on a bicycle, was regarded as messed up." A similar trend is emerging for the e-bike now. "It's been a little bit exotic," he says. "In another year it'll be regarded as an entirely valid, entirely acceptable transportation choice."
If Benjamin is right, Rad has a considerable head start in the market. There are more than 100,000 Rad bikes on the road worldwide. The company's success comes down largely to its pricing. Rad bikes are hundreds, and sometimes thousands, of dollars cheaper than competitors' bikes. The company's cargo bike, the RadWagon, for instance, sells for $1,700, whereas a top-of-the-line model from Riese & Müller goes for more than $8,000. Rad keeps its prices low, in part, by cutting out the bike shops. Markups there account for $600 of the average price of $2,600 for an e-bike, according to the nonprofit PeopleForBikes. Rad also uses cheaper motors, gears, brakes, and other parts than many of its bike shop competitors. For Rad to live up to its vision of selling workaday vehicles by the millions and reshaping the way Americans go from place to place, it will have to prove that low cost doesn't mean low quality and fend off increasing competition from traditional bike makers.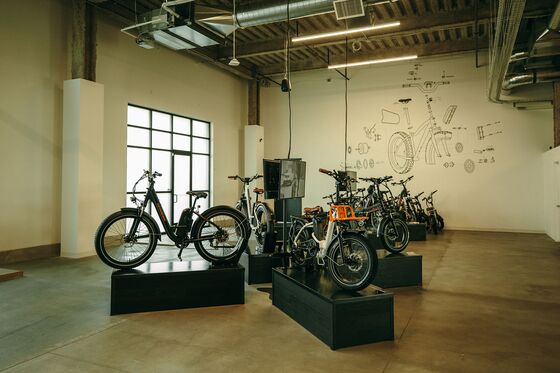 Radenbaugh, 30, built his first e-bike 15 years ago as a teenager. He wanted a new way to make the 16-mile trip to and from his high school in Garberville, Calif., a dirt-road town four hours north of San Francisco. The bus was a "long and dreary" ride; his mountain bike left him soaked in sweat; and there was nothing more mortifying for a self-described "nerdy guy" than arriving with his mom, the school nurse. So Radenbaugh soldered together a 40-pound lead-acid battery and a Specialized mountain bike using parts he found online and at the local RadioShack. After a few failed trials, the bike was ready to ride down Highway 101. It did get him to school, but didn't help his efforts to look cool: "I got honked at a lot by classmates," he recalls.
Two years later, in 2007, Radenbaugh sold a home-built e-bike at a local summer fair, swapping it for a 20-foot tepee, which he put up in his family's yard and lived in for a few months. Over the next couple of years, as he finished high school and enrolled at Humboldt State University, Radenbaugh and Collins, a childhood friend and college roommate, built and sold custom bikes on campus, advertising in classified ads and on Craigslist. In 2014, Radenbaugh moved to Seattle to pursue Rad Power full time. The following year, he and Collins sold their first batch of about 300 bikes through a prepay online campaign on Indiegogo and opened their online store.

"We saw what the likes of Warby Parker and Casper were doing and saw an opportunity there," Collins says. But as a relatively low-margin business with hundreds of competitors, e-bikes hadn't been a typical target for venture capitalists. During its first year, Rad took a five-figure sum from a pair of investors who happened to have an office nearby, but otherwise rose on its own steam until last year when Darrell Cavens and Mark Vadon, co-founders of Zulily LLC, put in more cash.
Still, Rad couldn't follow the typical direct-to-consumer startup playbook of losing huge sums to acquire new customers. "We didn't take the strategy of let's get customers at any cost," Collins says. "We needed profit to keep going." In the early days, he adds, he was the only person answering calls when customers had questions or problems. He used what he learned from those conversations to target ads on Facebook. He and Radenbaugh had expected to sell bikes to people like themselves—twentysomething city dwellers—but their early customers, he says, were mostly "suburban dudes in their 50s, 60s, and 70s."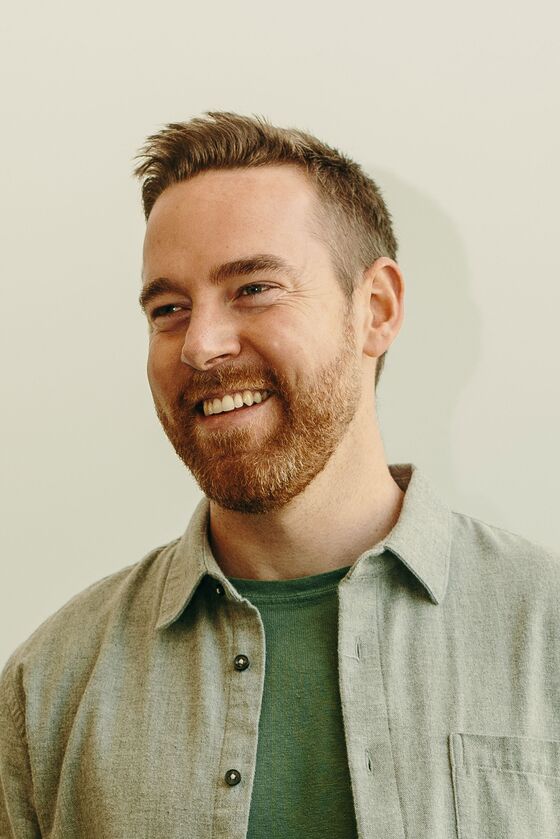 "It really was baby boomer after baby boomer," Radenbaugh says. As sales grew, so did Rad's ad budget. The company now spends in a day running ads on Facebook, Instagram, and Google what it used to spend in a month, Collins says. The customer base, he adds, has since broadened to include more of the young city dwellers they had envisioned.
In February, Rad raised $25 million from a group of venture investors, including Vulcan Capital. Although Rad has been profitable since 2015, Radenbaugh says, the infusion of cash will allow the company to develop products, expand service, and sell bikes faster. "When people jump on these bikes and try them out, it's a totally new experience," says Stuart Nagae, one of Rad's venture investors. "So I'm superbullish on adoption."
Rad's growth prospects will depend partly on convincing customers that they can use the bikes to replace at least some car trips. That's what happened to Zachary Deegan, a schoolteacher in exurban Denver who got interested in e-bikes while teaching a lesson on urban planning to his high school environmental studies class. He was running through the costs of the Hyundai Santa Fe and Subaru Impreza that he and his wife, Amanda, use to commute and to get around town with their two kids. "As I'm saying it out loud, I was like, 'Oh my God. What am I doing?' " he recalls. After some research, Deegan bought the RadWagon 3 ($1,500), which weighs 75 pounds and can carry two kids. His wife got the RadRunner, a $1,200 bike with smaller wheels. "They were kind of a sweet spot for a good, durable bike," Deegan says, "but pretty affordable." In July the Deegans sold their Santa Fe for $12,500.
 
Rad ships its bikes via FedEx in a big box. They come partly assembled, with a small bag of wrenches and a booklet of instructions for attaching the front tire, handlebars, seat, pedals, and a few other parts. In July, Rad sent the latest version of the Wagon to my home in suburban New Jersey, where I lugged the box to the back of the driveway and spent the better part of a day putting together the bike. I've assembled my share of Ikea dressers, and I can say confidently that this was more difficult. If, like me, you don't know what "torque to 10 newton meters" means or what a cable pinch bolt is, you'll want help.
Rad operates nine mobile service vans that will deliver and assemble bikes for a fee in Austin; Portland, Ore.; Sacramento; Seattle; and Vancouver. It also offers service from the bike repair startup Velofix Holdings Ltd., which sends vans on house calls, and from about 450 bike shops in the U.S. that are part of its service network. The nearest shop to me, however, was more than 10 miles away, and there was no way I was going to be able to fit the bike in the trunk of my car. So I was left to my own devices and whatever help I could get through emails to Rad's roughly 100 support staff in Seattle, who couldn't torque any bolts for me. "We have a lot of room to grow in this area," Radenbaugh acknowledges.
I could have also brought it to an out-of-network bike shop, but they're overwhelmed with service requests at the moment and aren't especially eager to work on e-bikes they don't sell. At Gregg Cycles, one of the most popular bike shops in the Seattle area, there's a surcharge for work on Rad bikes. "We've had discussions with our service staff numerous times," says longtime general manager Marty Pluth. "They want to ban working on Rad Power bikes because they're so poorly put together." He says Gregg has had to buy electric stands to be able to lift the heavy frames while they work on them. And he worries about the quality of Rad's components. The gears and brakes are the kind Pluth would normally expect to see on lighter, less expensive bikes. "When you're selling e-bikes below $2,000, it has to be a compromise," he says.
Pluth isn't an impartial observer—Gregg sells more expensive e-bikes made by Cannondale, Specialized, Trek, and others—but the consensus around the e-bike industry is that you get what you pay for. Rad bikes are, by most accounts, better than the $800 e-bikes that can be found on Amazon.com but worse than, say, a $5,000 Specialized. "It's really hard to divorce quality from price," says Morgan Lommele, head of e-bike initiatives at PeopleForBikes. "I look at direct-to-consumer brands, and the reason why their sales are booming is because they're just cheaper than the in-store counterparts. But they're selling a product that, in my opinion, isn't as durable."
Radenbaugh disputes this. "It's a common tactic for traditional bike shops that sell e-bikes from our competitors to try to use our affordability against us, claiming our lower price tag means lower quality," he says. "Let me be clear: It does not." Rad is cheaper, he says, because it cuts out the middlemen. Its bikes, Radenbaugh says, are made with "similar high-quality components" to those of the bike shop brands.
This year, Dorel Industries Inc., which owns Cannondale and Schwinn, began selling midprice e-bikes online through its Charge brand. Trek sells an e-model through the Electra brand. The prices are competitive with Rad's, and the bikes come with the support of the hundreds of bike shops in their networks. Radenbaugh is undaunted by these efforts to sell both online and in stores. "While they're trying to figure that out, we're just scooping up market share," he says.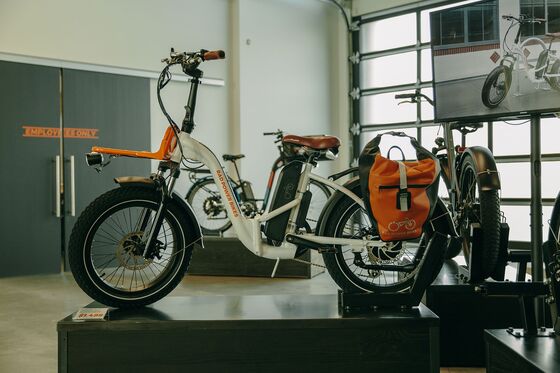 After only five hours of sweating and muttering about deflopilator springs, I was able to get the Wagon up and running. At first it felt unwieldy. Turns were surprisingly wide; stops and starts, awkward. The bike's rechargeable lithium-ion battery sits under the seat and connects to a motor in the hub of the rear wheel that adds power as you peddle. Buttons on the left handlebar control, on a scale of zero to 5, the level of assistance. A twist throttle on the right offers an extra shot of power. (As a Class 2 e-bike, the motor quits automatically once it reaches 20 mph.) After a couple of hours I was comfortable enough maneuvering the bike to put my two kids—ages 8 and 5—onto the back for a cruise.
Whatever its durability, the RadWagon was fun to ride and turned heads. "I want one of those so bad," said a child on the sidewalk as we rolled past. The counter guy at the pizza shop came outside to tell us how cool the bike was. Nothing brings in new customers faster, Radenbaugh says, than a test ride from a friend or neighbor. "Once you do that, you can't get the grin off your face," he says. "You can't go very many days before you crack and have to get one."
I haven't cracked, yet. The Wagon was just too much bike for my little garage, so I sent it back. My kids were sad to see it go. Another e-bike, I promised them as the FedEx guy took the Wagon away, was in our future. With the pandemic dragging on into winter, promising long months cooped indoors, I may crack sooner rather than later.
 
Read next: An Indian-Made Motorcycle With a Retro Look Is Coming After Harley