Why Are Right-Wing Trolls Harassing This Seattle Bagel Shop?
(Bloomberg Businessweek) -- The One Year, One Neighborhood series follows small businesses in the Pike/Pine corridor in Seattle, the first coronavirus hot spot in the U.S., to get a sense of what cities will look like as they reopen.
The mysterious phone calls to Stephen Brown's bagel shop, Eltana, started on June 10, the day that President Trump said Seattle was being taken over by "domestic terrorists." A person with an out-of-town area code or unidentified number would start casually, asking whether the store is open and saying he wants to pick up some food. Then he'd pivot to something like "I hear it's really crazy there. I don't know if I should come down," or "You like being in the middle of a zoo?"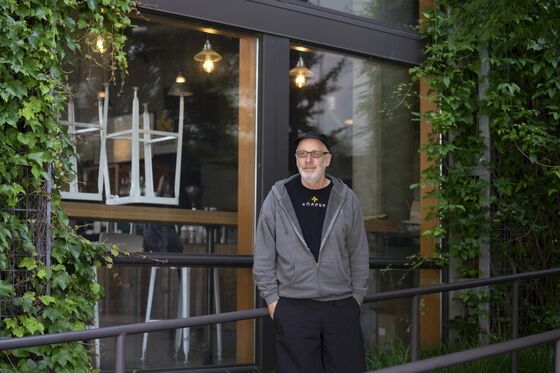 It was a reference to the protest zone that had been established on June 8 when Seattle police vacated the East Precinct building across the street, following days of escalating clashes with demonstrators after the killing of George Floyd in Minneapolis. With no cops around, the roughly six-block area—the Capitol Hill Organized Protest, or CHOP—became a lightning rod in the national conversation about policing.
The day after Trump's tweet, Brown answered six or seven of the calls himself, and his staff took even more. In all, he estimates the shop has received 20 calls over several days. "They're trolling," he says. "They're clearly right-wing people trying to provoke me into saying something."
Brown hasn't fallen for it. But his experience shows how surreal the last few weeks have become, with his neighborhood drawing worldwide attention from mainstream news outlets, as well as fringe actors set on seeding disinformation. Brown himself has been interviewed by CNBC, Fox News, Univision, and several local outlets. "Never in my career as an entrepreneur have I been asked so much what I think," he says.
As local businesses get sucked into this media storm, they're increasingly being used as props in a debate that has only grown more complex on the ground. After days of largely peaceful demonstrations, there have been shootings three out of the last four nights in the zone, including one that killed a 19-year-old, raising fresh questions about public safety and whether the area had become a distraction from the goals of Black Lives Matter protesters. While the police haven't announced any suspects or motives for the shootings, President Trump used them during his rally in Tulsa on Saturday to suggest again that he's willing to send troops into the city.
In interviews, several business owners near CHOP were emphatically against such a move, but they expressed growing frustration with the city's response to an out-of-control situation. Even before the weekend violence, a local bar owner and the general manager of a bookstore, who sit on the city's small business advisory council, demanded officials not abdicate "responsibility for the safety and well-being of the residents," according to a letter obtained by CapitolHillSeattle.com, a neigbhorhood news site.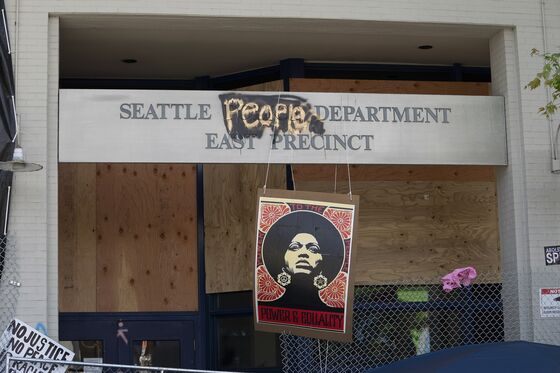 Last week, officials worked with organizers in the zone to scale back the footprint of the protest area to allow cars, delivery trucks, and emergency vehicles better access. But those changes proved ineffective over the weekend. Most victims of the gun violence were driven to the hospital in private vehicles after the fire department refused to go into the zone until police had secured the area, in accordance with existing policy.
During a press conference on Monday, Mayor Jenny Durkan pledged to peacefully clear the zone and laid out her plans to respond to the protests that have gripped the city. She said that police would return to the East Precinct building eventually and that the city is looking at "additional steps to ensure community safety" should people not voluntarily leave CHOP at night.
"It's time for people to go home," Durkan said. "We can still accommodate people who want to protest peacefully to come there and gather. But the impacts on the businesses and residents and community are now too much."
Hallie Kuperman, who owns the Century Ballroom and Tin Table restaurant, which are adjacent to CHOP, had just reopened this month for dine-in service after being shut down since March because of the pandemic. On Friday night, almost all the tables were full. Then she woke up Saturday morning to a text about the murder in front of her building overnight.
"Covid was so simple compared to this," she says. "I have such mixed emotions, which I think is what we're all saying. We are confused about what the answer is and adamant that murdering people of color has got to stop and our system has to change. That's the hard part. Really, I don't want bloodshed on the Hill, because the cops walk in and try to take back the space."
Kuperman says she still plans to be open this week and has several reservations on the books. Other businesses in the area have announced changes to their hours in response to the violence.
Karyn Schwartz, the owner of SugarPill, a small apothecary across the street, is just tired of getting calls from reporters—some of whom she says aren't making a real effort to understand the situation on the ground. In a lengthy Facebook post on Monday, she said the only way to move forward is to make "tangible and meaningful" steps to ensure "justice and equity and safety for communities of color."
"Yes, I would like to get back to work," she wrote. "Yes, this has all taken a huge toll on SugarPill, and everyone else in the neighborhood. We are not doing OK, most of us, as businesses. But we will not be used by Donald F--king Trump to incite violence against people who are speaking up about things that matter. We will not be mischaracterized by right wing 'media' as a neighborhood under siege by imaginary organizations, and in need of military intervention."
At Eltana, the bagel shop, business was slow over the weekend. But by Monday morning a steady stream of regulars was coming in, according to Brown, who says he plans to stay open as long as his staff feels safe coming to work.
Part of the benefit of selling a breakfast food is that people tend to show up in the morning, he says, whereas protests—and the violence—have happened later. Since the pandemic started, Brown has also been able to shift a significant portion of his sales to neighborhood deliveries, which don't require customers to come in at all.
"The whole thing makes me sad," he says. But he's skeptical that a show of force would help. Sending in the troops would be "the stupidest thing you could do. Sometimes patience is the best plan, and I'm not at the end of my patience."