A Fight Over Biden's Pick for a Banking Watchdog Gets Nasty
(Bloomberg Businessweek) -- Cornell Law School professor Saule Omarova was thrust into the spotlight in September when the Biden administration announced her nomination for the Office of the Comptroller of the Currency, a branch of the Treasury Department that polices some 1,125 banks. The choice of the avowed liberal and outspoken finance industry critic united Wall Street and tiny community lenders against her. So far, a pretty standard Washington story.
But things quickly grew uglier and more personal. Republican lawmakers raised the specter of a Soviet-style takeover of the finance system, leaning partly on an academic paper Omarova wrote imagining a new role for the Federal Reserve as a kind of public bank—and by asking pointed questions about her biography. Omarova, who was born in Kazakhstan when it was part of the former Soviet Union and came to the U.S. in 1991, is a graduate of Moscow State University. Pat Toomey, the senior Republican on the Senate Banking Committee, noted that her college scholarship was named for Lenin. He took to the floor to demand a copy "in the original Russian'' of a paper that focused on Marxism. The conservative tabloid the Daily Mail dubbed her "Biden's new comrade."
Omarova's advocates on Capitol Hill decried what they say is a return to the days of Joseph McCarthy's redbaiting. "Democrats won't stand by while Republicans assassinate her character," says Banking Committee Chairman Sherrod Brown. In an interview, Omarova, departing from the customary silence practiced by most political nominees, describes herself as a "free-market idealist" who wants to prevent big banks from reaping all the gains from risk-taking investments while forcing society to bear the costs of bailouts when things go wrong, as happened in 2008. "I know that Soviet-style communism doesn't work," she says. "I've lived through it. That system was deeply flawed. It's dead."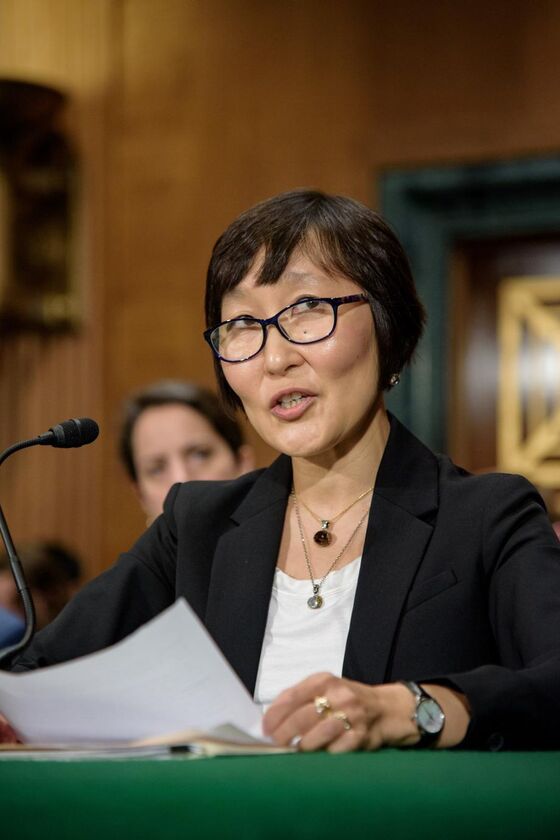 In a 50-50 Senate where she's unlikely to win any Republican support, it only takes one wavering Democrat to sink her chances. Omarova's backers acknowledge that winning the vote won't be easy but say that the wild attacks against a woman of color and immigrant are helping to solidify her support. Bank executives say privately they do not think she'll get enough votes. There are too many moderates facing reelection next year who don't want to be forced to support a controversial nominee. The effort to derail Omarova may be aided by her long academic paper trail and penchant for candid talk. Republicans gleefully raised questions about Omarova's temperament as they circulated a video clip from a 2019 documentary, Assholes: A Theory, in which she called finance "a quintessential asshole industry." In the film, she spoke of the law as a way to reduce the economic rewards for self-serving behavior.
Underneath the political spectacle are serious issues. Besides regulating national banks, the OCC chief has an important role in setting policy for burgeoning areas of finance that have little government oversight. That includes determining rules for cryptocurrencies and app-based financial companies that are increasingly competing with traditional banks. Filling the comptroller post hasn't been easy for the Biden administration. Activists resisted the White House's original choice, University of Michigan law professor Michael Barr, because of his ties to financial technology companies. They preferred another academic, Mehrsa Baradaran, who didn't pass muster after the administration reviewed some of her Twitter posts that were critical of President Joe Biden.
Should Omarova ascend to the OCC, it would be a milestone for progressive Democrats, who have labored to put skeptical and non-industry affiliated officials in charge of the most important financial regulatory agencies. Thus far, they've successfully backed Securities and Exchange Commission Chair Gary Gensler and Consumer Financial Protection Bureau Director Rohit Chopra, and they'd like to add some more. "Wall Street remains a potent political force, and each of these offices has been hotly contested," says David Segal, the executive director of Demand Progress, a liberal organization that supports Omarova.
The OCC has long had the rap of being the most clubby and deferential of the financial regulators—the most recent comptroller, Joseph Otting, referred to banks the OCC supervises as "customers''—as well as a place where up-and-coming attorneys could gain government experience that translates into much larger paychecks in the private sector. Omarova, whose résumé includes time as a lawyer for banks, has spent much of her career decrying that world, often publicly, in congressional testimony, speeches, social media postings, and academic articles. "I worked on Wall Street before the crisis," she says. "I know how excessive risk was created in the first place, and I've seen what happens afterward, and that's what I want to prevent from happening again."
Lobbyists have seized on several of her proposals, including one that could break up banks with more than $250 billion in assets and another to have the Federal Reserve offer checking and savings accounts instead of private lenders. The Fed plan, described last year in a law review article called "The People's Ledger: How to Democratize Money and Finance the Economy," has sparked a litany of complaints. It offers, in Omarova's words, a "blueprint for reshaping the basic architecture and dynamics of modern finance" by having customers pull their money out of banks and deliver it to "digital-dollar" accounts at the Fed. The central bank, she wrote, could in turn make loans to private banks and buy securities backing public projects. The idea is that the Fed would have more influence over the risks banks take and could help "channel credit to productive uses."
Omarova has also suggested creating a National Investment Authority, which could deploy public money much like President Franklin D. Roosevelt's reconstruction efforts during the Great Depression. Such a federal program "would undermine the currently unchallenged structural power of large Wall Street banks and private fund managers over our economic lives," Omarova contended. In his Senate remarks, Toomey took aim at the notion, saying it would "further policies that will be set by an unelected, unaccountable board."
As banks see it, such proposals mean getting the government into their lending business. They would also deprive them of the deposits that provide low-cost funding. "Her public policy positions are really, really problematic if you want a free-market banking system," says Rob Nichols, president of the American Bankers Association. "It is a blueprint for nationalization."
Omarova's supporters and academic colleagues scoff at this. "There is a fundamental misunderstanding of her background and scholarship," says Kathryn Judge, a professor at Columbia Law School who adds that Omarova's more controversial writings being bandied about by lobbyists and politicians are "much more in the spirit of 'let's have this thought experiment.'" The OCC, for example, can't change how the Fed operates.
Omarova says she is surprised by the "tabloid-level" discussion about her background. "I thought that for sure they would think that, 'Oh, if she becomes the comptroller, it would be much more difficult for us to maintain that cozy relationship with the OCC,'" she says. "That's what I expected. What I did not expect was the level of depravity."
 
Read next: Citigroup's New CEO Jane Fraser Plans to Remake the Bank While Crushing Rivals