Saudi Arabia Is Quietly Letting Valentine's Day Happen
(Bloomberg Businessweek) -- The mood at the florist's was as vibrant as the colors. Fake red roses, amaryllis, and peonies were displayed in the window with natural ones waiting in an acclimatized room. There were red paper hearts on sticks with "I LOVE YOU" spelled in white. Valentine's Day had arrived.
What was more conspicuous at the storefront on a busy street in central Riyadh, though, was what was missing: fear.
The runup to the annual lovers' day used to be a tense time in Saudi Arabia, as businesses dodged the authorities to mark an occasion banned by the religious establishment. But what was once Valentine's contraband, sold covertly to carefully selected customers, is now creeping into the Saudi mainstream. You won't see advertising like you would in Lebanon or Egypt, but you'll be able to spot telltale signs that the population is preparing for Cupid's arrival.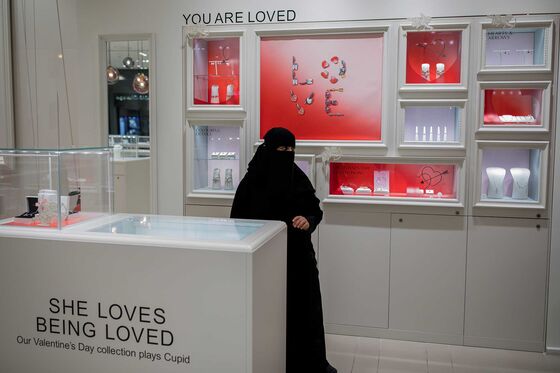 The shift in attitude represents the paradox at the heart of the new Saudi Arabia under de facto leader Crown Prince Mohammed bin Salman. A government crackdown has put dissenters on notice that they risk liberty—and even life—if they criticize the kingdom's leadership. But the state is also softening at the edges, allowing music concerts and cinema and permitting men and women to mix more freely in public.
There was no government announcement that the unwritten ban on Valentine's Day had been lifted. But unlike in the past, there have been no public injunctions against the sale of Valentine's paraphernalia. This time last year, the same Riyadh flower store followed what had become a familiar drill: Sign a pledge for the religious police that it wouldn't stock red flowers, move the offensive items to a nearby villa, sell to trusted clients, and pray not to get caught. Punishment included detention for the store's manager.
When the staff weren't censured for transforming a corner of their shop into a blaze of red earlier this month, they took it as a sign they could relax. "We've never had such an open Valentine's," says the salesman, Mohammed, who nevertheless asked not to be identified by his full name.
The religious police, whose powers have been curbed, didn't pay their usual visit. And they didn't stop at nearby restaurants with orders to abstain from using candles and tablecloths in colors associated with this day for lovers—red, pink, and white.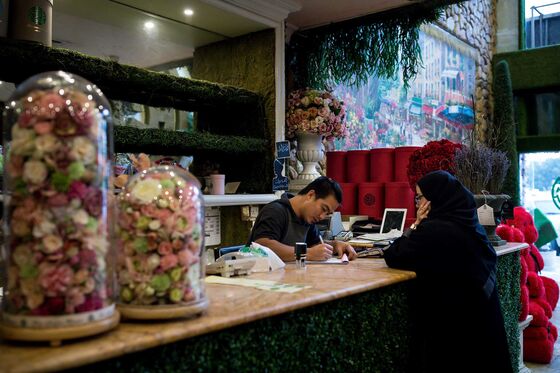 The crown prince has promised a return to a more moderate version of Islam, instead of the strict Wahhabism, which rejects Valentine's Day, Christian feasts, and even most Muslim holidays. Fahd bin Nasser, a 28-year-old technical engineer, says he doesn't mind if Saudis celebrate Valentine's Day, but it's not for him. "It's an innovation that Islam doesn't accept," he says, as he sips coffee on a cool evening in the popular Tahlia area of Riyadh. "I don't even celebrate my birthday for the same reason."
Sarah, 25, has embraced the foreign import—but discreetly. She and her boyfriend plan to celebrate Valentine's Day at a compound filled with expats. "I'm afraid to celebrate outside," she says. The upscale international jewelry store in Riyadh where she works is also playing it safe, keeping gold and diamond hearts inside instead of displaying them in the window.
Others are more bold. One store in Riyadh displayed a picture of mostly red lacy bras with a buy-two-get-one-free offer: "More Love," it read. A waiter at an upscale hotel said he has instructions to create "romantic tables" for celebrating diners, decorated with red candles and a scattering of rose petals.
Away from the capital, in less conservative cities such as Jeddah in the west or Al-Khobar in the east, attitudes are also more relaxed. A patisserie in Al-Khobar posted a picture of a heart-shaped cake on Instagram with a caption and a winking emoji: "February's cake has arrived," it said. "It's for February, not for that."
To contact the editor responsible for this story: Cristina Lindblad at mlindblad1@bloomberg.net, Rodney Jefferson