Rubies Have Never Been More Expensive—or Ubiquitous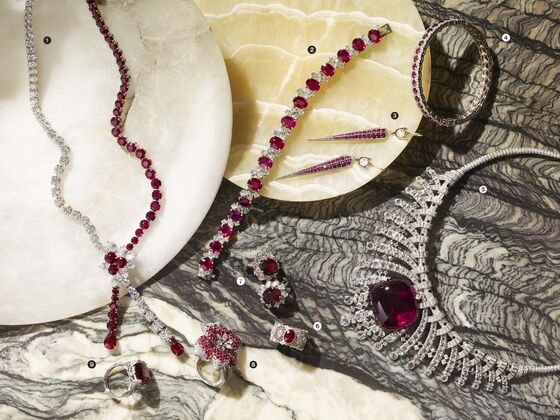 (Bloomberg Businessweek) -- At an auction of rough rubies this summer in Singapore, a ­staggering 95 percent of the stones sold—almost 589,000 carats in all—for $71.8 million. The ruddy gems have seen a more-than-fourfold price increase per carat in the past four years, with the finest rubies fetching $1 million per carat for the first time, as much as top-tier diamonds.
If a person had bought rubies a decade ago, says Seth Holehouse, co-chief executive officer at auctioneer Fortuna, it would be "like someone who bought Google stock in Year 3 vs. buying it now." The stones have become a staple for many jewelers, including Harry Winston, Bulgari, Tiffany, and Cartier.
There's been a surge in demand from the Chinese, who value gems because they're beautiful and portable and hold their value more reliably than stocks. And the Chinese color of choice is red, seen on everything from wedding dresses and New Year envelopes to the Communist Party flag. "China puts a lot of meaning behind colors and numbers, and red is extraordinarily popular," says Fred Leighton's Greg Kwiat. "That has had a major impact on pricing and design around the world."
China's rush to rubies has particularly affected the stone's premium tier, the so-called pigeon's bloods. The best of those were always Burmese, but from 2008 to 2016, the U.S. banned import of the stones from Myanmar as part of sanctions against the military regime for human-rights abuses. (Chinese buyers faced no such obstacle.) The regime fell, but activists are now protesting Bulgari, Cartier, and other brands for using gems from the country—where the successor government is involved in a genocide against the Muslim Rohingya minority.
By happenstance, though, a new source of ultrapremium rubies was discovered—and in the efficient gemstone market, prices surge when supplies become abundant and reliable. Thank a new seam, unearthed in 2009 at the Montepuez mine in Mozambique, which is majority-owned and -operated by Gemfields Group Ltd., a brand renowned for its ethical transparency. "It opened up a consistent supply, so for the first time jewelry brands could contemplate putting together collections based around rubies," says CEO Sean Gilbertson. He estimates that his mine now supplies 30 percent of the world's rubies.
Other red gems have benefited from the boom, including red diamonds, already among the world's rarest stones, and spinels, showstoppers often mistaken for rubies that made their way into Britain's and Russia's royal crowns. Even red tourmaline, better known as rubellite, has seen its price soar thanks to China. "They're paying high prices for rubellite," Kwiat says, "which the rest of the world can't figure out."
To contact the editor responsible for this story: Chris Rovzar at crovzar@bloomberg.net, James Gaddy