Instagram-Popular Shoemaker Rothy's Expected to Post $140 Million in Revenue
(Bloomberg Businessweek) -- The first Rothy's pitch to Goldman Sachs, in August of last year, was propitious. One member of the bank's venture capital team already owned a pair of the company's stylish but comfortable flats that let her run from the subway to the office without changing shoes, her little life hack for a quick workout.
Rothy's are knitted like a pair of high-tech running shoes, rather than cut and sewn together. As such, they are, by all accounts, uncommonly comfortable and, at the time of the Goldman meeting, were already a social media phenomena. 
The bank's asset management unit eventually did the deal, buying a $35 million stake in the burgeoning footwear brand at an undisclosed valuation. The slug of capital caps a remarkable three-year run for Rothy's, the brainchild of two Wall Street refugees (both middle-aged men). With a product on the sartorial scale tucked deftly between athleisure and business, a compelling story of sustainability, and a well-worn playbook on digital disruption, Rothy's expects to post a little more than $140 million in revenue this year.
"The business just caught fire," says cofounder and namesake Roth Martin.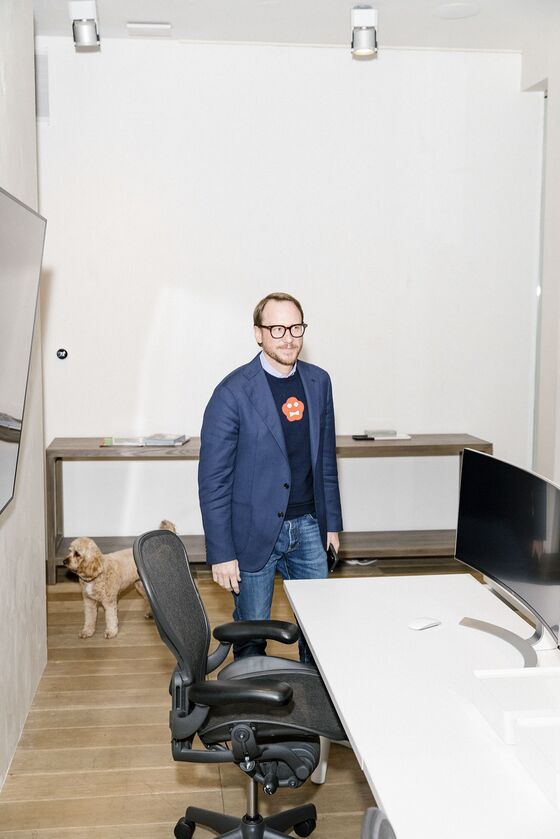 In terms of U.S. sales, Rothy's has quickly eclipsed Tod's ($88 million in North America last year), and now measures about a third of the size of the Crocs empire of plastic clogs ($389 million last year). Another way to think about it is that there are about 165 million women in the U.S., and Rothy's has sold somewhere around 1.4 million pairs of shoes to date. There aren't that many women with a pair of Rothy's; rather, there are quite a few with many pairs.
Katie Butterfield, a corporate communications professional, has five, with designs on a sixth: the Rothy's sneaker, which debuted in September. "It was the most comfortable flat I have ever worn," she explained. Rothy's are on heavy rotation in Butterfield's workweek as she schleps from her Pelham, N.Y., home to a midtown Manhattan office. She says the shoes—textured and often brightly colored—draw compliments, which incites a spiel of her own. "I think I've earned a reputation for being an evangelist," she said.
The talking points generally come in a fixed order: comfortable, stylish, washable, and green. All of those attributes are born from recycled plastic bottles, the main—and pretty much only—ingredient in a pair of Rothy's. Chips of plastic are melted into pellets, stretched into fibers and then blasted with air until they entwine to a thin yarn. The yarn is loaded onto knitting machines—originally designed to make sweaters—which weave the entire upper of the shoe around a plastic mold (known as a last) in 14 to 24 minutes, depending on the pattern. The uppers are sewn to a sole by hand and shipped directly to the consumer or to the single Rothy's store in San Francisco's Pacific Heights neighborhood, just over the hill from the company's headquarters.
It's an elegant and efficient process with little waste, literal or logistical. The supply chain—cobbled together from scratch—took the better part of four years to get right, burning up a good chunk of time and money all before a single pair of Rothy's hit the street. "I could have made a cellphone in a fraction of the time," recalls Martin.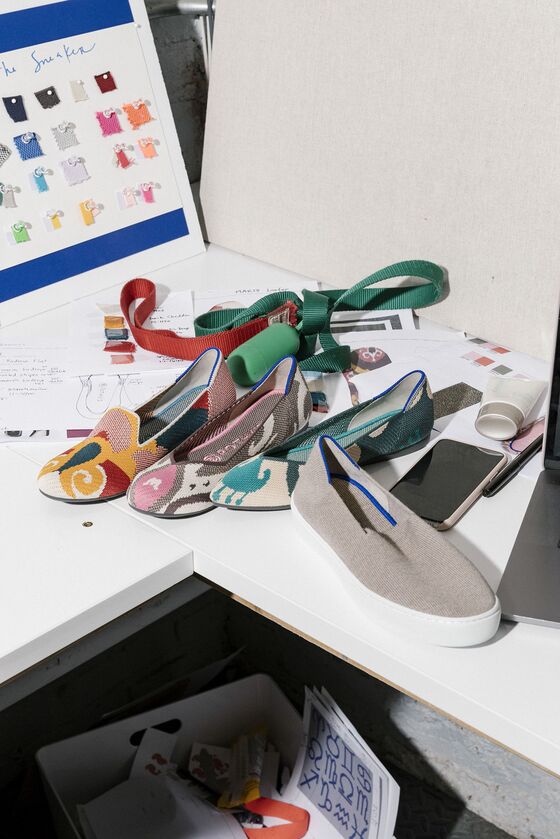 Martin owns a gallery that specializes in modern furniture and, as such, is a stickler for minimalist, functional design. He and his partner, Stephen Hawthornthwaite, were introduced through their wives, both of whom grumbled about finding the perfect ballet flat. Professionally restless and arguably overconfident, the men set out to solve the problem. The fact that there were heaps of flats already on the market didn't cow them. "There was lack of intentional style and comfort in one product," Martin says. "It seemed to be one or the other. And there was nothing sustainable in the space at all." He e-mailed 25 people in the art world, Hawthornthwaite e-mailed 25 investment bankers, and they were off and running with about $2 million in seed money.
The plastic fibers were easy enough to source from recycling plants in the U.S. or China. The plan was to load them onto knitting machines in Maine, one of the few remaining islands of U.S. shoe manufacturing. The entrepreneurs soon found out, however, that the yarn behaves differently, based on what color it has been dyed. The cordwainers, used to working with leather, struggled to get the tensions right. Meanwhile, the few materials Rothy's had to source from abroad kept the company from claiming "Made in the U.S.A." status. 
Eventually, the duo shifted to a contract manufacturer in China. And then another. Rothy's went to market in December 2015 with a batch of inconsistent product and a bare-bones customer service department. Martin and Hawthornthwaite were frantically answering e-mails. They quickly stopped taking orders and took six months to retool, ultimately bringing the knitting in-house in hopes of increasing quality and consistency. "I'm not a corner-cutter," says Martin.
In January 2017, Rothy's opened its own factory in China, just north of Hong Kong, with nine employees; a few months later, it collected $7 million in venture capital in a round led by Lightspeed Venture Partners. The company has been hustling to keep up with demand ever since, especially after Meghan Markle stepped out in a pair of Rothy's while touring Australia two months ago. Today, the factory has 450 workers and 160 machines knitting shoes 22 hours a day—a frenetic pace fueled by a firehose of social media ads. "It was kind of impossible not to see it," Butterfield recalls of discovering the brand on Facebook.
The company took a circuitous and expensive route to market, but the fits and starts may ultimately be what helps it survive. In relying on contract manufacturers, Rothy's had to commit to huge batch orders and often wait while the factory churned out shoes for another brand. Today, it can post a new color or style on its website in the morning, divine a decent gauge of demand by early afternoon, and have the first finished pairs sitting in a distribution center four days later.
"It's just incredibly fast," Martin says. "Other guys in the industry are always doing that nine-month guess. They're always overproducing or underproducing." At any given time, Rothy's has about 60 combinations of color and style—what it calls "customer choices." At the moment, persimmon is hot.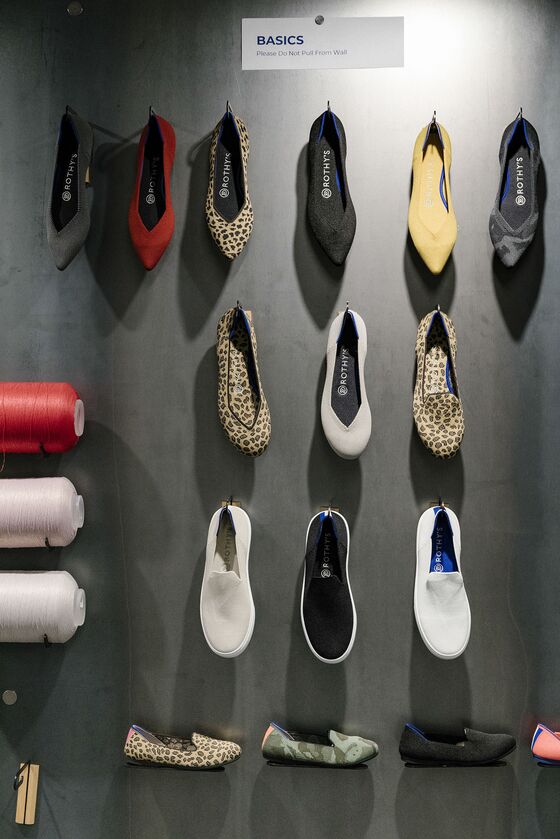 Venture capitalist Sumeet Shah, a former principal at Brand Foundry, says investors look for two things in an e-commerce startup: annual sales approaching $200 million by year five and profitability, or something close to it. "At that point, you're really in control of your own destiny," he says. 
The tricky part of being a scrappy, direct-to-consumer darling is convincing the world you can be bigger than just a shoe, mattress, or razor blade company. Getting a toehold in any corner of the retail market typically requires a laser focus on one specific product; becoming the next mega-brand requires a breadth of products. It's an incongruous dynamic.
"Venture capital needs to see a big story with big market potential," says Forrester retail analyst Sucharita Kodali. Thus, we have Casper dog beds, Dollar Shave Club shampoo, and the Peloton treadmill. The danger is that the brand quickly spends what little equity it has built with customers. 
"If you go too quickly into an adjacent category, then you can lose your reason for being," says Kate Newlin, a corporate consultant and author of Shopportunity!: How to be a Retail Revolutionary. "If you're a Hermès or Nike, the brand has the halo for you that shines over lots of categories."
There's also the risk that Rothy's runs short of super-fans—the early adopters may have largely come and gone. Will customers such as Butterfield buy yet another five pairs in the next 12 months? Kodali, at Forrester, has a short script on how the typical e-commerce origin story is set up to be a flash in the pan. 
"They often get very early traction because they are good at social media and take nice pictures," she says. "But after two or three years, the growth sort of peaks, because the universe of people looking for new things to try has moved on." Meanwhile, the few remaining barriers to starting a retail company are vanishing.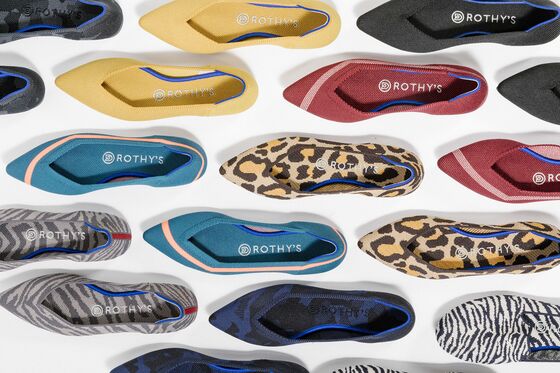 Indeed, Rothy's is flattered by imitation. A search for "Rothy's" on Amazon.com brings up a Skechers flat that looks oddly similar but costs a third of Rothy's $125 price tag. The company says it is vigorously defending its design and has at least one lawsuit against an alleged copycat, a Virginia-based company called OESH that sells a shoe dubbed "the Dream Flat." OESH has denied the claims and is fighting the suit. 
Goldman was impressed by the company's "maniacal focus" on maintaining a particular voice and strong cash flow. Martin is proud of not raising more money sooner: Scant resources made the company stick to its knitting, literally, and perfect the product, the process, and its pitch to consumers. "Your chances of failure grow dramatically with more capital," he acknowledges.
But Rothy's customers are obsessed, and Martin reckons it's time to give them more. Goldman agrees, of course. He is busy designing a batch of more seasonal shoes—lighter models for summer and denser offerings for cold weather. And he's considering apparel and accessories. Goldman's capital will also help the company open additional storefronts and expand abroad. 
"Whatever we do, it's always going to be at the front-of-closet," Martin says. "It's going to be essentials." Rothy's 2.0, if you will, coming to your Instagram feed soon. 
To contact the editor responsible for this story: Silvia Killingsworth at skillingswo2@bloomberg.net