Broken Ventilators Add Momentum to 'Right to Repair' Movement
(Bloomberg Businessweek) -- A recall of an electrosurgical device wouldn't normally cause panic for Ilir Kullolli. As the director of clinical technology and biomedical engineering at a hospital in California, his job is to calmly orchestrate service and repairs so doctors—and patients—never notice when a piece of technology is down.
But a lot of medical equipment is sold with the requirement that only the manufacturer can make repairs. In April 2020, during the first surge of Covid-19 hospitalizations, Kullolli's hospital faced the grim possibility of reverting to hand-and-scalpel surgeries while it awaited a critical device update by a manufacturer, even though in-house staff were capable of fixing the problem. Ultimately the company allowed it, but only after hours of calls and meetings.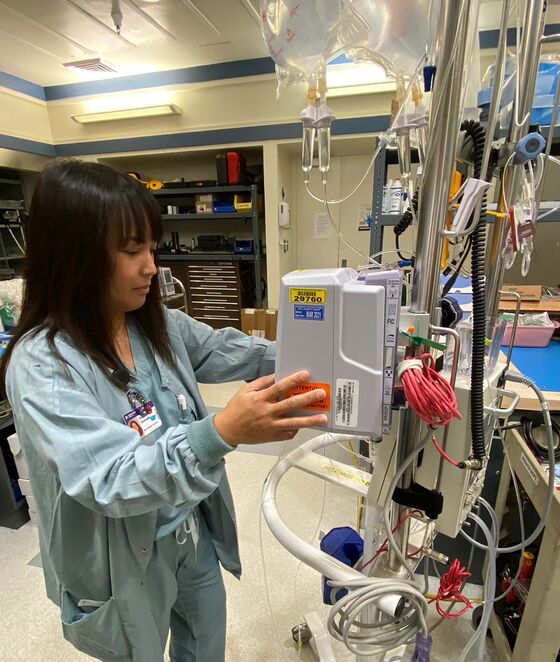 "My technicians can fix anything, from blood pressure devices to patient monitors to ultrasound machines, as long as they get the training and parts needed to fix them," says Kullolli, who's also president of the American College of Clinical Engineering. "But in this case, we couldn't get the training or the parts. So we couldn't do it."
That wasted time and expense could have been avoided if hospitals had been allowed to mend more equipment from the get-go, he says. A bill advancing in the California legislature would make that possible: Sponsored by the California Public Interest Research Group and supported by the California Hospital Association, among other groups, it would require medical manufacturers to publish manuals and make parts and training accessible to hospitals and third-party repair providers. If it passes, it would be the first law passed by a state legislature in almost a decade to promote what's known as the "right to repair"—a broader consumer protection issue that touches many of the increasingly complicated devices that power 21st century life.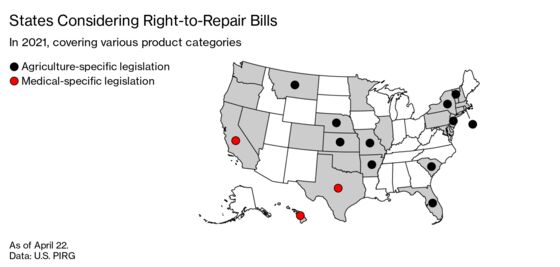 This year at least 27 state legislatures have considered bills tackling who gets to fix everything from tractors to powered wheelchairs to iPhones. While the issue has gained attention in recent years through consumer tech battles involving such companies as Apple, John Deere, and Tesla, the pandemic's spotlight on ventilator shortages gave a boost to the biomedical side of the story. In addition to California, lawmakers in Arkansas, Hawaii, and Texas, a group of 10 state treasurers and auditors, and members of Congress have taken aim at cutting costs and delays in the health-care system that advocates say stem from proprietary repair requirements.
"It's been an issue since before the pandemic, but the pandemic highlighted any hole we had in health-care infrastructure," says Jodiane Tritt, executive vice president of the Arkansas Hospital Association. Her organization came out in support of a right-to-repair bill that passed the state senate in March but died in the house. (An ag repair bill is still active.)
Scott Whitaker, president and chief executive officer of Advamed, an industry group that represents Johnson & Johnson, Medtronic, Philips, and dozens of other device makers, says manufacturers' authorized technicians are specially trained to fix machines and comply with federal rules, but those performing in-house and third-party repairs may not be. "Patients deserve to know that the machines literally keeping them alive have been repaired by experts who are accountable to and following FDA regulation," he said in a statement.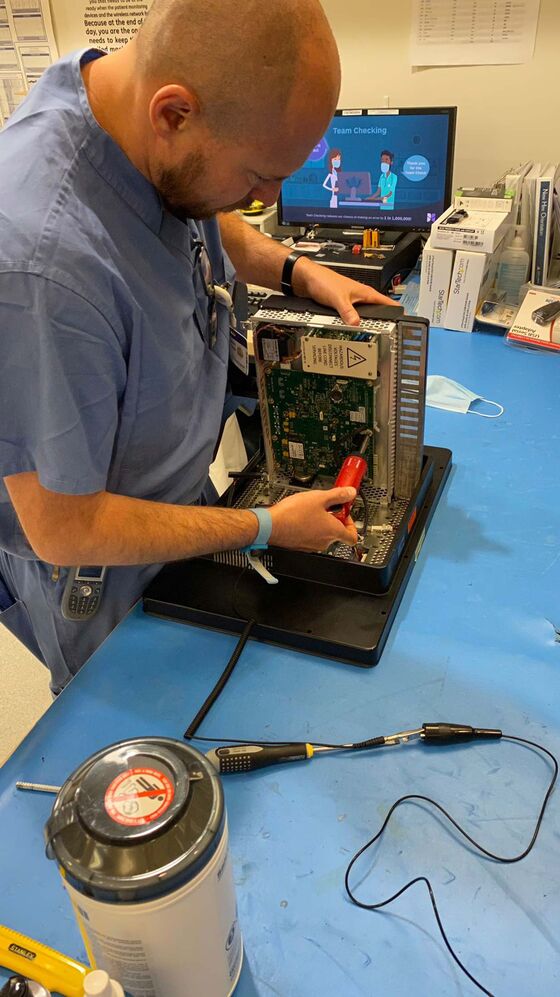 Advamed is against the bill in California, where it's joined by heavyweight industry groups including the Consumer Technology Association, the Air-Conditioning, Heating, & Refrigeration Institute, and the Association of Home Appliance Manufacturers. They point to intellectual-property risks. TechNet, a tech executive trade group, is also opposed, citing security concerns.
So far only one right-to-repair bill involving any industry has become law, in 2012, when Massachusetts forced automakers to create public access to repair parts and manuals. After that, auto industry groups agreed to create the same access nationwide. (That debate isn't over: Massachusetts voters expanded the law in a November ballot initiative that gives owners access to the data on vehicle computers, prompting a lawsuit by automakers.) Gay Gordon-Byrne, executive director of the Repair Association, an advocacy group that supports repair legislation, says if one of the medical bills passed, it would create a national precedent similar to the automotive one.
As Europe draws up its own right-to-repair rules around consumer technology, supporters say it's only a matter of time before changes come in the U.S. Jarone Lee, an intensive care unit medical director at Massachusetts General Hospital and associate professor at Harvard Medical School, published a letter in the Lancet in March in favor of recent legislation. He says he became aware of the problem during a surge in Covid cases that left ventilators in short supply. Although Mass General was able to bring in more from other hospitals, the experience left a mark, Lee says: "Normally we don't see what happens when they have to fix a ventilator that stops working."