Real Estate Fights the Law of Gravity
(Bloomberg Businessweek) -- The U.S. housing market has already begun to lose its momentum as rising mortgage rates have cut demand in cities where prices ran too hot for too long, such as Denver, Los Angeles, San Francisco, and Seattle. If borrowing costs keep climbing next year, eventually real estate's law of gravity will kick in—and sellers' expectations will have to come down. "I don't think higher mortgage rates will deter anyone who has made a decision to buy, but it will push them to sit on the market longer, waiting for the right-priced home," says Aaron Terrazas, director of economic research for the listings site Zillow. "We're now six years into above-trend home price growth. Mathematically, it can't go on forever."
Housing's underlying affordability problem was unmasked by 2018's 1 percentage point jump in rates for 30-year loans, to almost 5 percent. The added cost was a blow to some buyers in expensive markets who already were stretching. In September, sales of new and existing homes plunged 18 percent in Southern California from a year earlier. They fell 19 percent in the San Francisco Bay Area, to the weakest pace since 2007.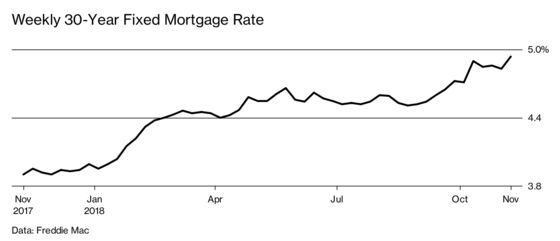 National Association of Realtors Chief Economist Lawrence Yun says he expects mortgage rates to hit 5.5 percent next year. According to an analysis by Zillow, a rate that high would add 9.4 percent to the overall cost of a home purchase, assuming no other change in price. So sellers will have a smaller pool of potential buyers. In the Boston metro area, only 52 percent of listings are affordable to residents with the median local income. A 5.5 percent rate would pare that share to 46 percent, says Zillow. In San Francisco, where 27 percent of listings meet the affordability threshold, the figure would drop to 21 percent.
Of course, one reason interest rates are rising is that the economy has heated up—so job growth and rising wages could help offset costlier mortgages. All in all, Yun expects housing price growth in 2019 to slow but remain positive, at about 2 percent to 3 percent nationally. Prices in some markets may decline—which would come as a relief to homebuyers feeling the squeeze. "There are always winners and losers when prices move down," he says.
To contact the editor responsible for this story: Pat Regnier at pregnier3@bloomberg.net