Republicans Will Keep Trying to Limit Fed's Emergency Loan Power
(Bloomberg Businessweek) -- A last-minute compromise that helped break a monthslong congressional impasse on Covid-19 relief may set up a political clash over how the Federal Reserve can respond to future crises.
The disagreement between Democrats and Republicans centered on a bit of central banking arcana known as Section 13(3) of the Federal Reserve Act. It allows the Fed to create emergency lending programs during "unusual and exigent circumstances," with approval from the Treasury Department. The provision was invoked by Fed Chair Jerome Powell and his colleagues in the spring to launch a barrage of programs to shore up markets for everything from U.S. government bonds to the debt of corporations and strapped municipalities. Some of them relied on funds appropriated by Congress in the Cares Act to function as a cushion against potential losses.
It is generally acknowledged that the Fed's rapid response helped stem panic among investors that threatened to freeze financial markets as the pandemic took hold. Still, many Republicans have been vocal about their desire to place stricter limits on the Fed's exercise of its emergency powers.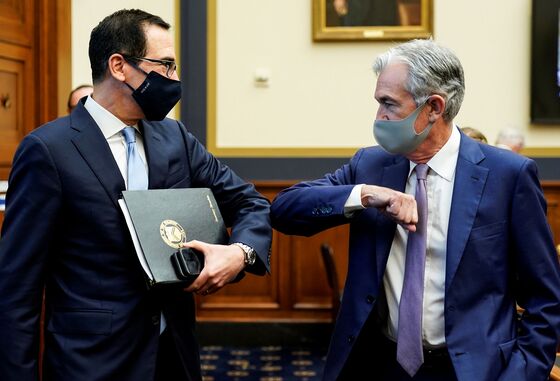 Senator Pat Toomey, a Republican from Pennsylvania, insisted on tacking a provision onto the $900 billion stimulus that would prohibit the Fed from restarting programs supporting corporate bonds, small and midsize companies, and municipalities. These are set to expire on Dec. 31.
Democrats resisted, but they relented once language from Toomey's proposal that also banned "similar" programs from ever being launched without congressional approval was excised. In a Dec. 20 conference call with reporters, Toomey said he felt confident the compromise wording would still ban "clone" programs without fresh approval from Congress.
Democrats interpreted the compromise language differently. A Democratic congressional aide, who asked not to be named because they were not authorized to speak publicly about the pending legislation, said the new language imposes no meaningful limits on the Fed's ability to create new facilities for state and local governments and small businesses. The apparent gap in interpretation sets up a possible clash if financial markets were to plunge back into chaos and the Fed felt it necessary to act quickly with similar facilities.
Former Fed Chairman Ben Bernanke issued a rare public warning on Dec. 19 urging that the central bank's ability to respond to future crises be left "fully intact." Powell and his colleagues have made plain their opposition to any measures that limit their emergency lending powers. They have repeatedly and publicly stressed that all these facilities played an important role in supporting the economy during the pandemic. Fed spokeswoman Michelle Smith declined to comment.
In his comments to journalists, Toomey reiterated that his goal was not to limit the incoming Biden administration's ability to deal with economic challenges, as some Democrats have suggested. Still, some are concerned that Toomey, by putting the Fed at the center of a public political fight, something the institution's leaders have strenuously avoided, may have discouraged Powell and future Fed chairs from jumping in the next time there's a crisis.
"Big picture, I am concerned that the Fed's emergency lending powers keep coming under fire by Congress," says Jeremy Kress, an assistant professor of business law at the University of Michigan and a former Fed attorney. He notes that legislators moved to curtail some of the Fed's authority in the aftermath of the financial crisis via the Dodd-Frank Act of 2010. "The fact that here we are 10 years later arguing over the Fed's emergency lending is problematic, because even if Toomey doesn't succeed in enacting long-lasting legal prohibitions on Federal Reserve emergency powers, this political debate could have the effect of chilling the Fed's willingness to step in when needed in the future."
Roberto Perli, a partner at research firm Cornerstone Macro, expresses a similar view. "I think it would have been a lot better if this stuff hadn't happened," he says. "This whole episode, I think, highlighted the fact that Section 13(3) has become politicized."