Liz Cheney's Martyrdom Will Reshape the Trump Opposition
(Bloomberg Businessweek) -- Liz Cheney's Republican colleagues fired her on Wednesday morning. But they didn't get rid of her.
Minutes after compliant House Republicans carried out Donald Trump's wishes by removing Cheney from her leadership position, for denying his phony claim that the election was stolen from him, the Wyoming congresswoman stood before reporters in the Capitol and made clear she wasn't going away. "We cannot both embrace the 'Big Lie' and embrace the Constitution," Cheney said, alluding to Trump's false claim. "I will do everything I can to ensure that the former president never again gets anywhere near the Oval Office."
Then she hustled off to an NBC News interview set to air Wednesday night that will broadcast her message to the rest of the country. By embracing her martyrdom and amplifying the uncomfortable truth most of her Republican colleagues are too frightened to utter, Cheney has carved out an important role for herself as the new leader of the anti-Trump opposition.
It hasn't been hard to find anti-Trump Republicans willing to speak out against the now-former president. Over the past several years, there was no quicker path to cable news face time than to be a former Republican politician or strategist willing to criticize Trump. But the caliber of #NeverTrump critics left something to be desired, and they often had the taint of opportunistic grift. The most prominent anti-Trump outfit, the Lincoln Project, was a buck-raking racket for ex-GOP strategists that didn't persuade voters in November and collapsed amid a spectacular sexual harassment scandal. The most notable ex-pols to speak out were has-beens with cable news contracts, such as Jeff Flake and Charlie Dent, hired to play a preassigned television role.
By contrast, Cheney is a prominent sitting representative and recent member of GOP leadership with unimpeachable conservative credentials and lineage, who just a few months ago was considered a possible future House speaker. Unless and until she is ousted in a party primary next year, Cheney is giving every indication that she'll be the chief Republican Trump critic and public moral conscience of a party in thrall to, as she put it, "the very dangerous lies of a former president."
Cheney plainly understands that the mechanics of the modern media economy will give her an outsized platform to share her views of the Republican Party. Political press coverage thrives on two things—conflict and Trump—that Cheney delivers in one efficient package. Going forward, the national political conversation will have a clearer, more articulate, and more credible Republican voice fighting against her party's slide into conspiracy and anti-democratic behavior.
Even so, there's little reason to think Cheney's principled opposition will have much effect on persuading Republican opinion to her views. As this Pew Research Center poll and numerous others in the past few months have shown, rank-and-file Republican voters have largely accepted the claims propagated by Trump and party leaders that the election was stolen: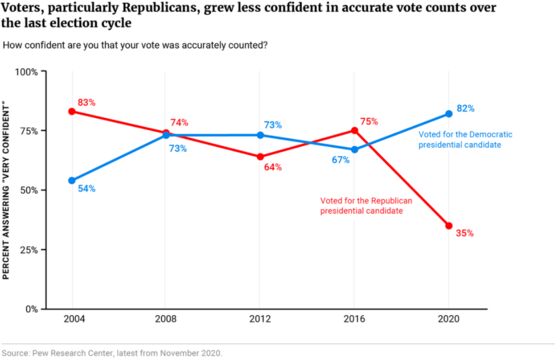 Besides sealing Cheney's fate, Wednesday's vote illustrated that even more congressional Republicans are unwilling to challenge Trump's narrative than was the case just after the Jan. 6 insurrection—so it's doubtful Republican opinion will take a sharp turn.
Back in January, the former Virginia congressman and past chairman of the National Republican Congressional Committee, Tom Davis, noted the risk Cheney was taking by breaking with most of her caucus and voting to impeach Trump. "The irony here is that Liz represents one of the most pro-Trump districts in the country, so it's a real profile in courage for her—or tomfoolery, depending on your point of view," Davis told me.
Reached this morning after the vote, he updated his assessment of Cheney's gambit. As a career move, the verdict was clear. As a political act, it wasn't likely to succeed. "You stray outside your base," Davis says, "and you create a lot of problems and don't pick up anything on the other side. I don't think she's going to change many minds."
But Davis doesn't view Cheney's moves against Trump as being motivated primarily by political strategy: "The political rewards come from staying in your safe space—I think it's an act of conscience."
For the foreseeable future, Trump has tightened his grip on the Republican Party and ensured Cheney a tough reelection race. Beyond that, neither his fate nor hers is knowable. With Trump likely to face legal troubles, and a crowd of 2024 hopefuls eager to move past him, there's no guarantee his hammerlock on the party will endure.
Either way, Davis says, Cheney is looking at a longer horizon and thinking about her place in history. That's why her outspokenness could still matter. "If he winds up discredited," Davis points out, "Liz will look like a sage."