Millions of Renters Are Fighting to Stay Housed as Evictions Near
(Bloomberg Businessweek) -- Mari Finkley has already been homeless once during the pandemic. For two weeks in October, she lived out of her Dodge Journey with her dog and 11-year-old godson. The 29-year-old found a new place, and fresh hope. But she's behind on her rent again.
Finkley was pushed out of her Gainesville, Fla., home by her previous landlord after she stopped driving for Uber and fell behind on the rent. She suffers from severe asthma, and her doctor warned her the job put her at high risk for exposure to Covid-19.
"Are you going to risk potentially dying just to pay a bill?" Finkley says. "But if you don't pay the bill you're going to be homeless. You have to literally decide what's worse."
Finkley is a member of a burgeoning class of long-term underemployed and unemployed Americans who have slipped into poverty during the pandemic. Many of them are renters teetering on the verge of homelessness, even as large swaths of the U.S. economy have rebounded and coronavirus vaccines raise hopes for a brighter 2021.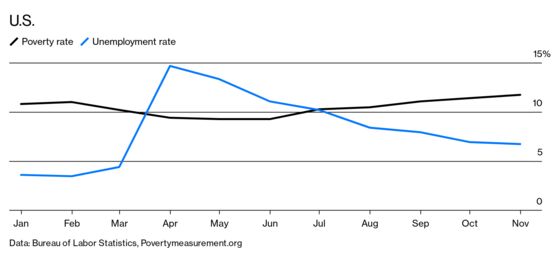 The looming rental crisis, the result of a lopsided recovery that has largely spared white-collar workers while pushing many hourly and gig workers to the brink, is among the most urgent that President-elect Joe Biden will face.
Even as unemployment has declined by more than half from its pandemic peak in April, the poverty rate shot up 2.4 percentage points from June, the fastest pace in records that date back to 1960s. It hit 11.7% last month, with 7.8 million Americans added the to the ranks of the poor since midyear, according to a monthly Covid poverty tracker devised by three economists.
Many landlords also are struggling to keep up with their bills, especially small property owners renting to the low-wage workers who have borne the brunt of Covid-19 layoffs.
Democrats and Republicans broke a months-long stalemate to pass a $900 billion pandemic relief package on Monday night. Yet even that, which extends the federal eviction ban through January and earmarks $25 billion for renters, is dwarfed by the magnitude of the need.
Tenants owe landlords more than $70 billion in back rent, utilities, and additional fees, according to an estimate by Mark Zandi, chief economist at Moody's Analytics. The long-predicted flood of evictions has been slowed by government aid and a patchwork of temporary tenant protections, but the two parties have yet to agree on a long-term solution.
The Centers for Disease Control and Prevention's eviction ban, enacted in September, was set to expire on Dec. 31.
"Congress should enact this compromise legislation immediately, then get back to work in January on comprehensive solutions," says Diane Yentel, president and chief executive officer of the National Low Income Housing Coalition. "Extending the CDC's eviction moratorium through January provides time for emergency rental assistance to be distributed, and for President-elect Biden to improve and further extend the moratorium immediately after being sworn into office."
Despite the various bans in place, the pace of eviction filings already is accelerating across the country. In New York City, where a state law protects people facing Covid 19 hardships as long as the pandemic lasts, landlords filed more than 7,300 evictions in November, nearly quadruple the number in July, according to data from Princeton University's Eviction Lab. And property owners filed more than 2,600 cases last month in both Phoenix and Houston, where there are fewer safeguards.
Tenants, who rarely can afford legal representation, often move out before their case ever reaches a judge in order to avoid the trauma of being ejected and the black mark of eviction that will make it harder to find a willing landlord again. Many then enter a precarious existence of sleeping on friends' couches, in cars, and in homeless shelters, which is contributing to the spread of the coronavirus.
"Our collective health depends on our ability to stay safe at home, so we all have a stake in ensuring that tens of millions don't lose theirs," Yentel says.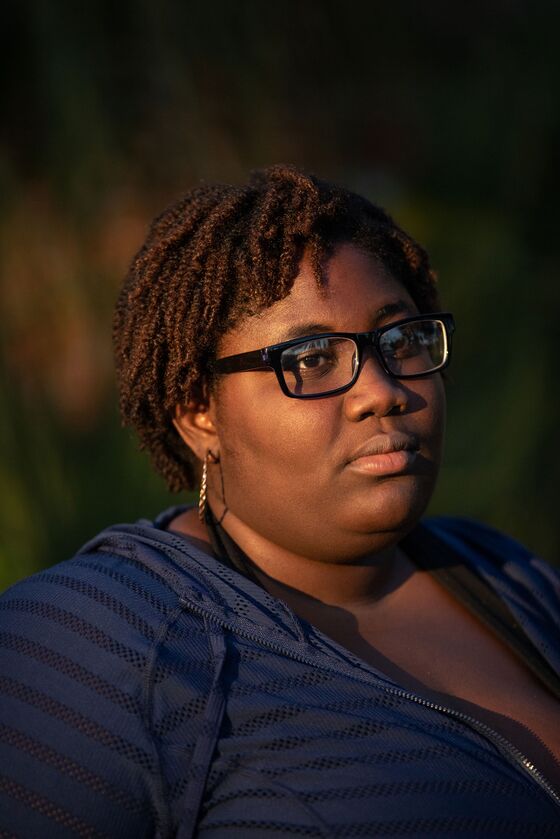 In Gainesville, a college town where Finkley says students often go maskless, she started ferrying food instead of passengers to stay safe, hoping to earn at least $100 a day. But Uber Eats now has so many drivers that on a recent week she made just $184, despite sometimes staying out until 2 a.m.
She gave her landlord half of the $725 in rent she owes for December. The rest will be covered by a federal grant she was approved for but that won't arrive until the end of the month.
Finkley tried to get help before. She was supposed to receive $1,200 in federal grant money to cover rent for July and August at her last apartment. But she says the landlord was slow filling out the necessary paperwork and then posted a late rent notice on her door. Next, she says, she tried to get protection from the CDC eviction ban, declaring as required that she had lost income because of Covid-19 and would be homeless without help.
But the federal ban applies only to tenants being kicked out for nonpayment. Finkley says Great Jones, a New York-based property management firm with units in nine states, said her lease would not be renewed.
Great Jones said it cannot comment on individual cases. In a statement, the firm said that since the start of the pandemic it has "worked with over 200 residents and property owners to enable payment plans that have allowed residents to stay in their homes."
Finkley then moved into the three-row Dodge SUV that doubles as her source of income and set up a GoFundMe page. She raised enough to secure her current apartment and now hopes her new landlord will be patient. She says her last landlord notified her that she still owes more than $2,000 in back rent.