With the Virus Spreading, Red States Will Need Bailouts, Too
(Bloomberg Businessweek) -- On April 27, President Trump took to Twitter to escalate the spat over the next coronavirus stimulus, questioning whether the federal government should rescue "poorly run" states led by Democrats. His tweet echoed the comments of Senate Majority Leader Mitch McConnell, who suggested during a radio interview that states with large pension obligations under union contracts could pursue bankruptcy instead of federal aid. The Kentucky Republican's office gave his comments a twist in a press release with a section titled "On Stopping Blue State Bailouts."
It's true that many of the states that are ground zero for the Covid-19 pandemic—New York and New Jersey, as well as California and Illinois—are solidly Democratic. But the fiscal challenges that states now face aren't limited to the blue ones and go well beyond pension obligations. States across the country are reeling from a brutal double whammy of lost revenue: With 30 million people thrown out of work in the past several weeks, income tax collections are tanking, and sales taxes have evaporated after stores and restaurants shuttered. Most states receive a majority of their revenue from those two sources.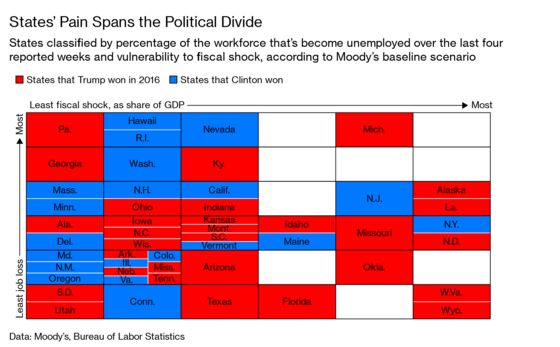 Hawaii, a blue state, and Florida and Nevada, both swing states, rely heavily on sales tax revenue generated by tourists who travel and spend money in hotels and restaurants and, in Nevada's case, casinos. Since that tourism has been all but eliminated, the states are preparing for a significant falloff in funds, which will be realized when April receipts are collected toward the end of May. Florida's chief financial officer recently told a task force meeting, "We're trying to find 127 million tourists to have the confidence to come back and patronize our state," the Orlando Sentinel reported. "This is a one-of-a-kind enemy we've never seen before."
Business activity around the country is unlikely to return to normal immediately after stay-at-home orders are lifted, because many Americans may still be afraid to venture out. According to a Citigroup Inc. research note, sales taxes "are expected to fall much more this time" compared with previous recessions.
"The speed at which the economy has declined is like nothing that states have seen, certainly in decades," says Michael Leachman, senior director of state fiscal research at the Center on Budget and Policy Priorities, a Washington, D.C., think tank. "It is unprecedented." Most states are required to balance their budgets, meaning that if there's a gap between the revenue coming in and the expenses the state spends on services, it would have to either cut funding, raise taxes, or both.
Meanwhile, millions of Americans are filing for unemployment, which means the income taxes they'd pay to states are vanishing. In Hawaii as well as swing-voting Michigan and McConnell's deep-red Kentucky, at least 24% of the labor force became unemployed over the five weeks ended on April 18, according to U.S. Department of Labor data analyzed by Bloomberg.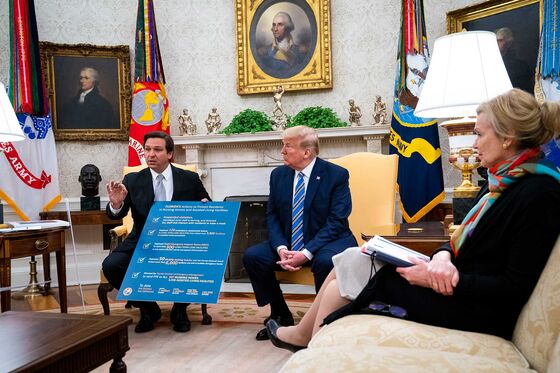 Moody's Analytics projects a fiscal shock to states of $158 billion to $203 billion through the end of the fiscal year ending in June 2021, resulting in almost half of states having to fill a budget gap of at least 10%. (Their ability to weather the impact will depend in part on the amount in their reserves.) Under Moody's most severe scenario, Louisiana, North Dakota, and West Virginia—all red states—are projected to lose more than 39% of their revenue. Another Republican stronghold, Alaska, is poised to see the largest loss, potentially as much as 79.6% of its general fund. That's because the state gets much of its revenue from the oil and gas industry, and prices have crashed.
The National Governors Association, chaired by Maryland Republican Governor Larry Hogan, has called on Congress to allocate an additional $500 billion in funding for state shortfalls. Although the Coronavirus Aid, Relief, and Economic Security Act provides $150 billion for states and localities, those funds must be spent on virus relief only. The Federal Reserve announced it will start buying short-term municipal debt using its emergency lending programs, which has helped the market recover from the havoc wreaked by the virus.
The Brookings Institution estimates that at least $500 billion needs to be infused into state and local governments for them to continue providing services such as education, public safety, and health care. Amy Liu, director of the metropolitan policy program at Brookings, says that without federal aid it will be even more difficult for the country to recover. The aid, she says, "is making sure these essential services continue as we try to bring back the economy."