A Friend, a Fire, and a Personal Tale of Race in Britain
(Bloomberg Businessweek) -- I heard about Alexander Paul before I met him. "You're going to want to hear this guy," a friend said as we filed into yet another student event at the University of Warwick discussing what it meant to be Black and British. Alex was different, my friend assured me.
Alex was probably a good 10 years younger than the academics on the panel with him. The subject: the relationship between police and Black people in the U.K. They all agreed it was not good. Alex was on the panel because, in his first week of university, he introduced Theresa May, then home secretary in David Cameron's government, at the Conservative Party conference in nearby Birmingham. Her advisor Nick Timothy had introduced them after he'd heard Alex talk on the subject. May then invited Alex to make the remarks just before her speech. He told lawmakers about being stopped and searched over 20 times by police as a young Black man from South London, which was up to seven times more likely to happen to ethnic minorities than white people at the time. May would later say that Alex had inspired her to start curtailing the discriminatory police procedures.
University in 2014 felt like a confusing time to be Black and British. Across the Atlantic, Black teenager Michael Brown was shot that year by a White police officer, and left to die in the road. It made sense when outrage erupted in the city of Ferguson, Mo., where he was killed, and at our university we held minutes of silence for the Black people killed by the police. But in the U.K. our relationship to race seemed much more complicated. My mother's African-American father grew up in segregated West Virginia, and the evidence of that inequality spanned his life. For my other grandfather, England had been sold to him as a wonderful place, the kindly imperial power over his native Ghana. When he moved to Britain with his English wife and their children, his son (my father) was told to "go back to where you came from" on his first day at school here.
For those of us in the next generation, everything was a subject of debate, from whether it was all right for Black women to wear wigs to fit in with certain beauty standards to whether we should pull down statues of slave traders. We tried to pin down how to respond to the lack of Black representation in the most powerful industries, or how Britain's colonization of much of the world featured so little in the national curriculum. As shown in the Black Lives Matter protests today in the U.K. and ongoing wars on Twitter, we never solved these questions, and I found myself veering between optimism and frustration. Alex seemed to resist the anger that swelled up in these debates, talking about the importance of hope that if people learned more about their history and culture, things would eventually change.
I didn't meet Alex in person for some time, even though we were cast as a couple in Warwick's annual cultural show, Afrofest: We never showed up at the same time for several rehearsals. About a month after auditioning, however, I came into a practice late from my student job in an oversized t-shirt that advertised pizza. A tall man swung around in his chair. "So this is my queen!" he shouted.
It seemed as if Black men and women were all royalty in Alex's eyes. He would write and perform poetry about a history of Black people that started before the slave trade, with kings and queens of unimaginable power. There were rumors he wanted to be Britain's first Black Prime Minister, and I realized I wanted them to be true. It hadn't occurred to me before to try to imagine Britain's equivalent of then-President Barack Obama. It had seemed too unrealistic. But Alex seemed a rare, almost impossible person: a Black man who could be exactly who he wanted to be, despite the odds. Like Obama, Alex spoke consistently of the importance of hope. "I have foreseen events that constitute a time where we are no longer/In a desolate place," he wrote in one of his many poems.
But a vicious disease came out of nowhere and killed him in 2017, when he was just 21. From today's vantage, Alex's death had the effect of Covid-19, which has swept in and devastated communities, especially those of Black people and ethnic minorities in Britain. Except Alex was struck down by a rare and aggressive brain tumor that seemed to come just for him and the promise he embodied. Three months after his death, Theresa May, who had become Prime Minister, paid tribute to him in another Conservative party gathering: "Let us today remember the courage he showed in coming to our conference to speak out against injustice," she said. I try not to think about what he might be today, because the thought of unfulfilled promise and potential is so painful.
"Everyone deals with grief in a different way,'' Alex's mother, Joanna Brown, says by phone. In the years after Alex's death, she's labored frantically to carry on the causes her son championed—from promoting mental health to fighting police brutality—even as she works as a family lawyer. She published a book of his poetry and writings called Climbing Clouds Catching Comets, speaking at events about Black history and starting a foundation in his name. Eventually, she had to take a step back. "It felt as if I was forever opening up the wounds," she says. "Every time I closed my eyes, I used to just see him."
She joined a drama group, which turned out to be therapeutic and resulted in a performance about living in Brixton, one of the first areas of South London where immigrants from the Caribbean could live after coming in larger numbers to the U.K. from the late '40s. It was a focal point of England's Black community, where heavy policing helped escalate racial tensions that came to a head in 1981 in what's known as the Brixton riots. The rage erupting from George Floyd's death reminds her of those days.
Joanna says she always tried to instill in Alex and his younger brother a sense of pride in who they were as young Black men, drawing on her own experience of being born to Jamaican parents who were among the first people to move to Britain from the Caribbean. She made sure books about figures such as Kwame Nkrumah and by Black activists like Malcolm X were in the house, "to talk about Black heroes. Because obviously, we're living a predominantly White world.'' A world, she says, that reminded the young they "were in the minority, and you were not the same as the majority. And there was some kind of implication you were inferior.''
The odds were stacked against the likes of Alex. As a Black man, he was more likely than White peers to go to prison, be a victim of crime, or develop serious mental health issues. If he had graduated, he would have been less likely to find employment or to reach the ranks of seniority in many professions. He was interested in going into politics, but when we were in school, there were few role models for him to emulate. At least in that field, things are changing: After the last election in 2019, 10% of the House of Commons—65 people—are ethnic minorities.
The challenges facing Black people have been magnified by the inequity of the onslaught of the virus. According to the Office of National Statistics, Black men are more than three times more likely to suffer a Covid-19 related death than White men. Bridget Byrne, a professor in sociology at Manchester University specializing in race and identity, says that there is a correlation between the Black Lives Matter movement taking off this year in the U.K. and the lopsided toll Covid-19 is taking on ethnic minorities.
But there was another incident in the U.K. upon which this year's anger is built—and it took place 11 days after Alex's death three years ago, when the entire country watched smoke rise from a burning building called Grenfell on national television. As my family followed the tragedy, we instinctively knew that most of the victims would be people of color. The gray tower block may have been in one of the wealthiest areas of London, but it was particularly unsafe public housing. The fire would blaze for around 24 hours and kill 72 people. The catastrophe occurred after a questionable renovation of the building had likely made the entire block an increased fire hazard. Repeated warnings from residents, who were largely poor and from ethnic minorities, had been ignored. Survivors are calling for an investigation into the role of racism in the fire.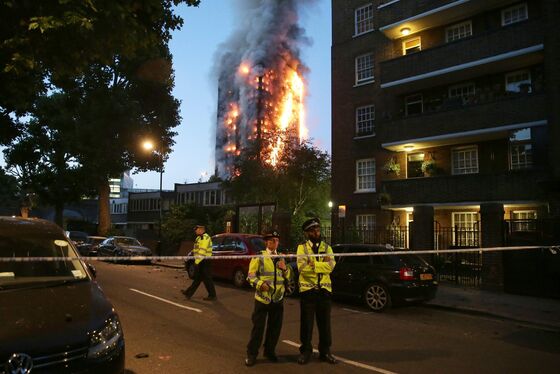 In the years after the accident, the government response to the Grenfell fire—and the efforts to remove the cladding that made the building a fire hazard from similar tower blocks—has been used to measure the state's commitment to ethnic minorities. "It was so clearly a tragedy and so clearly produced out of a political lack of voice of quite-marginalized communities," says Byrne. Theresa May—who'd given Alex his big public moment—was castigated for her response to the catastrophe. She'd later write that she regretted not meeting with residents and survivors when she visited the site of the fire.
How to grieve the third anniversary of Grenfell, at the same time as the Black Lives Matter protests and Covid-19 restrictions, has been a challenge for local resident and former nurse Judy Bolton, who is also a director of the Justice 4 Grenfell campaign. Bolton lost three people she knew in the fire and is still emotional over the memory. "This should actually still be news," she says. "We don't want to lose the voice of Grenfell." Ismahan Egal, art therapy coordinator at the Al-Manaar Muslim Centre, has tried to help families and survivors come to terms with their loss by putting together a mosaic of a flower with words such as "Hope" and "Love" on the petals. "For me, it was very much a form of survival," she says, a way for her to channel the anger people felt about the fire, including her own. "I've got young children who I have to model grief and I have to model resilience to," she says. "You can't be too angry if you're a black woman—because then there's all the other stereotypical connotations that go with that.''
As the waves of protests are transformed by debates over the statues of slave traders and the reaction of the far right, Prime Minister Boris Johnson, May's successor, has launched a new commission to look into racial inequality in the U.K.. Some critics say there have been similar inquiries in the past, and their recommendations were never implemented. Joanna knows her son would have had his own opinions.
Three years on, Joanna's grief has changed. Although she misses her son more than ever, she is better able to focus on memories of them together when he was fit and healthy—when he would bound up to her and ask if she'd read this book he'd found, or travel to such places as the States, where her sons would coax her to walk out over the Grand Canyon. This year, her first grandchild was born. Her second son insisted on making his daughter's middle name Alexander. "Not Alexandra, Alexander!'' she laughs.
She tells me Alex didn't really want to be a politician, that he would have preferred to be a poet. His writing is a celebration of being Black and British, with all the fear and joy and anger and possibility it contains. It offers lessons on how to exist in confusing times. One entry—captioned "(Written 30 minutes before turning twenty)"—captures an optimism and ambition that would still be bracing among today's turmoil. It reads:
"I want to live! I want to live! I want to live! ... May I reach my targets and goals? I will reach my targets and goals. I am great. I am amazing. I have purpose. I have a reason to live and I am willing to die for it. I am hopeful. I am a king. I am phenomenal. I am Alexander Maurice Paul."
 
Read next: Coronavirus Pandemic—Minorities Struggle in Lisbon, Portugal