From Pork Roast to Lime Cookies: Six Chefs Create a Leftovers Chain
(Bloomberg Businessweek) -- We've never been so directly ­connected to chefs: Many are hosting impromptu cooking classes in their personal kitchens, an unexpected bonus for food lovers amid the chaos the coronavirus pandemic has inflicted on restaurants. Yet once the shakshuka's eggs have set, there's one thing the expert livestreams often skip: What to do with the food that goes uneaten?
As home cooks know, leftovers play a key role in the food equation right now. So Bloomberg Pursuits asked six top chefs to give us the recipe for one of their most beloved dishes, then to pass along the excess ingredients to someone else to make magic. Call it a chef daisy chain.
Jonathan Waxman, of Barbuto in New York's West Village, gave leftover roast pork to Daniela Soto-Innes of Cosme. Her luscious tacos al pastor yielded excess tortillas, which became a soup, whose limes leapfrogged to cookies. Along with a recipe, the chefs also got the chance to plug their current charity of choice—so you, too, can pass along some soulful nourishment.
Roast Pork Loin With Garlic
Jonathan Waxman Chef-owner, Barbuto New York
Why: Roast pork is terrific cold in a sandwich, reheated in a stir-fry, or tossed into pasta. Tying the pork roast helps hold the meat together, but it's not necessary.
2 tbsp. extra-virgin olive oil
1 tbsp. chopped fresh sage
1 tsp. chopped fresh rosemary
¼ tsp. crushed red pepper flakes
1 anchovy fillet, finely chopped
2 garlic cloves, finely chopped
Grated zest and juice of 1 lemon
½ tsp. each sea salt and freshly
Ground pepper
4 lb. loin of pork, tied at 2-inch intervals with twine (optional)
3 tbsp. unsalted butter
Heat oven to 400F. In a small bowl, combine oil, herbs, red pepper flakes, anchovy, garlic, lemon zest, and salt and pepper into a paste. Rub loin with paste. Set pork on a rack in a roasting pan.
Roast, turning once, until lightly browned, about 30 minutes. Reduce oven to 350F; roast, turning once, until a thermometer inserted in thickest part of meat reads 150F, about 20-25 minutes.
Transfer pork to a carving board; let it rest 15 minutes. Add lemon juice and ½ cup water to pan over moderate heat. Whisk in butter. Slice pork and serve with sauce.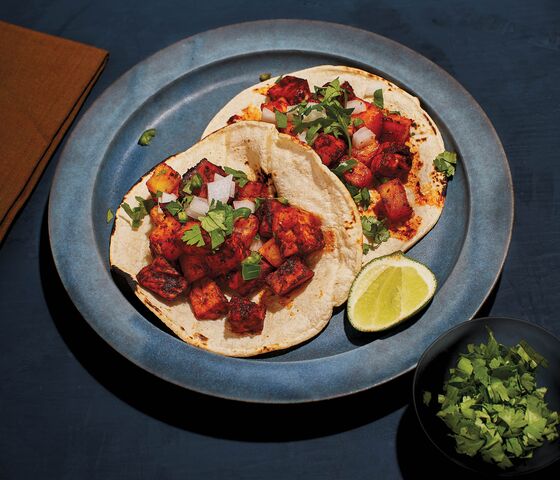 Daniela Soto-Innes Chef-restaurateur, Cosme and Atla in New York
Why: Tacos al pastor are an easy way to repurpose pork (loin or other cuts) into a bright-flavored dish.
Takes:  Roast pork >>> Leaves:  Tortillas
6 dried guajillo chiles
3 dried pasilla chiles
1 white onion, halved,
one half chopped
4 garlic cloves
5 canned chipotle chiles
3 tbsp. pineapple vinegar or cider vinegar
1 tsp. dried oregano
½ tsp. ground allspice
Salt and sugar
¼ cup grapeseed oil or peanut oil
12 corn tortillas, warmed
1 lb. cooked pork loin, cut into
1-inch chunks
1 cup ½-inch chunks ripe pineapple
Cilantro, chopped serranos, and limes
Heat oven to 375F. Roast dried chiles, whole onion half, and garlic on a baking sheet for 15 minutes. Transfer dried chiles to a bowl, cover with boiling water, let soften for 30 minutes. Put dried chiles in a blender with ½ cup soaking liquid, chipotles, vinegar, oregano, and allspice. Season with salt and sugar. Blend adobo until smooth.
Heat oil in a large skillet over medium-high heat. Toss pork in sauce; add to skillet. Cook until crispy, 4 or 5 minutes. Add pineapple and stir to deglaze pan. Season with salt. Top warm tortillas with pork and pineapple. Garnish with cilantro, serranos, and onion; serve with lime halves.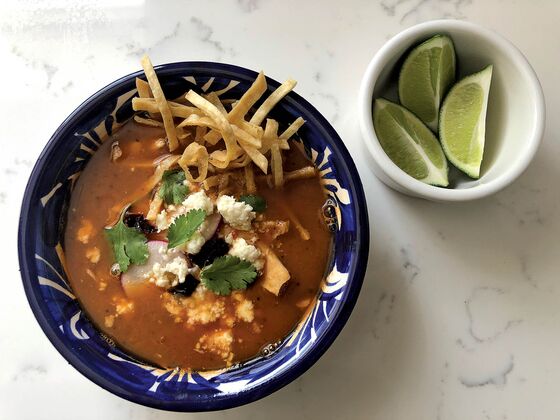 Quick & Easy Tortilla Soup
Kim Leali Director of culinary operations, One Off Hospitality, Chicago
Why: There are always too many tortillas. This simple soup solves that problem, and it's also a good place for any leftover chicken in your fridge.
Takes:  Tortillas >>> Leaves:  Lime wedges
4 garlic cloves
2 canned chipotle chiles, with a little sauce
15-oz. can pinto beans with liquid
1 cup canned crushed tomatoes with some juice
1 qt. chicken or vegetable stock
Salt
4 corn tortillas, cut into ¼-inch strips
¾ cup vegetable oil, for frying
½ cup queso fresco or mild feta, crumbled
Lime wedges, for serving
Shredded rotisserie chicken, sliced radishes, avocado, and cilantro, for serving (all optional)
In a small bowl, cover garlic with water, then microwave 1 minute to soften. Alternately, cover garlic with boiling water and let stand for 5 minutes. Drain the garlic and add to a blender along with the chipotles, pinto beans and their liquid, and crushed tomatoes. Purée on high speed for 2 minutes—it should look like a smoothie.
Strain into a medium saucepan, pressing down on solids with a spatula. Add stock; bring to a boil. Reduce heat and simmer soup 15 minutes, skimming, until flavors come together. Season with salt.
In a small saucepan, heat oil until shimmering (325F). Working in batches, carefully add tortilla strips; fry about 2 minutes, until crispy and golden. Transfer to a paper-towel-lined plate; season lightly with salt.
Ladle soup into bowls. Garnish with queso fresco and tortilla strips. Serve with lime wedges and, if desired, shredded chicken, radishes, avocado, and cilantro.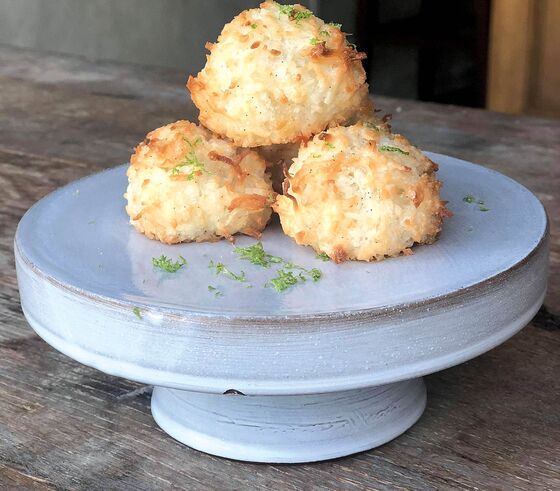 Cassidee Dabney, Executive chef, the Barn at Blackberry Farm, Walland, Tenn.
Why: It's always good to have cookies on hand. Macaroons are especially simple to make; they have great texture and freeze well. This one has an ingredient you don't usually see in desserts: lime. The tartness balances the sweetness of the coconut, which I always seem to have around the house as well.
Takes:  Lime wedges >>> Leaves:  Egg yolks
1½ cups sweetened shredded coconut
⅓ cup sugar
2 tbsp. all-purpose or gluten-free flour
⅛ tsp. salt
2 large egg whites, beaten until frothy
3 tbsp. lime juice
½ tsp. pure vanilla extract
Grated lime zest (optional)
Heat oven to 350F. In a large bowl, stir coconut, sugar, flour, and salt until blended. Stir in egg whites, lime juice, and vanilla until incorporated.
Spoon tablespoon-size scoops onto a parchment-lined baking sheet. Shape scoops into mounds. Bake for about 20 minutes, rotating pan halfway through cooking. Let cool; sprinkle with lime zest if desired.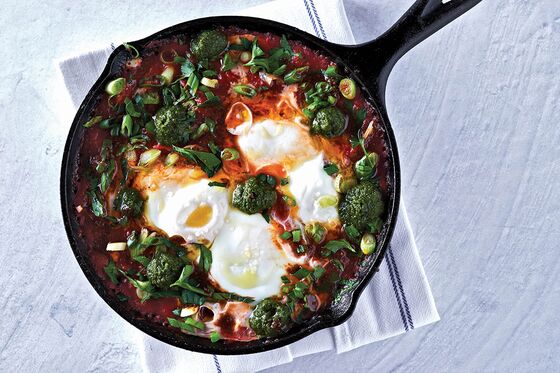 Alon Shaya Chef-owner, Safta, Denver; and Saba, New Orleans
Why: Chances are, like me, you have eggs and a can of tomatoes on hand. Outside of that, you can be as creative as you'd like: Toss in your favorite vegetables or meats, along with any herbs and spices. Allow at least one egg per person, but you can also add extra egg yolks. I always serve it with homemade zhoug, a Middle Eastern green chile-cilantro sauce (Trader Joe's also makes it), but use any hearty hot sauce.
Takes:  Egg yolk >>> Leaves:  Canned tomatoes, onion, garlic
3 tbsp. extra-virgin olive oil
1 pint cherry tomatoes, halved
1 small red bell pepper, stemmed, seeded, and sliced
1 small green bell pepper, stemmed, seeded, and sliced
½ medium yellow onion, thinly sliced
2 garlic cloves, chopped
2 cups canned whole tomatoes with juice, coarsely chopped
4 eggs, plus any leftover yolks
Kosher salt
¼ cup thick hot sauce, preferably zhoug
Heat oil to shimmering in a large enameled or stainless-steel skillet with a lid. Remove from heat and carefully add cherry tomatoes to avoid splattering. Return pan to moderately high heat and let char without stirring for 2 to 3 minutes. Add bell peppers, onion, and garlic; cook, stirring, until vegetables turn golden at the edges, about 15 minutes. Add canned tomatoes and cook until juices are reduced, 4 to 5 minutes. Season well with salt. Reduce heat to low and, using a spoon, make little wells in the sauce for eggs and yolks. Crack an egg or pour a yolk into each well; cover pan and cook for 4 to 5 minutes, until egg whites are set but the center still jiggles. Dollop hot sauce over eggs before serving.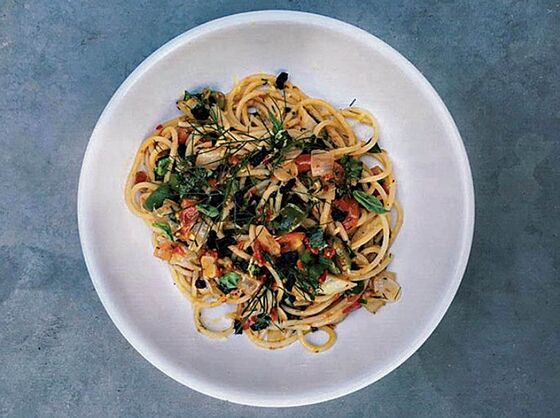 Tim Hollingsworth Chef-owner, Otium, Los Angeles
Why: This is such a classic, and it's made with pantry staples we forget we have, such as a jar of capers or olives you picked up and used once.
Takes:  Canned tomatoes, onion, garlic
4 tbsp. olive oil
½ medium yellow onion, chopped
4 garlic cloves, minced
2 cups canned tomatoes with juice
8 anchovies
½ cup pitted chopped olives
3 tbsp. capers
3 tbsp. chopped pickled red peppers, preferably spicy
Salt and freshly ground pepper
1 lb. pasta
Crushed red pepper flakes
Chopped fresh herbs—whatever you have on hand—parsley, basil, and oregano, for serving (optional)
In a skillet, heat oil. Add onion and garlic and cook over moderate heat, stirring occasionally, until translucent, about 7 minutes. Add canned tomatoes and cook for 3 to 4 minutes. Add anchovies, olives, capers, and pickled peppers. Season with salt, pepper, and red pepper flakes; cook until sauce thickens, about 4 minutes.
Meanwhile, in a pot of boiling salted water, cook pasta according to package directions, until al dente. Drain, reserving some pasta cooking water. Add to sauce with a little cooking water and toss to combine. Sprinkle with herbs and serve.
Keep the goodwill going— support these worthy causes.