Politicians Rush to Preserve Popular Pandemic-Era Telemedicine
(Bloomberg Businessweek) -- Video conferences have long outlived their charm, but one pandemic staple remains popular: the virtual doctor's visit. Now politicians around the country are racing against deadlines to make sure their constituents aren't forced back to in-person medicine if they don't want it.
For months, Jim Des Marais, who has ALS, or Lou Gehrig's disease, has been video-calling with his specialist at Massachusetts General Hospital instead of making the exhausting three-hour-plus drive to Boston from his home in Vermont. For now, he's still able to make the drive. "But that won't last," says Des Marais, a 60-year-old lawyer. ALS is a degenerative neurological disease. "There will be a point in time when my disease progresses, and traveling will be very difficult for me."
Many telemedicine visits became legal because of emergency government measures early in the Covid-19 pandemic. States and the federal government swept aside some of the legal and insurance thicket that for years held back technological progress in the almost $4 trillion U.S. health-care sector. Practicing medicine across state lines without all the usual licenses? Sure. Virtual Medicare visits? Fine. Charging the same for online visits as in-person? No problem.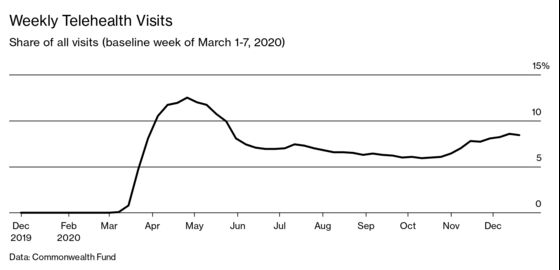 In the last week of March 2020, telehealth visits surged 154% from the year before, according to a study by the U.S. Centers for Disease Control and Prevention. By the end of the year, a Harris poll found that roughly two-thirds of Americans would prefer to get at least some of their health care online.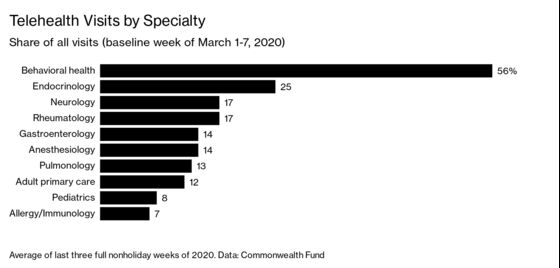 Now the emergency measures that enabled many of those virtual visits have begun to expire. In response, almost 600 bills to help support and regulate distance health care are pending in U.S. statehouses, up from about 100 two years ago, according to the American Telemedicine Association. Congress is also considering relief, including a Senate measure that would expand telemedicine access, particularly for Medicare. Led by Senators Brian Schatz, a Democrat from Hawaii, and Roger Wicker, a Mississippi Republican, it's drawn 53 bipartisan sponsors, more than half the Senate. "Telehealth has been a lifeline" for people in rural Wisconsin, a Democratic congressman from that state, Ron Kind, said at a recent hearing. "And I feel, and I think most members do feel, that there's no going back at this point."
Patients like Des Marais with out-of-state doctors could be especially vulnerable to losing access because of licensing rules. A doctor can face criminal charges for providing care without a state license. "It's absolutely terrible," says Lee Schwamm, vice president for virtual care at Mass General Brigham, Massachusetts' largest hospital system. "To do the right thing for their patients, they would have to do the wrong thing."
For now, Des Marais's virtual visits are safe. The Vermont legislature, just days before the state's pandemic-era telehealth rules expired this spring, passed a one-year extension, including permission for care by out-of-state doctors.
Earlier this year, Massachusetts passed a law that requires equal insurance coverage of telemedicine treatment for primary care, behavioral health, and chronic disease management. It will assess the results in two years. In Arkansas, a telemedicine bill passed last month after backers argued that equating telehealth with in-person health would help bring more medical care to rural areas.
The wide support for telehealth comes as the industry has taken off. Investors plowed more than $10 billion into telehealth startups last year, up from $6 billion in 2019, according to technology data firm CB Insights.
But looming post-pandemic legal changes are sowing uncertainty and talk of a telehealth "cliff" when the federal government ends the state of emergency that vastly expanded virtual visits for Medicare patients. "We see the cliff coming, and we're on cruise control," warns Kyle Zebley, public policy director of the American Telemedicine Association. The Biden administration has signaled it will leave emergency measures in place at least through this year.
At the same time, the U.S. Justice Department is targeting a downside of telemedicine: the potential for fraud. In October federal prosecutors charged more than 86 criminal defendants with submitting $4.5 billion in false claims to Medicare and other government insurers. Telemed businesses paid doctors to order unnecessary equipment, tests, and pain medicine with fleeting or no interaction with patients, the government alleges.
More remote care could also add to legitimate health-care spending because of its convenience, according to Harvard health-care policy professor Ateev Mehrotra. "If you do see a big increase in unnecessary spend without improvements in health, then we'll have to pull back," he says.
Telemedicine companies, such as American Well Corp., are fighting against any retrenchment. Amid the pandemic, Boston-based Amwell saw revenue jump 65% last year, to $245 million. Shares of the company, which went public in September, have lost half their value this year as competition has grown and the proportion of care that's virtual has dropped.
Peter Antall, Amwell's chief medical officer, says reverting to more restrictions on digital doctor's visits would be like cracking down on online banking. "Imagine," he says, "if some regulator came in and said, 'No, we can't do that anymore. You've got to go to the bank.' "
 
Read next: Biogen Hopes Alzheimer's Drug Mired in Controversy Earns FDA Nod