Pennsylvania Offers a Key Midterm Test for Trumpism
(Bloomberg Businessweek) -- Inside the headquarters of the Republican Committee of Chester County, Pa., a Bush-Cheney poster hangs behind Executive Director Thomas Donohue's desk. A second poster praises "Fiscally Responsible Republican Leadership."
It's a testament to the fact that Pennsylvania's most affluent and educated county, home to quaint Philadelphia suburbs, embraces a more traditional flavor of Republicanism. Donohue—a polite millennial in khakis and boat shoes, like a quintessential ambassador for the old guard—says the party is pushing a "bottom-up" approach ahead of the 2018 midterm elections, focusing on popular local candidates. 
Conservatives are on the defensive in Chester, as they are across Pennsylvania. Donald Trump won the state by just 44,000 votes, turning it red for the first time since 1988. But the momentum is shifting: After a court-mandated redistricting tipped the scale toward Democrats, they appear to have a shot at  four or five open or Republican House seats here. The results in Pennsylvania will go a long way toward determining which party ultimately controls the House next year.
That will hinge, in part, on how voters in Pennsylvania's two-track economy view the Republican agenda. Conservatives in eastern swing districts are keeping their distance from a president who plays poorly with their affluent and educated constituents. Western Pennsylvania Republicans in tight races are embracing Trump's policies, which appeal to Rust Belt voters, but Democrats are punching back with centrist, blue-collar appeal.
"There's an enormous divide in Pennsylvania right now," says Chris Borick, a pollster and political science professor at Muhlenberg College in Allentown. "It's looking back and looking forward."
Chester represents the latter pole. With a median household income of almost $90,000 and a growing population, the area is winning economically—and it's been moving toward Democrats. It's the only Pennsylvania county Hillary Clinton flipped in 2016. Both the Cook Political Report and analyst Larry Sabato rate its newly drawn district as a likely Democratic win in 2018.
Erie County, 400 miles northwest on the shores of its namesake lake, is Chester's political and economic opposite. Once a bustling production hub and a union-Democrat stronghold, Erie has been hemorrhaging people and jobs. "That's why the Trump messaging was great for these areas: Their America is not great right now," Borick says. Trump swung Erie red on a platform of bringing back manufacturing jobs, the first Republican win since 1984.
But Erie's population continues to decline. It's also one of the worst-performing counties for hiring, losing 500 jobs this year through July. GE Transportation, one of the biggest employers here, plans to lay off close to 600 workers as it shifts some production to Texas.
While Trump's tariffs have the potential to shift production from overseas to U.S. companies, some residents are skeptical. "There are forces that are stronger working against those policy changes," says Jake Rouch, vice president for economic development at the Erie Regional Chamber and Growth Partnership. "You're dependent on companies outside the region having orders or growing orders, and if those orders aren't growing, you're stuck."
That means little change for union workers, many of whom backed Trump in 2016 hoping for local growth, stronger unions as jobs returned to America, and a Nafta overhaul, according to James Kunz Jr. He's business manager for Local 66 of the International Union of Operating Engineers, representing about 7,000 workers in western Pennsylvania and Ohio. A third of his members voted for Trump in 2016, he estimates, but this time it's different: some Republican candidates support right-to-work legislation, which would hurt his membership, Kunz says.
The Cook Political Report says Erie County's wider district—which now cuts out dark red areas closer to the state's interior and its southern neighbors—gives Democrats a long shot at the House seat.
Drive south to Beaver County, a former steel stronghold nestled between Pittsburgh and Ohio, and there's a more optimistic take on the president's agenda. Communities such as Beaver Falls and Monaca have spent four decades swapping bustling factories for boarded-up windows and cracked sidewalks. Residents welcome Trump's tariffs as a response to what they see as exploitative trade practices. "We've been being too nice," says Tom Richter, a steelworker who lives just outside Beaver. He votes Democratic as a rule and continues to favor the party, but he worked multiple jobs in the 1980s to weather industry layoffs and feed his family. "Everyone is getting used to it—they're going to say, 'Hey, let's make more stuff in America.' "
Yet Richter—and many in the region—say its future rests not in steel, but in Pittsburgh's professional jobs and in the shale gas deposits locked below Appalachian hills. Nearby fracking wells are spurring downstream activity, like the sprawling $6 billion Royal Dutch Shell Plc ethane cracker plant rising on the muddy banks of the Ohio River. "The cracker," as locals call it, will eventually process a shale gas byproduct into plastics and other materials. It's expected to employ 6,000 at peak construction. Already, new hotels dot once-blighted highways and "now hiring" signs abound.
Trump has been kind to the natural gas industry, and he's getting credit for it. Regulations were "constantly changing" under the Obama administration, says David Spigelmyer, president of the Marcellus Shale Coalition, an industry group based in Pittsburgh. Under Trump, "we've got a level of certainty today that the rules will remain what they are," he says.
Local conservatives know the president is popular, and they're trying to play on that to get incumbent Representative Keith Rothfus reelected. "We're campaigning on the fact that Trump needs Keith to get his job done," says Chip Kohser, who was until last month head of the Beaver County GOP.
But "Make America Great Again" enthusiasm may not keep that House seat red. Democrat Conor Lamb is making the newly redrawn district a tight race. The pro-gas, pro-union moderate rose to national prominence in March as he flipped a red district in a special election. Lamb is sticking to his working-class message in Beaver and should do well in more liberal Allegheny County, the remainder of the district. There, 39 percent of the population is college-educated, compared with Beaver's 23 percent. Hospitals and universities are major employers.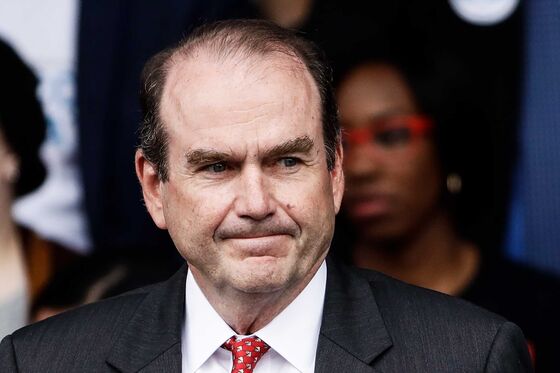 On the other side of the state, outside Philadelphia, a similar socioeconomic divide is making centrism the favored political strategy in Bucks County. In communities such as Lower Makefield, horse farms and sprawling houses cater to upper-middle-class commuters. Clinton dominated there in 2016. But in Levittown, one of the original planned communities constructed in the 1950s to house an ascendant middle class—and now an aging testament to its slow decline—reliably blue residents lurched toward the right in 2016.
"They really just seemed to be sick of the way things had been going," says Mark Gallagher, owner of an ice cream shop on the edge of Levittown. He's typically a Democrat but voted for Trump. "Unemployment is way low, taxes are down, fuel prices aren't bad—I don't think it'd be a surprise to see them stay Republican."
Voters such as Steve Capelli could help Bucks Democrats. Neshaminy Creek Brewing Co.'s co-owner dislikes the president's rhetoric. Steel and aluminum tariffs mean he has to pay up to 28 percent more for the equipment needed for the tanks that churn out beers like Highwater Hefeweizen and County Line IPA. He allows that Trump is streamlining regulation, but wonders at what cost. "Is he helping the economy? Sure, I guess he is," he says. "But is he hurting the environment? Yes."
Redistricting that helps Democrats is further forcing Republicans onto the defensive. In that spirit, a sweaty Friday night in August finds incumbent Representative Brian Fitzpatrick shaking hands near the tractor display at a county Grange Fair. His Democratic opponent, Scott Wallace, came earlier in the day. The incumbent is a well-known face from Levittown in a place where local connections matter; Wallace lived in Washington and abroad. And like the Democratic candidate in Beaver, Fitzpatrick is a centrist.
Republicans here succeed in "being seen as reasonable," says Nick Field, a local political analyst and columnist and a Bucks native. When it comes to Trump, "the statewide candidates are running towards him. The congressional candidates aren't."
To contact the editor responsible for this story: Matthew Philips at mphilips3@bloomberg.net