More Businesses Will Stand Up to China After the Peng Shuai Outcry
(Bloomberg Businessweek) -- Rule No. 1 of doing business in China: Don't tick off the government. Its bureaucrats hold the power of life and death over a business. Why risk forfeiting the riches of its vast market? Most of all, avoid anything of political sensitivity. 
Apparently, Steve Simon didn't get the memo. In recent days, the chairman and chief executive officer of the Women's Tennis Association has waged a relentless campaign to protect one of its stars that has highlighted the iniquities of the communist regime, sparked global outrage, and left Chinese authorities stumbling and scrambling to find a way out.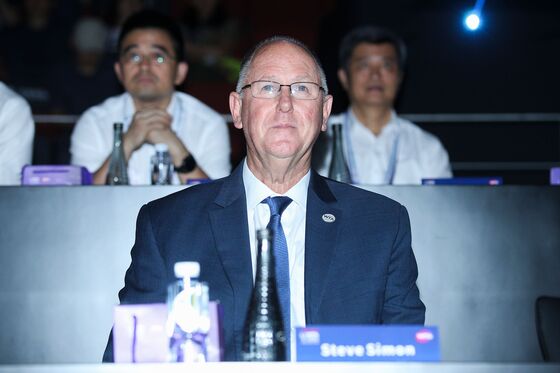 The WTA's tough stance has been characterized as a glaring exception. But it could signal a different future for the relationship between China and international business. A confluence of factors—heightened U.S.-China tensions, intensifying repression within China, and, most of all, more pressure on companies outside China to support social equity—will make it harder and harder for big business to turn a blind eye to Beijing's abuses. The outcome could be a lot more sharp confrontations between prominent businesses and the Chinese state, with the potential to reshape China's economic relationship with the rest of the world. 
There is, of course, nothing new about China's human-rights horrors, nor the awkward position in which they have placed international companies. Well-known brands have repeatedly had to defend themselves against accusations of poor treatment of workers in Chinese factories. But for the most part, the profits in the gargantuan China market were just too juicy to sacrifice. Every CEO had to have a China strategy or suffer in the stock market—even companies noted for championing social justice at home kowtow to authoritarianism in China. Nike Inc., for one, raised eyebrows earlier this year when its chief executive, John Donahoe, echoed Abraham Lincoln to pronounce that "we are a brand of China and for China." 
But the WTA shows how priorities are shifting. The scandal broke when Chinese tennis pro Peng Shuai accused a former vice premier of sexual assault in a social media post in early November. The post quickly vanished, and Peng disappeared from public view. That prompted Simon to demand access to Peng to confirm her well-being and freedom of action, as well as an investigation into her accusation. He also threatened to pull the organization out of China. That's bad enough for a Chinese government that cherishes the country's participation in international sports, but even worse, the incident has further fueled calls to boycott the upcoming Winter Olympics in Beijing, now only two months away. 
Beijing dodged the WTA's requests and instead attempted to deflect criticism with a series of propaganda stunts—videos, photos, and a purported email Peng wrote—that few found convincing, least of all Simon, who has refused to back down. He is taking a big gamble with the WTA's finances: In 2018 the WTA inked a lucrative 10-year deal to hold the WTA Finals in Shenzhen. But the issues raised by the plight of Peng are "bigger than the business," he said. 
Some of the circumstances driving Simon's stubbornness might seem specific to the WTA. In the #MeToo era, it's probably impossible for an organization for female athletes—founded by Billie Jean King, no less—not to take a stand when one of its well-known players disappears after charging a powerful person with sexual abuse. Yet it also highlights the pressures corporations are facing to play a greater role in ending discrimination and injustice. Every large company now must have an ESG strategy or face the ire of employees and activists. Under a microscope for their efforts to promote diversity, close the gender gap, protect the environment, and support workers, CEOs will find it increasingly uncomfortable to justify their operations in a China where the government suppresses minorities and denies its citizens basic civil liberties. 
And Beijing keeps making it less comfortable. Yahoo! and Microsoft Corp.'s LinkedIn both recently exited the China market amid stiffening state control over information. Meanwhile, Washington's sanctions related to human-rights issues have also complicated U.S. business in China. The government's detention of untold numbers of Uyghurs, a Muslim minority in the far west region of Xinjiang, has become a flashpoint. The U.S. barred the import of cotton from Xinjiang over concerns Uyghurs were being forced to work, a step that has caused headaches for apparel brands with supply chains in China. More hurdles are likely. Pending legislation in Congress would expand the cotton ban to all products sourced from Xinjiang. 
None of this means that Starbucks Corp. is about to shutter its Chinese coffee shops or General Motors Co. its car plants. American companies invested almost $300 billion in China from 1990 to 2020, and they aren't about to walk away. Executives will still try to tiptoe between supporting social causes and reaping riches. Jamie Dimon, chairman and CEO of JPMorganChase, quipped on Nov. 23 that he expected his bank to outlast the Chinese Communist Party, while reaffirming his company's commitment to doing business in China; a day later, he said in a statement that he regretted the remark. 
Desperate to salvage its revenue-spinning Winter Games, the International Olympic Committee, rather than side with the WTA, participated in a video call with Peng on Nov. 21 and pronounced the tennis star "safe and well." Human Rights Watch criticized the IOC for "collaboration" with Chinese authorities on the call, stating that it "undermines its expressed commitment to human rights, including the rights and safety of athletes." 
The minefield between international companies and China's bounty will become just that much harder to navigate safely, increasing the likelihoods that there will be more confrontations between Beijing and business, and more executives, like Simon, willing to stand up for social justice against the Chinese regime.
 
Read next: China's Boozy Work Culture Fuels #MeToo Outcry at Alibaba, Didi