Palantir Is Bad-Mouthing Big Tech While Taking Its Tech Public
(Bloomberg Businessweek) -- Almost since Palantir Technologies Inc.'s founding in 2003, controversy has followed it. The company, which is named for the all-seeing orb of Sauron in The Lord of the Rings and produces software that helps big organizations make sense of large datasets, has been accused of eroding privacy even as it's won praise from the U.S. military. It's sparred with the media, the American Civil Liberties Union, and activists who've complained about its work for President Trump's Immigration and Customs Enforcement agency.
As it prepares to go public, Palantir has added a new adversary: its former hometown. After Chief Executive Officer Alex Karp complained about the liberal "monoculture" in the Bay Area, the company announced its relocation from Silicon Valley to Denver—the better to communicate that it doesn't care about the outcry over its ICE work. In a letter attached to the Securities and Exchange Commission filing, Karp all but said the big tech companies are traitorous identity thieves who've been willing to do business with the Chinese government while profiting by selling users' personal data. (Co-founder Peter Thiel made a similar claim last year, suggesting the FBI investigate Google for potentially helping Beijing. Google denied the charge.) "Our company was founded in Silicon Valley," wrote Karp. "We seem to share fewer and fewer of the technology sector's values and commitments."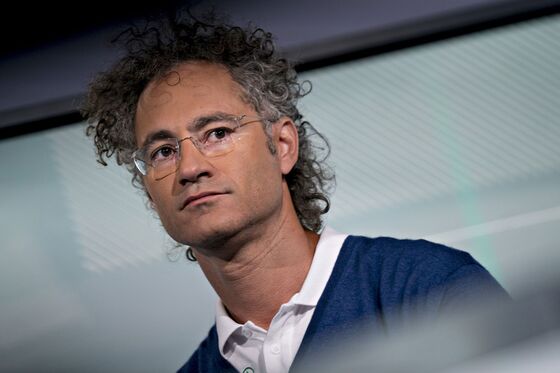 Earlier this month the CEO, an avid cross-country skier, began Palantir's presentation to investors decked out in a warm-weather training get-up. Taking off his helmet (but keeping his goggles firmly in place) in a prerecorded video, Karp advised, "Be aware of the fact that we are going to keep our culture and that we've not wavered from that."
The share listing on Sept. 29 is sure to be polarizing, and not just because of Karp's antics. Thiel was one of Trump's most prominent backers in 2016, and Karp made a surprise appearance at Trump Tower, along with other tech executives, shortly after the election. There's also the matter of the business: Palantir increased revenue 25%, to $743 million, but lost $580 million in 2019, according to the SEC filing. Those declines narrowed dramatically in the first half of 2020, with the company losing $165 million, vs. $280 million during the same period last year, while revenue went up almost 50%.
Investors who do buy shares, which will be sold through a direct listing rather than an initial public offering, will be powerless. Palantir is set up so that Thiel, Karp, and a third co-founder, Stephen Cohen, control half of the voting shares in perpetuity through a trust. The newly expanded board of directors consists largely of Thiel's friends and former business partners. The structure "raised some eyebrows," says Eric Munson, an investor.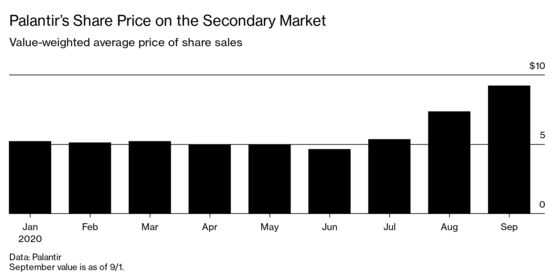 Palantir, which has pledged to create an independent board within a year, can afford such swagger partly because its software is seen as almost perfectly suited to the challenges posed by the coronavirus pandemic. Companies want to know where the hot spots are, and governments need to continually digest numbers including hospitalization capacity, ventilator utilization, and different (and sometimes conflicting) epidemiological models to figure out what to do. In geek-speak this is known as "data integration," and it's exactly what Palantir offers. "Covid‑19 has created data-driven chaos for governments," says PitchBook Data Inc. analyst Brendan Burke. "Palantir thrives on chaos."
So far this year its biggest customer has been the U.S. Army, which hired Palantir in 2018 after a yearslong legal battle over the Army's contracting process. And it's developed close relationships with more than a dozen agencies in Washington in recent years. In late April the Department of Health and Human Services, which oversees the U.S. pandemic response, awarded the company $21 million in contracts to work on a data collection and analysis platform known as HHS Protect. The deal was one of more than 100 that Palantir secured during the early days of the pandemic—83 from March to early April—and part of the reason the company's financials improved this year.
Pre-pandemic, Palantir had been spending lavishly to fly its "forward-deployed engineers," who serve as low-pressure salespeople, to pitch clients. The new deals all were done via Zoom—a sign, executives have said, that the company can potentially be much more profitable. Skeptics point out that even if these deals are cheap to close, a large number of them have brought little revenue so far. Palantir is covering the setup costs for its software and hoping customers, once they see the value, will ante up and expand how they use it.
Then there's the election. Although executives deny political favoritism, the company has thrived under Trump, and the SEC statement lists a possible change at the White House among its risk factors. By going public at a time of maximal chaos, Palantir can take advantage of its Covid-related boom and avoid reckoning with what a Joe Biden administration might mean for a company closely associated with some of the Trump era's most unpopular policies.
 
Read next: Facebook Needs Trump Even More Than Trump Needs Facebook