P&G Is Developing Its Next Big Thing in a Room Buzzing With Flies
(Bloomberg Businessweek) -- It's a classic setup: A psychology grad, a microbiologist, and a chemical engineer walk into a room buzzing with flies. The psych grad is versed in feminine-hygiene products. The microbiologist has a side business in eco-friendly yards. The chemical engineer specializes in wet wipes. The room, OK, it's not a bar, but the University of Cincinnati's Benoit Laboratory has its charms, too.
The three specialists peer over the shoulder of Carlie Perretta, a physiology major, as she picks up a pooter, a glass tube attached to a translucent yellow hose. She puts one end in her mouth and the other in a tent filled with houseflies (Musca domestica), then starts to suck. Her short sips gently aspirate the flies into the tube. She says the air tastes a bit like it smells—baby formula gone bad, thanks to the low-fat milk powder the flies are fed. A filter stops the bugs from entering her mouth. Once Perretta has collected about 20 specimens, she carries the pooter across the lab to a tent, where she'll release the flies to choose between two traps emitting different wavelengths of light.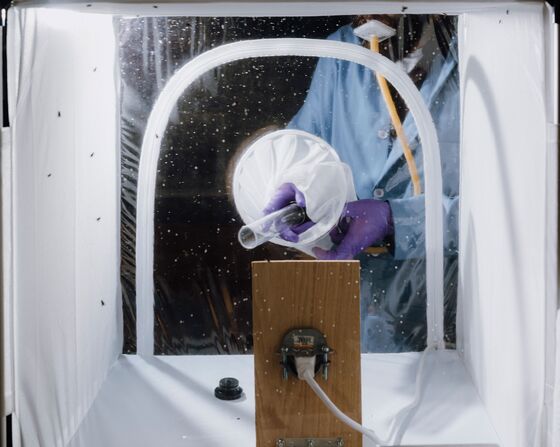 The traps are prototypes for a line of nontoxic insect-killing products called Zevo, the most developed brand to come out of P&G Ventures, an arm of Procter & Gamble Co. The three specialists are P&G employees, working with the university's entomology department. Zevo includes sprays for flies, wasps, and cockroaches, as well as traps for mosquitoes, moths, and gnats. The team obsesses over ways of outwitting their opponents. Wasps' brains grow as they work on more complex projects. Cockroaches can memorize every square inch of a room. Defeat these foes, and Ventures just might have its first hit.
Internal-disruption initiatives have been de rigueur at U.S. corporate giants for decades now, but P&G is an unlikely candidate for one. The 182-year-old company with a $304.4 billion market cap is better known for product embellishment and marketing than for product invention; its traditional formula is to tweak its goods over decades and sell them with its vaunted 4Ps: product, price, place, and promotion.
P&G is desperate for ideas, though. Even with huge economies of scale and sales in more than 150 countries, its most reliable businesses have come under sustained attack. Those five-blade, athlete-sponsored Gillette razors? Nicked by no-fuss startups such as Harry's and Dollar Shave Club. Always and Tampax came under siege from organic tampon makers Lola and Cora; Tide and Pampers, from Seventh Generation's eco-friendly soaps and diapers. Almost three years ago, activist investor Nelson Peltz, of Trian Fund Management LP, bought up a chunk of P&G stock, characterizing the company as lumbering and underperforming. Then he waged a proxy fight during which he bandied about the prospect of a breakup, ultimately winning a seat on P&G's board.
The company was by then already trying to slim down. In 2014, with growth slowing, it had made two important changes. Working with consultants Steve Blank and Eric Ries, whose "lean startup" philosophy was becoming gospel at large corporations, P&G decided that, in the short term, it would shed product lines and get out of certain categories. And in the long term, it would change the way it innovated. Quietly, with no formal announcement, it created Ventures. Ventures would be agile. It would be idea-focused. And it would have fewer Ps, just three: pass, pivot, or persevere.
P&G has been on a nice run lately, with its share price up 52% since February 2018. This year, the company will find out if Ventures is working as planned, or if it's yet another big, corporate, Potemkin disruption lab. By 2020's end, Ventures will have four product lines on sale, some online, others in stores. If they succeed, P&G might just show that even giants can step nimbly in the digital, on-demand era.
P&G has a long history of seeking synergies—you might say it's ampersands all the way down. In 1830s Cincinnati, William Procter, an English immigrant, was making candles, and James Gamble, an Irish immigrant, was making soap. After they married two sisters, their father-in-law noticed they were competing for tallow and suggested they join forces.
Every few decades the company would tinker up an iconic product. In 1879 came Ivory soap. In 1911, Crisco. Tide entered American laundry rooms in 1946. In the late '90s a research team jammed a backwards Pamper onto the end of a mop handle, attached a bottle of Mr. Clean and a windshield squirter scavenged from a junkyard, and created the Swiffer.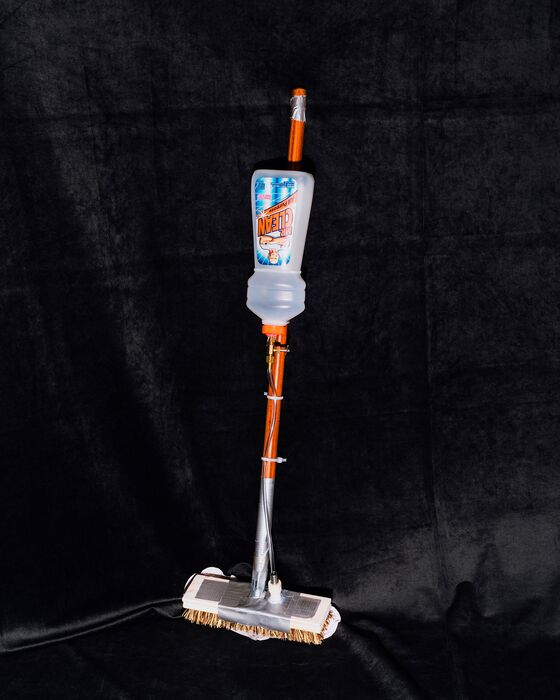 As P&G turned these inventions into staples of modern life, it became a feeder for corporate America, incubating future chief executive officers such as Steve Ballmer, Jeffrey Immelt, and Meg Whitman. The Swiffer was its last true hit, though. While the 21st century has seen offshoots such as Tide Pods and Downy scent beads, these were far from category-creating breakthroughs. They've also had a few busts: Febreze ScentStories, a disk that rotated through five fragrances so people wouldn't become "nose blind" to one, and a compressed version of Charmin toilet paper, which saved space and packaging costs but didn't quite rebound to bathroom-friendly shape.
P&G faltered in part because the synergy-seeking had run amok. In 1985 it bought Clearasil, Oil of Olay, Pantene, Vicks, and Vidal Sassoon. In 1989, Cover Girl. In 1990, Old Spice. In 1991, Max Factor and SK-II. In 1994, Giorgio Beverly Hills. In 2001, Clairol. In 2005, Gillette.
The bloat was apparent by the time revered CEO A.G. Lafley retired in 2010. His replacement, Bob McDonald, announced $10 billion in cuts in 2012, then two years later, with Lafley partway through a three-year return engagement, P&G began its short-term program to lean up, ultimately shedding 100 brands. "We said, 'We need to be more forward-looking. There's a lot of disruption in the world, and we need to be leading it,' " says Kathy Fish, P&G's chief research, development, and innovation officer. Fish is the one who brought in Blank and Ries, author-consultants who'd begun making the rounds at companies blindsided by digitally oriented upstarts.
When P&G decided to start Ventures, Lafley asked Leigh Radford, who'd revitalized the Olay and Vicks brands, to lead it. To help decide the unit's focus, David Archer, a market-knowledge director, culled data from 2,000 categories to profile what consumers would be buying by 2025. His model identified three target demos: city-dwelling millennials, aging baby boomers, and China's middle class. And it forecast three important shifts in their desires: rising demand for "natural" products, interest in hyperconnected devices capable of anticipating individual needs, and concern about scarce resources, from clean water to personal time.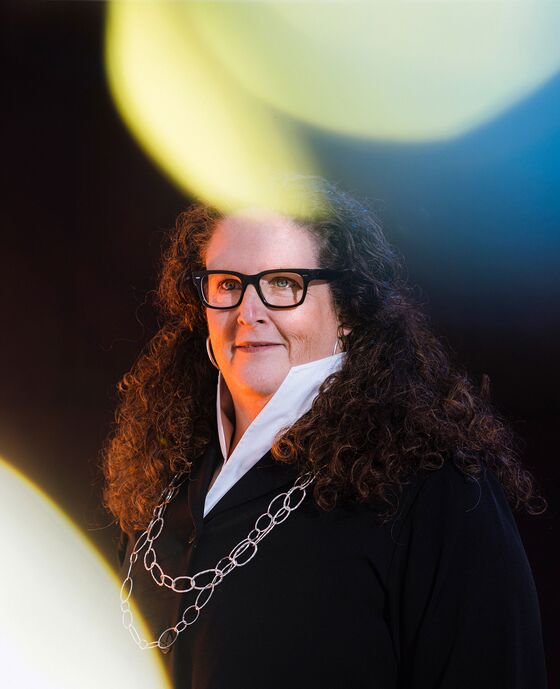 The next step was classic P&G: getting to know the consumer. Archer spent time with a middle-class family in China whose home had a 50-inch TV but no windowpanes, for example, and visited an aging New York woman struggling to care for her incontinent, 300-pound husband. From there, Ventures decided on eight areas that wouldn't eat into P&G's preexisting business lines: elder care, mental and physical performance, nontoxic homes, menopause, chronic skin conditions, environmental sleep enhancement, male wellness, and side-effect-free pain management. Ventures would seek out products accordingly, developing them and figuring out new ways of selling them, all while bypassing the usual management channels.
Soon, P&G bisected its wood-paneled boardroom in Cincinnati with a glass wall, leaving oil paintings of past CEOs suspended on one side as if in amber. On the other side, the wood was torn away to expose concrete pillars. Fluorescent sofas were grouped in configurations conducive to tête-à-têtes. Ventures, with little fanfare and no press release, was born.
Betsy Bluestone is handling what appears to be a floppy pink chastity belt. One of three full-time innovation scouts hired by Radford, she's wading through a crowd at the 2019 HitLab World Cup, a pitch contest for female inventors at the New York offices of German software giant SAP SE. The belt, made by an Israeli startup, is a wireless mobile monitor that can track fetal heart rates without requiring a doctor's visit. "There could be an interesting pivot when you think about Pampers," Bluestone says, brainstorming aloud. She moves on to a couple of founders who describe their business as a women's health version of the makeup-curating subscription service Birchbox—except they're offering "Box Boxes," to address issues such as yeast infections and endometriosis.
The five finalists assemble in front of floating silver balloons spelling out #Disrupt 50B, a reference to the $50 billion women's health market. As they tout their companies in three-minute spurts, Bluestone takes notes. Univfy Inc. uses machine learning to better predict in vitro fertilization success rates. Skye helps women do better Kegels to eliminate incontinence. Norka Health is reinventing fertility insurance. Babyscripts' tech assists with prenatal and postpartum care. Jessie matches women with health service providers.
Most of the judges are from venture capital firms. Two are with the disruptor teams of other big corporations: Bayer AG's G4A and Johnson & Johnson's JLabs. Not on the panel from that sizable cohort are Unilever NV's own Ventures and Clorox Co.'s Burt's Bees Natural Launchpad. Not to mention Edgewell Personal Care Co., maker of Gillette competitor Schick, which almost had a disruptor within a disruptor—it struck a deal to buy Harry's Razors last spring, including the startup's Harry's Labs, but the Federal Trade Commission sued to block it.
Bluestone doesn't spot anything for Ventures at the SAP event, so, a few nights later, it's on to addressing a sea of young women in jeans and flowery dresses at an event hosted by the Vinetta Project, a fund that seeks to close the investment gender gap. After her talk, an informal pitching queue takes shape. Two women from a startup called Molecular Zen offer Bluestone a sample of a collagen-rich chocolate bar, which she politely waves away. "This isn't a space for us, but functional beauty is very interesting," she tells them.
Then a woman wearing a badge that reads "Ask me about: bedsores" strides up and introduces herself as Dr. Sanna Gaspard, a biomedical engineer who's developing an early detector for bedsores. Bluestone extends a hand for a demo. The prototype is conical and slightly lumpy, with white paint around the edges. Gaspard presses a ring at the tip of the cone into Bluestone's finger, where a round indent forms and bounces back to indicate that no bedsore is present. Bluestone smiles—elder care, one of Ventures' target areas.
"One reason we're interested in wound care is it's one of the main reasons people can't age in place," she says. Sick or elderly people often go into long-term care facilities in part for fear of bedsores—common, potentially lethal wounds that can be difficult to detect, especially on darker complexions. If they're identified before they reach the surface of the skin, though, they're easily fixed by changing the patient's resting position to relieve pressure.
Soon the women are exchanging bedsore trivia. It costs U.S. hospitals $11 billion each year to deal with bedsores, Gaspard says. "With 81-year-old parents myself, I can tell you this is very appealing," Bluestone responds.
She asks about the next hurdles for the device, explaining that there are multiple ways Ventures might help. "We're dedicated to growing the business with the founder, then deciding if we're interested in buying or licensing something," she explains.
Months later, Gaspard says she's being mentored by someone from P&G. "They've been helpful, and Bluestone is trying to make connections for me where she can." In January, Ventures announces that Gaspard is one of four finalists in its Innovation Challenge competition, sending her on an all-expense paid trip to pitch her product at CES in Las Vegas.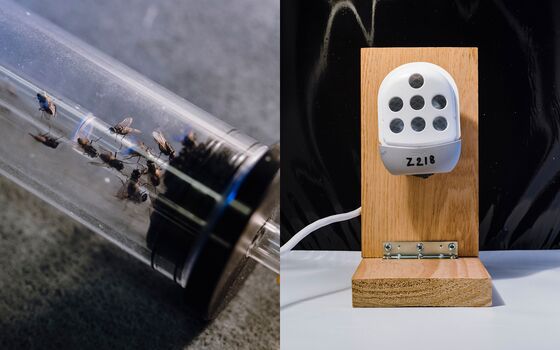 While Ventures' scouts are looking for new ideas—the unit has signed more than 20 contracts with outside partners so far—others are busy working on the products it has. To create Zevo, Ventures brought together spray technology from Envance Technologies LLC in Morrisville, N.C., and trap technology from an undisclosed inventor. The development team started living the lean-startup gospel, doing all its own R&D, product testing, and marketing, with each member playing multiple roles. Francez Curbelo, the psych grad, is in charge of perfecting the spray's particle size, but she also translated product labels into Spanish and worked on some Instagram ads for an early direct-to-consumer tryout.
At the same time, there are advantages to being part of a behemoth. Zevo grew out of consumer surveys finding that 85% of Americans have reservations about traditional insecticides, which account for 95% of the U.S. spray market. Its technology borrows from Pampers sticky diaper strips and Febreze plug-ins and sprays. And P&G's relationships with retailers such as Target Corp. and Home Depot Inc. ensured Zevo could get swiftly to shelves.
Mindful that most startups fail, P&G said last February it would partner with Los Angeles-based firm M13, which has invested in such companies as Lyft Inc. and Pinterest Inc. As Ventures signs deals, it has the option of bringing in M13's money and expertise, letting it place more bets without committing too many of its own employees. If M13 expands the businesses to a certain scale, P&G can then take back a controlling interest. "No one has used that model before," Radford says. "It's like sending a kid to boarding school."
Two of the other three products well along Ventures' pipeline are under M13's care. One, Bodewell, is a botanical-based lotion for psoriasis and eczema. The other is Kindra, a line of natural products to help with menopause. M13's contributions have included changing the menopause line's name from Pepper & Wits and repackaging it in sleek containers. It also changed the lotion's name from Metaderm and recruited two people to run the brand. The fourth Ventures product, which like Zevo it's still overseeing, is Opté, a device that applies makeup and anti-aging serums to age spots and other marks without the look of heavy foundation. 
P&G wanted M13 to oversee Bodewell and Kindra in part because the venture firm has more expertise selling direct-to-consumer. "Menopause and skin conditions, these are things people don't necessarily want to talk about," says Christine Choi, a partner at M13. Her company "has a history of finding those target audiences."
While P&G monitors the lines' success, Ventures has in the meantime helped assuage Peltz. His company, Trian, declined to comment on Ventures, citing his position on the parent company's board, but a P&G spokeswoman says Peltz has taken a tour. And he spoke glowingly of the changes at P&G during an event last year in New York. "Here is an elephant that knows how to dance," he said, deploying a go-to business-book metaphor. "There are other companies around that have responded to the new digital age beautifully and many others who don't. And P&G is doing a phenomenal job."
Fish, the R&D chief, agrees that P&G is getting its steps down. She mentions that Pampers Pure, introduced in 2018, took about 18 months to go from idea to market, compared with 10 years for Pampers Swaddlers. And if people want to gawk at the proverbial elephant, so much the better. At this January's CES, P&G had a marketing coup, of sorts, with one of the show's most-discussed innovations: the Charmin RollBot, a bear-faced prototype for delivering toilet paper seat-side. Intended less as a consumer-goods breakthrough than as a "cheeky" way for P&G to tout its bathroom products, comedians pounced. "What an advancement," said The Late Show's Stephen Colbert. "It replaces the previous toilet roll replacement technology of … Here it is. Can you grab it?" —With Scott Deveau
To contact the editor responsible for this story: Jeremy Keehn at jkeehn3@bloomberg.net, Jim Aley