Oracle Shelves Larry Ellison's Dream of Cloud Dominance
(Bloomberg Businessweek) -- Three years ago, Oracle Corp. Chairman Larry Ellison stood on a stage in San Francisco and pledged to catch Amazon.com Inc. in cloud computing.
"Amazon's lead is over," the billionaire technology mogul said during his company's annual user conference, OpenWorld. "Amazon is going to have serious competition going forward."
Ellison has echoed those remarks every year since. But behind the hyperbole, Oracle has failed and its chairman has scaled back the company's cloud ambitions.
Oracle's journey to the cloud has been a Sisyphean saga, with the software giant bruised by false starts, dead ends, and internal feuds. The company's challenge to remodel its business for the modern age has led to hiring binges, followed by large rounds of worker firings, sagging employee morale, and the resignation of Thomas Kurian, an influential executive once seen as Ellison's technological heir. The company's chief cloud computing goal is no longer to dethrone Amazon Web Services. Rather, Oracle is seeking to remain competitive in its two central markets: databases and business applications.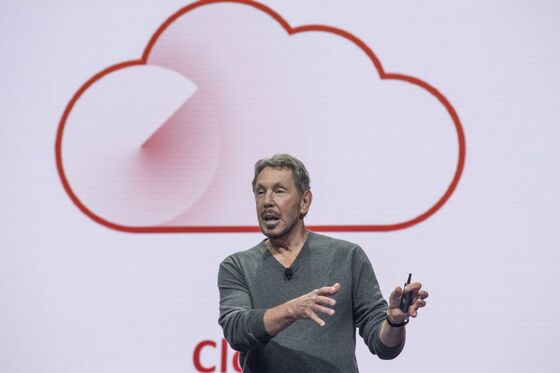 "Oracle is changing their message from being a cloud platform to a cloud solutions provider," Osama Elkady, a former Oracle executive and the chief executive officer of Incorta, said in an interview. "Their message is Oracle cloud is the best for Oracle databases and applications. The margin Oracle could get from applications is much bigger than in computing. They know Amazon, Microsoft, and, to a lesser extent, Google already took that market."
There are three layers to cloud technology. On the bottom, there's computing and data storage, which is called infrastructure. It's the base layer that companies rent from AWS and Microsoft server farms. In the middle, there's a platform layer, which includes databases and tools that organizations use to build applications. On top is the applications layer, featuring software that companies use to manage their tasks such as finances, customers, and human resources.
Oracle touted its presence in all three areas, giving it one of the broadest product lineups among business technology companies. But after five years of meager gains in the infrastructure market, Oracle has lowered its sights.
The company has grabbed such a small share of the cloud computing and storage market that research firm Gartner Inc. doesn't tabulate the figure and in 2018 classified Oracle as a "niche player." Meanwhile, AWS remains the top provider, and Microsoft Azure and Google Cloud Platform have gained meaningful shares of the market.
Oracle representatives declined to comment on the cloud division's performance.
The job of keeping Oracle's cloud ambitions grounded in reality falls to Don Johnson, a lifelong engineer who has little of the flash of the Miami Vice actor of the same name. He takes a head-down approach to the job, working on a laptop in a conference room overlooking downtown Seattle and leaving the prognostications to his boss. Johnson paused when asked if he thought Oracle could one day overtake Amazon as the world's biggest cloud provider.
"Maybe, I don't know," Johnson said in an interview in July 2018. "Honestly, a lot of people ask, 'When are you going to beat AWS?' And I don't think actually beating AWS is the point."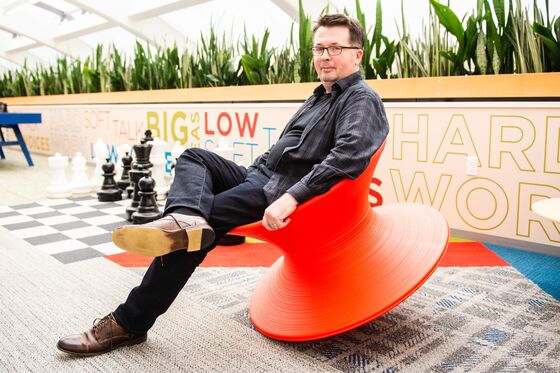 Ellison has given a lot of responsibility to Johnson, who helped build AWS under its chief executive officer, Andy Jassy. Johnson flies to Oracle's Redwood City, Calif., headquarters as frequently as every week for marathon meetings with the bosses, including Ellison.
The company in 2014 began the process of hiring thousands of people in Seattle, promising them big paychecks, resources, and an opportunity to make their mark on the technology industry. Many of the engineers were poached from established cloud leaders Amazon and Microsoft. Midlevel product managers were being offered $750,000 in compensation while some engineers with a vice president title were paid more than $5 million a year, people familiar with the matter said.
Oracle's pitch to these programmers was that they could replicate all of the good things about the other cloud services and fix all of the perceived mistakes.
Employees envied the Oracle Cloud Infrastructure unit as a startup with nearly limitless resources—separate from the control of co-Chief Executive Officers Mark Hurd and Safra Catz—while the rest of Oracle is viewed as thrifty, by Silicon Valley standards. The offices had the whimsy and excess typical of technology companies, decorated with fake trees meant to resemble the forests of the Pacific Northwest, Doctor Who-style British telephone booths, pool tables, and a chessboard on the floor with pawns and knights the size of house cats. The space reflected the freedom and funding the division received during its rise and seemed a world away from Oracle's headquarters near San Francisco.
Ellison believed the way for Oracle to be competitive in the cloud was to break up the fiefdoms that had become a hallmark of the 42-year-old company. He shifted about 3,000 employees from the product organization then led by Kurian, now the CEO of Google Cloud Platform, to Johnson's group, so all the engineers who worked on different cloud technologies would interact.
At the peak, Johnson oversaw more than 6,000 people, according to people familiar with the matter. In its earliest days, this infrastructure squad even drafted its own constitution to celebrate the autonomy. The No. 1 commandment? Put customers first. Oracle has long had tense relationships with customers, including sagas of software audits and lawsuits.
The reallocation rankled Kurian, who had wanted to be a CEO one day, a person familiar with the matter said. Ellison had removed the innovation hubs within his product organization, including engineers who worked on artificial intelligence, big data solutions, and platform software.
Kurian had been in charge of the company's move to cloud computing as Johnson's direct boss, but was effectively cut out of the process. Kurian had also thought Oracle should do more work to partner with competitors Amazon and Microsoft, Bloomberg News reported last year. He resigned from Oracle in September 2018. Kurian declined to comment on his Oracle tenure.
Despite the talent and backing, Oracle's cloud infrastructure unit failed to win business. For a long time, it didn't have the vast network of data centers necessary to compete. Starting late, it had trouble attracting software developers to build programs for its cloud infrastructure rather than existing larger rivals'. And the company struggled to persuade large clients to spend the money to move their existing Oracle workloads to the cloud.
The biggest customer for Oracle's cloud services became Oracle itself, which focused on giving its applications a more modern underpinning.
After five years, Oracle's management decided the cloud division was too expensive for the little progress it had made, according to people familiar with the matter who asked not to be identified discussing internal decision-making.
The company earned 1% of its total revenue from infrastructure cloud in fiscal 2014, the last year it broke out the figure. Then Oracle reported combined sales from infrastructure and platform services, until it stopped reporting granular cloud performance in June 2018.
Oracle conducted major workforce cutbacks in March and June that struck at the heart of its cloud division in Seattle, according to people familiar with the matter. Teams that had worked on an older version of Oracle's infrastructure cloud and employees who came to the company through cloud acquisitions were also affected by the effort to trim expenses and boost profit margin in the face of criticism about stagnant sales growth.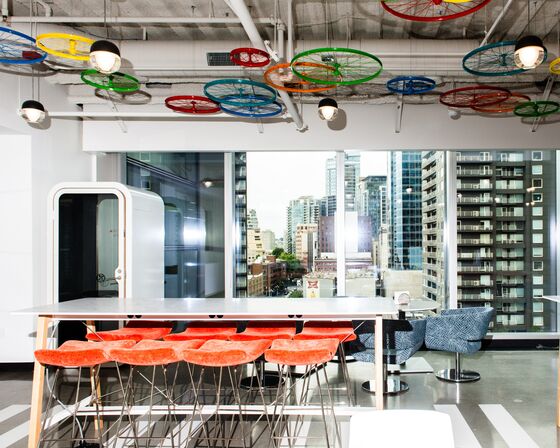 The company removed around 2,000 positions from the cloud division through firing people and moving some into other business units. And Johnson outlined a broad set of personnel changes in a June memo obtained by Bloomberg.
For months afterward, the mood soured inside the cloud infrastructure unit, the people said. Employees felt Oracle had reneged on its commitment to the division, people familiar with the matter said. Amid the worker cutbacks, poor internal communication from management prompted more staffers to leave, the people said.
Now the company is making much smaller promises about cloud computing. In June, Oracle said it would partner with Microsoft, a decades-long rival, to connect the two companies' cloud services, so customers can use Oracle databases or applications tied to Microsoft's Azure cloud. While Catz said Microsoft, the world's largest software maker, wanted an alliance to give clients access to Oracle's AI-driven databases, the move was a concession—signaling Oracle knew it could no longer go it alone.
Besides Microsoft, Oracle has adopted a more thorough partnership strategy, which is how other cloud vendors have long operated. At this year's OpenWorld conference in September, the company unveiled cooperation agreements with software makers VMware Inc. and Box Inc.
Oracle said that by next year it will have more global data center hubs than Amazon , and the company announced Tuesday it would hire 2,000 people worldwide to support the expansion. But some of those data centers are rented facilities within larger server farms owned by other businesses, Oracle executives said in an interview. The company's outlay on capital expenditures—more than $2 billion in the current fiscal year—is dwarfed by those of Amazon, Microsoft, and Google. And Ellison said Oracle will open data centers only when there's enough demand for its services in a region.
After years of lagging behind, Oracle will now give away a version of its cloud infrastructure services for free to software developers, students, and others to encourage them to build applications for its platform, a humbling step for a company that has already made an argument that it was the discount option for years. It has begun playing to its strengths. Rather than target leadership of the infrastructure market, Hurd, who's now on leave to deal with an illness, earlier this year laid out a goal for Oracle to become the world's No. 1 cloud applications company, eyeing 50% of that market.
Ellison said doing well in the database market and with financial applications is enough for him. "If we're successful in those two markets, it should be enough to make a living," he said during a September call with analysts.
To contact the editor responsible for this story: Jillian Ward at jward56@bloomberg.net, Andrew PollackDimitra Kessenides